A successful managed services business requires the right technology stack. Some tools within the stack, such as remote monitoring and management software, may be obvious. Others, like finance and accounting tools, are less so. But in order to work as efficiently as possible, it's important to be sure your MSP technology stack addresses all of your business' needs.
Toward that end, keep reading for an overview of what goes into an MSP's technology stack.
MSP Software Stack
Although there are always exceptions, most MSPs will need to include solutions for each of the following categories within their technology stacks.
Remote Monitoring and Management (RMM)
Remote monitoring and management (RMM) tools allow you (as the term implies) to log into and track systems remotely. They are critical for helping MSPs to work efficiently by eliminating the need to travel to client sites whenever a task arises, such as troubleshooting software on a server or checking log files.
Many RMM tools also offer automation features to help you perform routine tasks as quickly as possible. And by leveraging integrations between RMM tools and other solutions in your technology stack, such as antivirus and remote backup software, you can turn your RMM platform into a central control panel for your MSP operations.
There are a number of RMM solutions in the market. Popular MSP software options include Atera, NinjaRMM, SolarWinds RMM, SolarWinds N-central, Unitrends, ConnectWise, Kaseya, Datto RMM and Pulseway. For guidance on which one best fits your needs, check out our article on article on RMM tools for MSPs.
Professional Services Automation (PSA)
While RMM tools can help automate technical operations, professional services automation (PSA) tools address a similar need for business operations. This MSP software is designed to streamline tasks such as client management, billing, and reporting. When used together, RMM and PSA tools provide the two main pillars of an MSP technology stack.
In addition to managing business functions, PSAs can integrate with other business-related systems, such as CRM and accounting software, so that you can manage business operations from a central platform.
Popular PSA solutions among MSPs include Accelo, Kaseya BMS, ConnectWise Manage, SolarWinds MSP manager, Autotask PSA, Harmony PSA. There are also some platforms that integrate RMM and PSA functionality into a single product, such as Atera, Pulseway, Naverisk, and Syncro. Learn more in this article on PSAs for MSPs.
Remote Desktop
Although RMM tools allow you to connect to desktop systems (as well as servers) remotely, it is sometimes preferable to use a tool designed for remotely connecting to desktop systems specifically. These MSP tools may offer better performance in situations where network connectivity is weak, for example. They are also lighter weight than most RMM tools.
In short, while RMM is useful for advanced remote monitoring and management tasks, remote desktop tools come in handy when you need fast, simple access to a client's desktop environment.
While Windows Remote Desktop, the official Microsoft client, is the most obvious tool in this category, there are third-party solutions that provide additional features. For example, the free MSP360 Connect supports file transfer, client chats, and many other features in addition to remote desktop access.
Help Desk and Ticketing
Any MSP business with more than a handful of clients needs a help desk and ticketing system to help automate support requests from clients. In some cases, PSA tools, many of which provide some basic client-support features, can meet MSPs' needs for help desks and ticketing. For more complex situations, however, choosing a dedicated platform for this purpose is beneficial.
Commonly used help desk and ticketing MSP tools include Freshservice, Samanage, Spiceworks, Teamwork Desk, Zoho Desk, Zendesk, TOPdesk, and SolarWinds Help Desk. There are also some free and open-source options available in this category. Learn more in this comparison of popular help desk and ticketing platforms.
Further reading Creating an Effective MSP Help Desk
Backup and Disaster Recovery
For MSPs, providing backup and disaster recovery services has become a must, especially with the rise of ransomware and other destructive online threats. And even if you don't currently offer managed backup and recovery for clients, you need to back up your own internal systems and data.
Managed Backup Service from MSP360 meets this need, allowing MSPs to back up virtually any kind of system to a variety of local as well as cloud-based storage locations. It also enables automated backup and recovery and offers a centralized interface for managing and tracking backup and recovery operations. Check out this article to find more free data recovery software options.
Further reading How to Migrate to a New Managed Backup Solution
Essential Guide to Backup for MSPs
Backup best practices and tips on how to protect your customers' sensitive data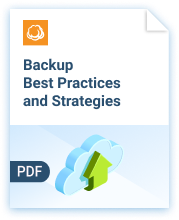 Customer Relations Management
Customer Relations Management (CRM) tools help MSPs keep track of business relationships at all stages, from initial sales outreach to ongoing account management. They play a critical role in streamlining and systematizing the way you interact with customers and potential customers. HubSpot, Zendesk Sell, Salesforce CRM, Zoho CRM, and MS Dynamics 365 are popular MSP software in the CRM tools category.
Finance Software
Keeping track of your MSP business' finances is essential. Whether you are a small MSP without a dedicated accounting staff or a large firm with its own accounting department, there are several tools to help MSPs manage finances.
They include tools for generating sales quotes, such as PandaDoc, QuoteWerks, Socket, and ConnectWise Sell, as well as billing tools like FreshBooks, Zoho Invoice, BigTime, and ConnectBooster.
Documentation Software
Documenting the processes and tools that drive both the technical and business sides of your MSP company is essential for ensuring consistency and avoiding situations where knowledge of critical systems is limited to only certain employees.
Documentation platforms such as IT Glue, Confluence, Passportal, SI Portal, and ITBoost can help with this task. For a longer list of document management solutions for MSPs and a comparison between them, check out our article about MSP documentation software.
Virtual CIO Software
There is another category of software that is helpful if your MSP provides "virtual CIO" (vCIO) services. The options of vCIO software include vCIOToolbox, Strategy Overview, and CloudRadial. These tools help generate quarterly and annual reports, track business growth, and plan technology roadmaps.
Although vCIO tools overlap a bit in functionality with PSA software, they fill gaps that PSA on its own cannot address at companies that don't have a dedicated CIO on staff.
Further reading Key Factors to Building a Profitable MSP Stack
MSP Security Tech Stack
Protecting the systems and data of your MSP business, as well as those of clients you work with, is critical. There are several types of security tools that help to do this:
Email security software: Email security tools like Vircom, Barracuda, SpamTitan, and SolarWinds can help detect malware, phishing attacks, and other types of email-borne threats.
Firewall: Firewall software such as Fortinet, Check Point, Sophos UTM, and Meraki help tighten network defenses to block malicious traffic.
Endpoint protection: upgrade your cybersecurity stack with a powerful solution based on the deep learning technology like Deep Instinct to enable a more advanced layered protection strategy.
Further reading 3 Reasons Why You Should Reconsider Your Endpoint Protection
DNS filtering: These tools, which include options like WebTitan, DNSFilter, and SafeDNS, defend against attacks against DNS services, such as spoofing efforts that allow malicious hosts to assume the identity of trusted ones.
Antivirus: Antivirus tools like Trend Micro, ESET, Bitdefender, Webroot, and Kaspersky offer general-purpose malware detection. Learn how different antivirus platforms for MSPs compare.
Unified threat management: Platforms in this category, which include Meraki, FortiGate, WatchGuard, Sophos UTM, and SonicWall, among others, are designed to offer holistic security management by addressing all types of security threats through a single platform.
MSPs who provide managed security services will need additional security tools, of course. But the tools listed above are important for any MSP with IT assets to secure.
IT Security Assessment Checklist
Assess vulnerabilities and threats, network security, workspace and equipment security, documentation, and more. The pack includes:
a ready-to-print PDF file
an Excel file to help create a customizable assessment resource
How to Know When to Expand Your MSP Software Stack
With so many MSP tools to choose from, it's not always possible to set up everyone. How can you know when it's time to invest in new MSP software?
To help decide, evaluate new tools based on these questions:
Will these MSP tools help you provide more revenue-producing services?
Will it help you improve efficiency and lower your operational costs?
Is the tool likely to reduce the need for specialized expertise in order to deliver your services? If so, it can make your business more flexible.
Additional criteria to look for when shopping for new MSP tools include:
Integration capabilities: How well does the tool integrate with other MSP tools in your technology stack?
Quality of support: Does the vendor have a reputation for delivering reliable, efficient support?
Is it built for MSPs? Is the tool designed specifically for MSPs? Tools that are not may still be useful, but tools that are built for MSPs, in particular, tend to be the most efficient and cost-effective.
MSP Hardware
Alongside MSP software, the hardware is another critical component of an MSP's technology stack.
Workstations (PCs, laptops).
Network equipment (network servers, routers, switches).
Servers and storage (servers, thin clients, NAS, SAN, external hard drives, and so on).
Printers.
Telephony solutions.
The type of hardware you use will vary depending on the managed services you provide, of course. A small MSP may not need an advanced telephone system, for example. But no matter what your hardware stack looks like, there are some general points worth keeping in mind.
For one, when choosing hardware suppliers, look for vendors and distributors who offer fast delivery times. Make sure that they provide reliable warranties and repair services, too. You don't want to have to fix systems and waste time that could be spent serving customers.
It's a good idea, as well, to keep a stock of common hardware components on hand, such as cables, hard drives, and memory cards. Purchasing these ahead of time will allow you to work efficiently when problems arise and you need to replace one of these components.
Conclusion
A variety of types of tools form the MSP technology stack. RMM and PSA are the two main pillars of an MSP software stack, but MSP businesses also commonly rely on several other categories of tools, from accounting and finance platforms to security software.
Within each of these categories, MSPs have many specific options to choose from. Be sure to invest time in identifying which solution is the best fit for your business's needs (see the articles linked above for guidance) to make sure the cost, functionality, and integrations align with your MSP company.