With more than 60% of organizations embracing BYOD in their workplaces, it's evident the trend is here to stay. What's more, 87% of companies are now encouraging their employees to access business apps via their personal devices.
Here's the kicker though. While organizations are pretty excited about leveraging BYOD and IoT to increase productivity, MSPs think otherwise.
Yes, let's face it. It turns out that many MSPs are having a hard time coping with the BYOD trend because of all the connectivity, security, and privacy issues it comes with. IT professionals are complaining endlessly that overseeing, regulating, facilitating, and securing portable devices is inordinately difficult.
Well, in all fairness, MSPs have a point there. But then again, this problem happens to provide a pretty interestingly silver lining. You see, since most managed service providers are struggling with mobile device support, the market is more of a goldmine for the few that have perfected the art.
Now, if you'd like to join the bandwagon, one particularly critical tool you can't afford to leave out of your arsenal is a mobile device management (MDM) solution. And to help you choose the perfect one, here are five of the best MDM solutions for MSPs.
MDM Solution #1: Sophos Mobile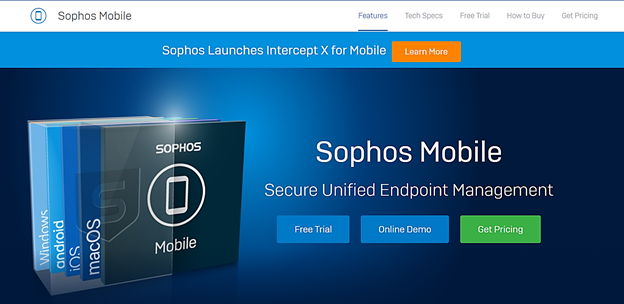 Built and distributed by the world-renowned software company Sophos Group, Sophos Mobile is a centralized mobile device management system that prioritizes endpoint security, app control, and asset management. It's officially described as a unified endpoint management (UEM) and mobile threat defense (MTD) solution that helps enterprises manage and protect devices running macOS, Windows 10, Chrome OS, Android, and iOS.
Generally, Sophos Mobile integrates natively with the Sophos Central endpoint security platform, from where it gives you the power to secure both personal and company-owned devices. You'll notice that its threat-protection system happens to rely on, among other resources, advanced deep-learning tech.
Overall, you'll find it conveniently easy to configure your clients' devices, profiles, and system policies remotely. You can even deploy email and document containers to keep corporate data safe, without violating personal privacy.
That said, Sophos Mobile is also great for maintaining system compliance. You'll find a heck of a lot of compliance configurations, as well as customizable templates, plus predefined state and federal policies, such as PCI and HIPAA.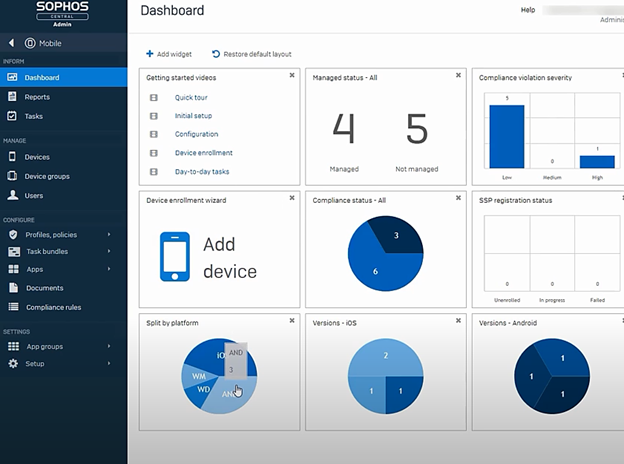 Sophos Mobile MDM Main Features
Data security: Web filtering, Web protection, anti-phishing, anti-malware, anti-ransomware, anti-PUA, plus compliance rules and remediation.
Content management: Native OS containerization, container-only management, content publishing, plus email, and document container.
App management: Manage and configure Office 365 apps, app control, whitelist, and blacklist, enterprise app store, plus install, remove, and view apps.
Device endpoint management: Detailed reporting, inventory and asset management, device configuration, and compliance policies. Compatible with iOS, Android, Chrome OS, Windows 10, macOS.
Sophos Mobile MDM Pricing
Sadly, Sophos doesn't readily disclose its pricing options. You won't find a standard pricing schedule for any of the company's software products, including the Sophos Mobile endpoint device management system.
Nevertheless, you can expect to start at $31.50 per user per month. This is a discounted rate for a 100-user contract with annual pre-billing.
Otherwise, you could start off with a 30-day free trial package. This should give you a complete Sophos Central admin account, from where you can run Sophos Mobile endpoint, server, and network security.
Sophos Mobile Pros and Cons
| | |
| --- | --- |
| Sophos Mobile Pros | Sophos Mobile Cons |
| Offers a 30-day free trial. | Doesn't openly reveal the pricing details. |
| Combines device management with app management, data security management, and content management. | The learning curve can be steep for some users. |
| Automates IT compliance measures. | |
| The data security threat detection system leverages deep-learning tech. | |
MDM Solution #2: ConnectWise Automate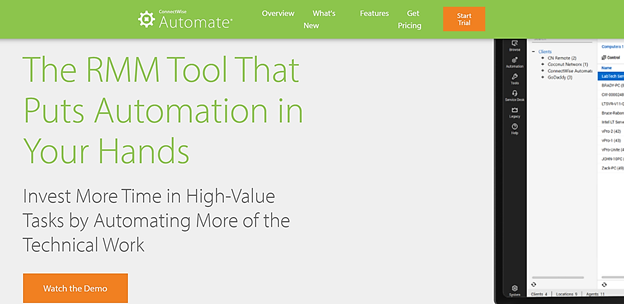 Formerly known as LabTech, ConnectWise Automate is an on-premise and cloud-based system that automates management and tracking of IT assets from one location. Its unified dashboard provides direct access to mobile devices, laptops, PCs, and other endpoints in your network.
You can, for instance, use its network administration tools to configure services, troubleshoot and resolve issues, keep tabs on server performance, plus optimize network uptime. And while you're at it, ConnectWise Automate gives you the privilege of remotely servicing multiple systems concurrently without cutting off your end-users.
Then when it comes to data protection, ConnectWise's security module is a jack of all trades. You could use it to deploy patches, as well as manage system passwords, data encryption, email protection, anti-malware, and antivirus.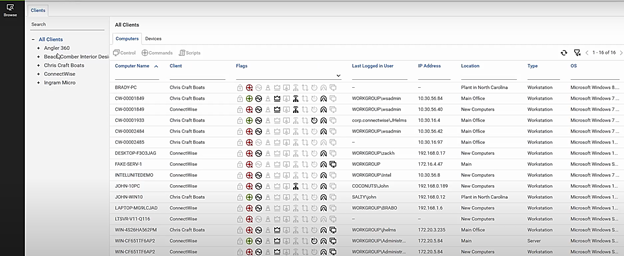 ConnectWise Automate Main Features
Data security: SSL security, role-based permissions, network scans, anti-malware, and password management
Monitoring: Virtualization monitoring, usage tracking, systems monitoring, summary reports, status tracking, remote monitoring, predictive analytics, location tracking, customizable reporting, and customer history tracking.
Management: Virtualization management, software deployment, scripting engine, policy management, patch management, multi-vendor backup management dashboard, IT asset management, hardware provisioning, disaster recovery, desktop virtualization, configuration management, compliance management, client portal, client management, and inventory management.
Automation: Task scheduling, maintenance scheduling, help desk ticketing, event-triggered email, event-triggered actions, event logs, email notifications, and categorization.
ConnectWise Automate Pricing
Just like Sophos Mobile, ConnectWise Automate doesn't provide a systematic pricing schedule. Instead, the vendor requires you to provide basic information about your company for a custom quote.
All in all, you might end up paying a one-time fee for a deployment package that comes with personalized onboarding, initial configuration, and software setup. This usually starts at about $700, with larger enterprises paying way more.
Make no mistake about it, though. Your system costs won't end there. ConnectWise Automate will charge you an additional usage fee of about $1-6 per agent per month.
ConnectWise Automate Pros and Cons
| | |
| --- | --- |
| ConnectWise Automate Pros | ConnectWise Automate Cons |
| Automates a wide range of IT operations, including task scheduling, patching, compliance, device monitoring, etc. | There are a couple of technical requirements for on-premise installation. |
| Takes charge of configurations, network assets, clients, multi-vendor backups, patches, compliance, and disaster recovery. | Manual configurations can be cumbersome and overwhelming. |
| Capable of tracking multiple system parameters and variables. | |
| Optimizes network uptime. | |
The MSP's Guide to Clients' Personal Device Management
Learn how to support personal devices that are now being used in business environments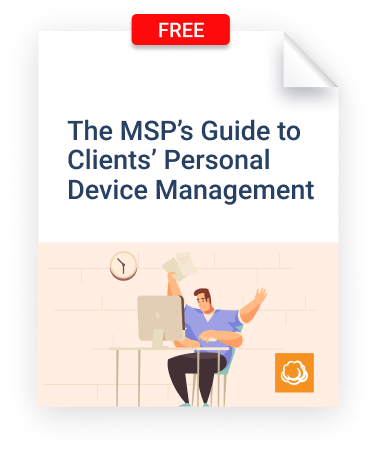 MDM Solution #3: IBM MaaS360

Developed by IBM, MaaS360 is a holistic endpoint management solution that integrates seamlessly with your IT infrastructure and then proceeds to optimize your mobile environment using the power of artificial intelligence and analytics.
From its unified dashboard, you can prevent breaches by separating your end users' personal entities from critical company apps and data. What's more, you can use the accompanying identity and access management tools to configure user privileges and subsequently control resource access within the network.
But it doesn't stop there. IBM MaaS360 additionally secures endpoint networks using geofencing, encryption, passcodes, etc. You even get to identify and possibly lock out rooted or jailbroken devices. And in the event that you happen to detect a breach, you can selectively delete sensitive company data.
Another thing you'll love about MaaS360 is its inclusivity. It supports pretty much all the mobile devices you can think of -- Windows Phone, Android, iPad, iPhone, you name it. Even Kindle Fire is fully compatible.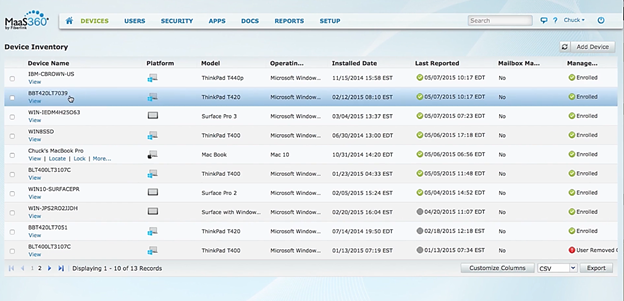 IBM MaaS360 MDM Main Features
Security management: Automatic identification of non-compliant devices, de-provisioning devices, global HTTP proxy, password policies, wipe or lock a device, geofencing rules, plus detect rooted or jailbroken devices.
Compliance management: Roaming state change, SIM change, application runs (restricted/required), encryption compliance, jailbreak/root detection, device restrictions (by email, Wi-Fi, and VPN), email access blocking, plus real-time compliance rules.
Mobile app management: Mobile application container, mobile application security, mobile application lifecycle management, enterprise application catalog, granular administrative control, network resource restrictions, quick app deployment, mobile malware troubleshooting, plus patch and update management.
Device management: Rogue device access revocation, simple device enrollment, real-time document exchange notification, remote device management, default device policy settings, distribution management, content management, user self-service portal, bulk device enrollments, and mobile expense management.
IBM MaaS360 MDM Pricing

Free trial: Get started with a free trial that runs for 30 days.
Essentials: Starts at $4 per month for each client device, plus $8 per user per month.
Deluxe: Starts at $5 per month for each client device, plus $10 per user per month.
Premier: Starts at $6.25 per month for each client device, plus $12.50 per user per month.
Enterprise: Starts at $9 per month for each client device, plus $18 per user per month.
IBM MaaS360 MDM Pros and Cons
| | |
| --- | --- |
| IBM MaaS360 Pros | IBM MaaS360 Cons |
| Applies AI in mobile device management. | Limited report customization capabilities. |
| Comes with a strong, multilayered security system. | Doesn't provide native remote control tools. |
| Remotely performs selective wiping of data from devices. | |
| Safeguards enterprise apps with full containerization. | |
MDM Solution #4: Rippling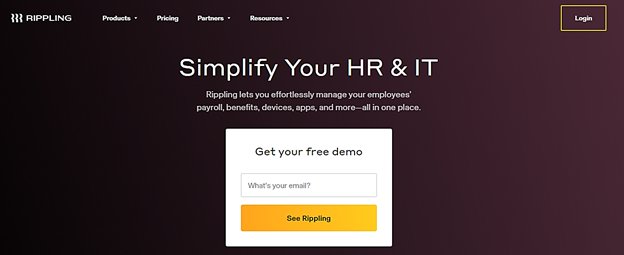 Rippling, as it turns out, is not a stand-alone mobile device management platform per se. Rather, it comes in the form of a centralized, all-in-one, cloud-based platform that powers IT management, along with HR management.
In other words, this is where you find tools for automating task scheduling, position management, employee management, full-service payrolls, benefits administration, workflow coordination, as well as software management, data protection, and asset management.
That said, the IT management module has both device management and app management capabilities. When you combine that with the accompanying HR tools, you have yourself a comprehensive ecosystem for in-house management -- just what MSPs need in order to take charge not only of their employees' operations but also the corresponding endpoint devices.
As an IT administrator, you can, for instance, track and configure employees' devices across various departments. Rippling's device management module can remotely set custom profiles and permissions based on such HR attributes. Plus, you can intricately automate system operations using user provisioning.
On the other hand, the corresponding user de-provisioning triggers are great for enforcing data security. But, for ultimate protection, you might want to supplement that with Rippling's HDD encryption, complex password enforcement, and multi-factor authentication.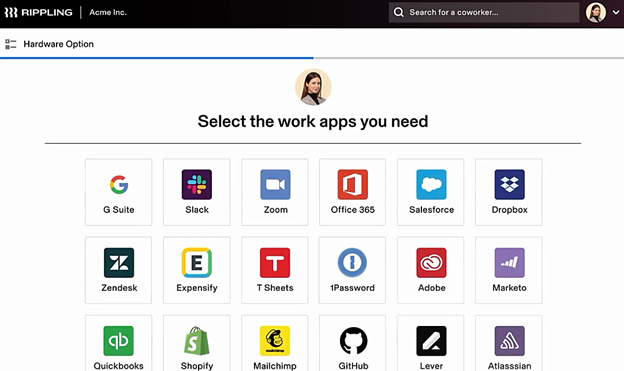 Rippling Main Features
Device management: Auto-enrollment (MDM and DEP), custom profiles and reports, Apple and Windows support, security management, software management, and inventory management.
App management: API, SAML, AD and LDAP support, multi-factor authentication, audit logs, and activity reports, team password management, single sign-on (SSO), provisioning, and de-provisioning.
Benefits administration: Small and large group benefits, payroll deductions sync, third-party broker support, online employee self-service, online open enrollment, and online new-hire enrollment.
Payroll administration: Multiple pay rates, job codes, garnishments, workers' compensation, check payment, direct deposit payment, new-hire filing, plus federal, state, and local tax filing.
Rippling Pricing
Although Rippling doesn't offer a free trial, at least it's generous enough to get you started for as low as $35 per month. But, while that's the base pricing for the core platform, you should expect to pay extra fees for each user that you choose to add to your plan.
Rippling Pros and Cons
| | |
| --- | --- |
| Rippling Pros | Rippling Cons |
| Combines mobile device management with employee management. | Doesn't offer a free trial. |
| Device management comes with security management, asset management, software management, and profile management. | Customer support is not always readily available. |
| Allows you to track employees' devices across departments. | |
| The HR and IT modules can be purchased separately. | |
MDM Solution #5: Miradore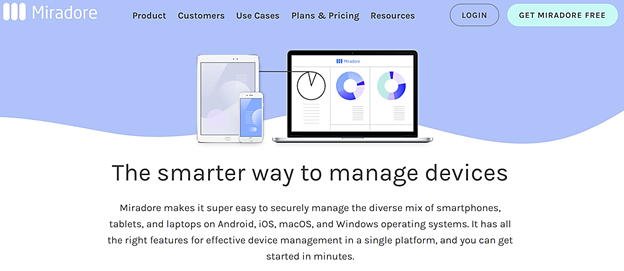 If you're looking for an incredibly easy-to-use tool for managing smartphones, tablets, laptops, and PCs, you might want to check out Miradore. This is where intuitiveness meets with standard device management applications that are developed for small-to-medium-sized enterprise environments.
More specifically, Miradore is particularly optimized for remote device control, system monitoring, task automation, and data security.
Now, on the device control front, Miradore is all about convenience and flexibility. It allows you to install devices and configure the corresponding parameters, as well as deploy and manage apps. The platform can comfortably accommodate not only Android and iOS devices, but also Linux, macOS, and Windows.
As for security management, you can rely on Miradore to automate data compliance, as well as protect both corporate and personal data. You'll find tools for encrypting confidential data, configuring screen locks and passcodes, and remotely locking and wiping devices.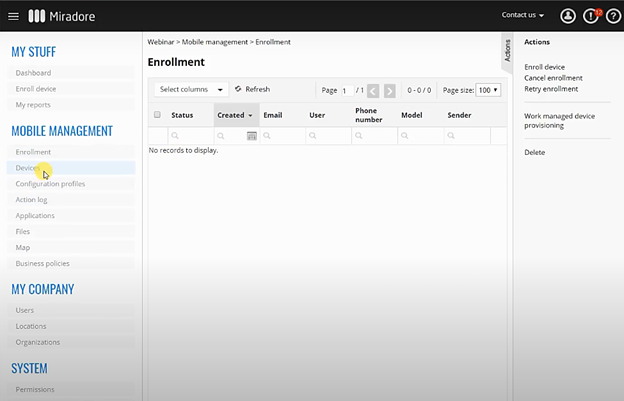 Miradore MDM Main Features
Automation: Creation of business policies based on device/user grouping, file deployment automation, automation of configuration profiles, and application deployment automation.
Monitoring: Customizable dashboards, report builder, device inventory, location tracking, network data usage, and inventory data.
Application management: File deployment, application blacklisting and whitelisting, plus patch management
Device management: Self-service enrollment, notification center, email, Wi-Fi and VPN configuration, data import, configuration profile enforcement, device group permissions, and lifecycle management.
Security management: Selective data wiping, restriction policies, remote alarm sound trigger, permissions management, passcode enforcement, remote device locking, device encryption, data roaming restrictions, two-factor authentication, web content filtering, and storage encryption for mobile devices.
Miradore MDM Pricing

Free: A permanently free package that supports an unlimited number of devices.
Business: Starts at $1.50 per device per month.
Enterprise: Starts at $2 per device per month.
Miradore MDM Pros and Cons
| | |
| --- | --- |
| Miradore Pros | Miradore Cons |
| Pleasantly intuitive and easy to use. | Joining Apple DEP can be a challenge. |
| Offers a permanently free package with unlimited device support. | The UI offers limited customization capabilities. |
| Combines security management with device management, application management, plus resource monitoring and automation. | |
| Can remotely perform selective data wiping, as well as device locking. | |
MDM Solutions for MSPs Comparison
Sophos Mobile
ConnectWise

Automate

IBM MaaS360
Rippling
Miradore
Starting price
$31.50 per user on a 100-user contract – an annual subscription.
Not provided by the vendor
$4 per month for each client device, plus $8 per user per month
$35.00 per month
$1.50 per month
Free trial

+

+
+
-

+

Best for
Sophos provides security solutions for small, midmarket, and pragmatic enterprises.
Designed for IT service providers and managed service providers (MSPs), it is an IT automation solution that helps manage asset discovery, patching, endpoint management, and more.
For organizations that want to manage multiple mobile devices, including IoT devices.
Rippling makes it easy to manage your payroll, benefits, HR, and IT -- all in one, modern platform that's built for businesses with 1 to 1,000 employees.
Price point suits small and medium-sized businesses, yet they have the right features for device management for enterprises. For MSPs, they provide a dedicated MSP portal.
Product Features
Automatic user/device Recognition

+

-
+
+

+

Data management

+

+
+
+

+

Deployment management

+

+
-
+

+

Endpoint management

+

+
-
+

+

Inventory management

+

+
+
+

+

Software management

+
+
-
+

+

Synchronization scheduling

+
+
-
+

-

Wireless network support

+

-
-
+

+

Deployment
Web/installed

Mobile

Web/installed
Web/installed
Web/installed

Mobile

Web/installed

Mobile

Support

24/7 (Live rep)
Business hours
Online

Info is not provided by the vendor
Training

In-person
Live online
Webinars
Documentation

Info is not provided by the vendor

Live online
Webinars
Documentation

In-person
Live online
Webinars
Documentation
Conclusion
As you've probably noticed by now, the costs of leveraging some of these MDM solutions could pile up quite significantly, especially if you're running a growing MSP business with multiple IT agents and a comparatively large client base.
So, you might want to take your time as you compare the MDM solutions for MSPs. And, while you're at it, remember to take into account not only your system's demands and budget but also the accompanying client needs.