As a business owner, you should already be aware of the impact that good tech solutions have on MSPs. To take your business to the next level, you should consider professional services automation (PSA) software.
What Is PSA
Think of PSA as a central database for an MSP. It integrates with core applications that MSPs require to run the business, and it offers complete transparency into internal operations, profitability, and customers.
The right PSA software for MSP will provide a user experience that suits your unique business processes and workflows.
Value of MSP PSA Software
A PSA tool is capable of processing client details, billable hours, time-off requests, and inventory. In these ways, PSAs greatly help to centralize MSP operations, save time and protect business margins.
Accountability is a key element to your overall business growth. More accountability is associated with greater customer satisfaction rates. And considering how almost 50 percent of MSPs measure success through service reliability and profitability rather than customer satisfaction, this is a potentially untapped opportunity for your company.
On top of this, an MSP PSA organizes all of your technicians' activities and tasks, driving tremendous improvements in efficiency.
PSA Tools Standardize MSP Working Methods
PSAs let you do a better job of keeping your promises to customers. By standardizing MSP working methods across the board, PSA tools let you document issues quickly and escalate problems efficiently. This leads to improved service delivery and more satisfied clients. By automating MSP working methods, you also improve your ability to meet company SLAs.
Further reading SLAs for MSPs 
The truth is, messy sticky notes and spreadsheets are often responsible for missed business SLAs and inconsistent customer service. As soon as your MSP business expands beyond five to six customers, you will likely find it hard to rely on manual systems for tracking and prioritizing consumer problems.
A standardized working method, on the other hand, makes things more streamlined and organized for the business.
MSP's Standard Operating Procedures Bundle
Ensure consistent and timely delivery of services. Get 3 free SOPs which you can edit, share, and use in your own MSP:
Adding a new machine to the client's infrastructure
Handling incoming support calls
Managing MSP projects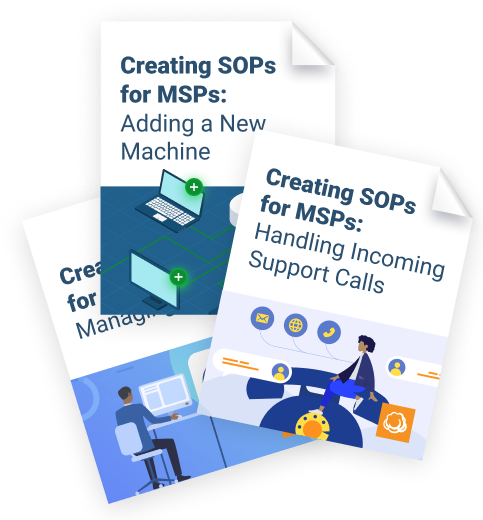 PSA Reporting Happens in Real-Time
An MSP PSA software provides all the information your business needs to grow, and it does it in real-time. Professional services automation tools allow MSPs to capture information and re-use it to generate live reports that make your business more profitable and efficient.
For example, consider project work. Imagine you provide a quote for a new file server installation to a prospective client. The client agrees and you deliver the work. Now, you will consider the project to be a profitable one, right? But do you have any idea how much time it took to finish the project? Without a PSA, the answer is probably no.
PSA solutions help you capture the actual time spent on a project and track it in real-time. This helps determine its profitability. So, your business effectively gets rid of the guesswork and relies more on 'service intelligence'.You can use this information to decide whether your company would undertake another SBS installation at the same rate or tweak future work according to the time spent on the project.
PSA Solutions Simplify Project Planning and Execution
MSP PSA solutions help your business automate day-to-day operations, thereby simplifying the project planning and execution processes. These tools monitor service desk and ticketing and offer improved insights into your overall state of business -- tasks that would otherwise need to be handled by one of your employees.
Think about how much time you would save if a professional services automation solution scheduled tasks, kept track of time, gathered all necessary billing materials, processed and triaged service tickets, and handled internal and external communications for you.
In addition, since a PSA means that all of your business data gets entered into one application, including account management, sales, finance, marketing, service, correspondence, notes, and inventory, nothing is overlooked, and vital information is always readily available.
What's more, the documentation of problems along with the ability to escalate issues efficiently means happier clients and improved service delivery.
Your business may use other tools (like expensive tracking and time management solutions) to help with these processes. But these tools offer only the basics and will not achieve the same level of simplified project planning and execution as a PSA software for MSP. A full-featured PSA tool provides enterprise resource planning, HR functionality, and integrated invoicing with support for multiple languages and currencies.
PSA Tools Provide an Audit Trail
Audit trail refers to previously made changes or the event sequence that you can use to track the chronological order of actions and to outline the time point where a problem occurred. When you implement the right PSA tool for your business, you will be able to view the necessary details using the audit trail that the PSA provides.
PSAs Reduce Admin Costs
As an MSP business owner, you should realize that while revenue growth is necessary, profitability is a lot more important in the long run. You may run your business with separate applications for support, billing, and help desk operations. But this does not enable you to monitor service techs' time accurately.
MSP PSA software helps you pinpoint the issue and realign your project management team, since they track the time your employees dedicate to clients. Plus, during the contract renewal stage, you can renegotiate client contracts on the basis of this data to improve your profitability further.
PSA Solutions Make It Easier to Work with Geographically Dispersed Clients
Nowadays, MSPs support or maintain large groups of geographically dispersed technology and environments, and they have numerous options available to them for getting field labor. One such option is an MSA or master service agreement with one or more firms.
In this scenario, your MSP contracts one or more field service organizations, or FSOs, to offer on-site service as required through the MSA. Your MSP must hand over all on-site requests to the FSO to complete with its own task force.
This is costly and there is no guarantee that the FSO will offer complete visibility, control, and accountability into the process of service delivery. Your business is alerted once a call gets dispatched and completed; you have no idea what goes on in-between.
However, when you use a PSA tool, you gain the necessary visibility. PSA platforms provide complete, cloud-based ecosystems for MSPs. When your business combines outsourced vendor management and labor expertise with program and project definitions, labor management, business process reporting, dispatching, and invoicing, you realize the true value of MSP PSA solutions.
A Poignant Advantage
Move your MSP business to a PSA platform to get the most out of your investment. At some point as you grow, you will require the features offered by a PSA tool; thus, maximizing growth means considering this solution right now.
Further reading Do You Need RMM, PSA or Both?
The benefits and functionalities offered by MSP PSA software give your business the extra edge it needs to outperform the competition and provide quality services to customers.