MSP360 Products.
3 Solutions. 1 Platform.
MSP360 combines
powerful data protection
,
secure remote access
, and
streamlined IT management
in a unified platform.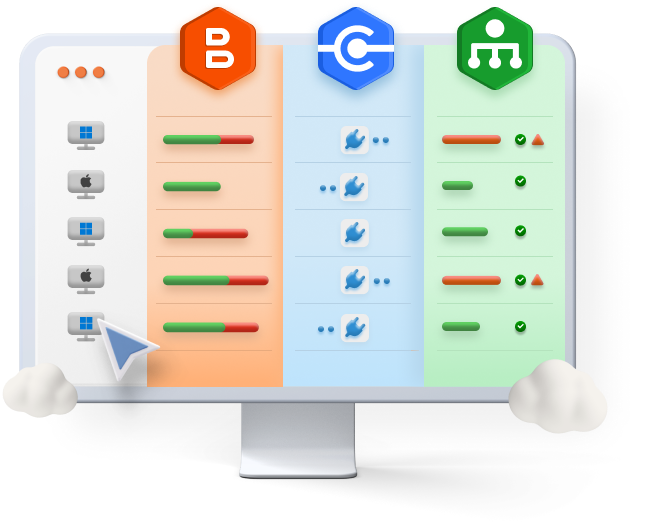 MSP360 Platform
MSP360 is an all-in-one platform that was built from ground up and combines three feature-rich and highly cost-effective IT solutions under one roof.
All MSP360 products are developed in-house which ensures unified security, high stability, and seamless integration between them. A single web console means easy-to-navigate interface and simplified licensing and billing.
MSP360 Managed Backup
Simple and intuitive backup solution with centralized management, monitoring, reporting and free web-based remote access (beta). Enable best-in-class data protection for Windows, Linux, macOS, VMware, Hyper-V, Microsoft 365, and Google Workspace with the cloud storage of your choice.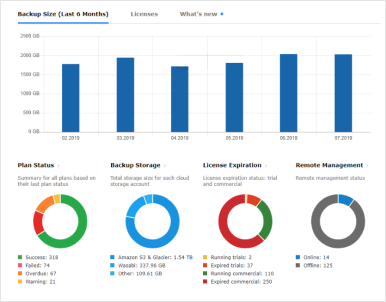 MSP360 Managed Connect
Fast and secure remote access solution enabling remote support, helpdesk assistance, remote work, distance education, and more. Access and control Windows devices from any operating system at any time from anywhere. Licensed per admin with unlimited endpoints and connections.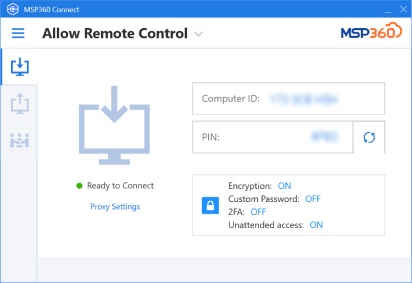 MSP360 RMM
Efficiently manage all aspects of your IT infrastructure within a single dashboard. Features include system resource monitoring, software deployment, patch management, alerting, remote access, scripting, and more. Licensed per admin with unlimited endpoints.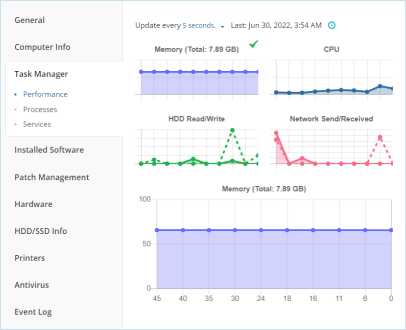 Benefits of All-in-One MSP Solutions: Standardize for Profits with the MSP360 Platform
MSPs and IT teams need a large selection of tools to do their jobs. But that doesn't mean they have to juggle multiple vendors or figure out how to integrate disparate tools on their own.
Learn how you can leverage an all-in-one platform like MSP360, which packs backup, remote monitoring and remote management features into a single suite to focus on doing your jobs rather than managing their tools.
Download Whitepaper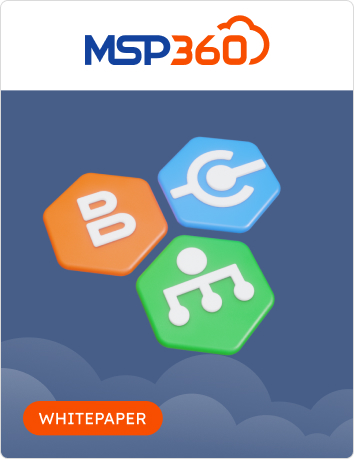 MSP360 Solutions FAQ
MSP360 Products
Are MSP360 products secure?
We value the security of your data above all, and do our best to protect your information within our solutions. We provide encryption, 2FA, immutability, SSL-encrypted connections, and password-level security.
Do I need to use separate dashboards to access MSP360 products?
No, you can manage all products from a single web console.
If I already have one of the products and multiple endpoints associated with it, do I have to install other products on my computers manually?
No, you can install other products on all endpoints you have in bulk.
How can I manage MSP360 products?
All products are managed from the web console leveraging the same management interface for all of them.
Pricing & Licensing
Can I try MSP360 products before I buy them?
Yes, we offer a fully functional 15-day free trial for all MSP360 products.
Can I purchase only one product from MSP360 suite?
Can I purchase MSP360 products in a bundle?
We don't offer bundles, however, you can simply purchase all products in one place.
How are the products licensed?
MSP360 Managed Backup is licensed on a per-device approach, while MSP360 RMM and MSP360 Managed Connect are licensed per admin.
What billing plans do you offer?
Monthly and annual payments are available for all products.
How much do MSP360 products cost?
Support
Do you have educational materials about MSP360 products?
Sure, visit
MSP University
to access detailed product guides and articles.
Do you offer 24/7 support?
Do you have onboarding process in place?
Backup and IT Management Software Simplified