Software for MSP Finance and Accounting Management
MSPs must perform a variety of tasks and processes -- such as accounting, payroll, sales quotes and invoicing -- to run the financial side of their business. Sometimes, it can be challenging to find the right software to help you manage all of these finance and accounting operations.
This article provides perspective on which types of software to choose for accounting and financial management, and how to use your tools. We explain the software stacks that MSPs commonly rely on for this purpose and offer best practices for getting the most out of them.
PSA's Role in MSP Finance and Accounting
A PSA platform is essentially an operating system for your MSP business. The key features of PSA systems include:
Project management: These features help you meet client project milestones and manage project schedules.
Further reading IT Project Management Fundamentals
Resource management: Helps to match available technicians to appropriate projects, which improves resource utilization.
Time and expense management: Allows you to keep track of employee time, and the resulting expenses, for billing purposes.
Thus, using a PSA tool, you can track the money you receive from a particular client, how much money was transferred to your account from a given client and so on.
Popular PSA options that are frequently used by MSPs include Connectwise, Autotask, Atera, and Accelo.
Further reading Benefits of PSA Solutions for MSPs
Some PSA options include the functionality of other MSP software (such as helpdesk and RMM), so it's best to choose those options if they fit your needs and processes. Also, keep in mind the question of integration, and choose the PSA solution that can most easily be matched with your other existing software.
MSP Accounting Software
In addition to PSA platforms, MSPs also commonly use accounting software for tasks such as invoicing customers, paying bills, tracking cash flows, generating month- and year-end financial reports and filing taxes.
Whereas a PSA lets you track money within the framework of your various projects, accounting platforms provide a higher-level overview of all of your business's financial data.
The most popular accounting software platforms for small businesses include Quickbooks, Xero, FreshBooks, and Wave.
FREE WHITEPAPER
4 Essential MSP Business KPIs to Track
Define the potential issues, find most prospective growth factors, and cut ineffective operations.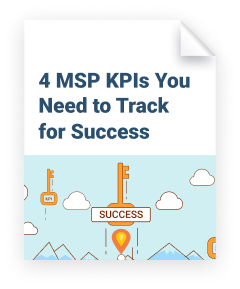 Why You Need Accounting Software
You may be thinking, "I just manage my finances in a spreadsheet, and that works well enough for me."
That may be true if you operate a very small business. However, spreadsheets provide limited functionality. It's hard to keep track of items such as accounts receivable, unpaid invoices and profits without software designed for the task. Nor do spreadsheets provide visualizations to help you understand complex financial data. Although you might technically be able to build some of these features yourself into a spreadsheet, it's probably not worth your time. Just use a software platform that was intended for the task.
Working with an Outsourced Bookkeeper
If managing your accounts and financial data sounds daunting, you can choose the option of working with an outsourced bookkeeper instead.
If you select this route, there are different types of professionals you can reach out to. Local Certified Public Accountants, or CPAs, often offer bookkeeping services. You can also seek out an accounting firm that works exclusively with MSPs. And if you want a hybrid option, you can hire a bookkeeping consultant temporarily who will help you set up your accounting, then transition to managing it yourself.
Hiring a full-time bookkeeper for your business is an option, too, although it is typically feasible only for larger MSPs.
Accounting Best Practices for Small Business
No matter which path you take to managing your MSP business's finances, there are a number of best practices to consider to keep your accounting efficient and clear:
Separate business and personal expenses: This is a basic rule of business accounting. You don't want your personal expense data to be integrated with business data, because doing so makes it difficult to track the business's financial performance.
Track every business expense: Although some expenses seem too mundane to record, you need to record them all.
Accurately record income: It's also critical to make sure you record data accurately. Inaccurate entries can create confusion and mistakes down the line.
Consider hiring a professional, even if temporarily: There's no shame in working with a professional bookkeeper. In fact, it's a wise decision, especially if you don't have a background in finance and accounting.
Automate accounting practices with accounting software: Automation helps keep processes consistent and predictable and reduces the risk of mistakes such as inaccurate entries.
Dedicate time to update your books: You may not look forward to updating your accounting books, but take time periodically to do so. It will save you from mistakes down the line that will be more frustrating to address.
Keep tabs on labor costs: Labor is often the most significant expense in an MSP business, so monitor it closely.
Prepare for major expenses: Major expenses, like software and hardware replacement, will happen from time to time. Be sure you are prepared for these, so you have the funds on hand when they happen.
Maintain inventory records: It's important to keep track not just of what you spend, but also of what you already own, through inventory.
Follow up on invoices and receivables to avoid overpaying on taxes: You don't want to pay taxes on the money you did not receive. Make sure you record receivables accurately, and follow up with clients who are late.
Create financial projections for future years: Effective financial management is about not just tracking real-time financial data, but also projecting into the future, so you know what to expect next for your business.
Conclusion
The software and processes that you use to manage the financial dimensions of your MSP business are just as important as those that power your actual business operations. There are a variety of software tools and strategies that you can use, but the essential requirement is to have a consistent solution in place that lets you understand where you stand currently from a financial standpoint, as well as plan into the future.