MSP360 Connect: Remote Desktop Software for Windows
Securely connect to and control remote Windows PCs from anywhere. A wide range of features and flexible pricing make MSP360 Connect (formerly Remote Desktop) a perfect remote access tool for MSPs and businesses worldwide.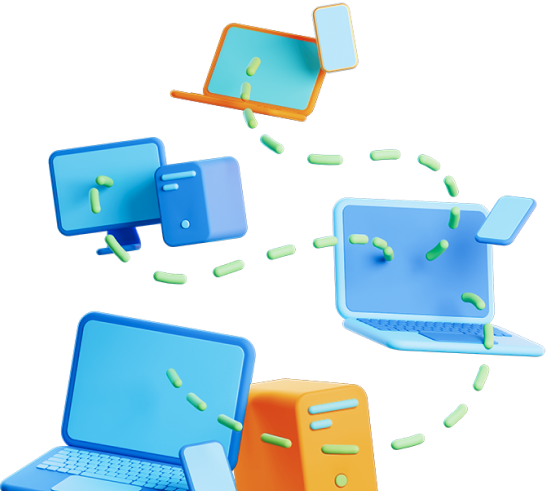 Fast and Stable Connection
Advanced Security Standards
Managed
Web Console and Unlimited Endpoints
Managed
Web-Based Remote Access to Windows Devices
new
Better Than Microsoft RDP
It's no secret that one of the biggest concerns around remote desktop tools for Windows is security. In this guide, we cover all the advanced security features of MSP360 Connect, explain what the Microsoft Remote Desktop Protocol is, what its main security vulnerabilities are, and why you should consider MSP360 instead.
Download Guide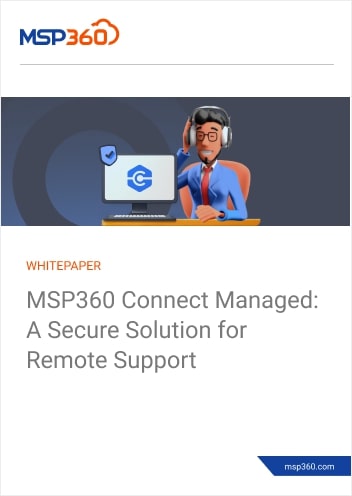 Access Windows Computers Effortlessly and Securely
Access Computers Faster With Seamless Installation
Save time and install MSP360 Connect on remote machines in a few minutes using our deployment feature; configure an installation build and automatically install the agents in bulk.

Be Sure Your Remote Session Is Secure
Our remote desktop software for Windows meets the highest standards of data security. Once the session starts, it is fully encrypted using the RSA encryption algorithm. Moreover, a customizable PIN and password, brute-force protection, and the ability to encrypt configuration settings are included to provide additional layers of security.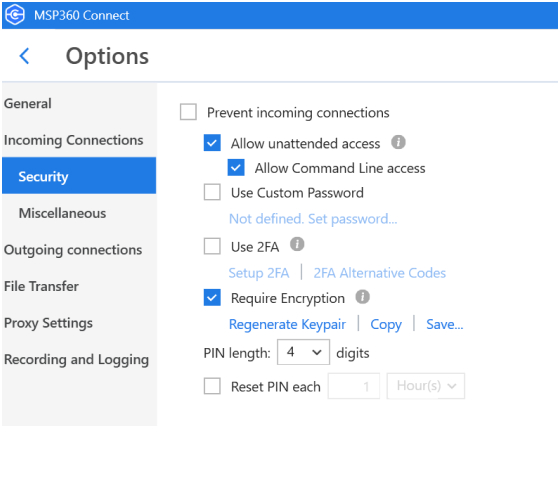 Manage All Connections From a Single Web Console
We value your time and have created a web console as an easy way to overview, run, and manage all your remote connections in one place. Spend less time switching from one client to another; just click the plug icon next to the required computer and you're in.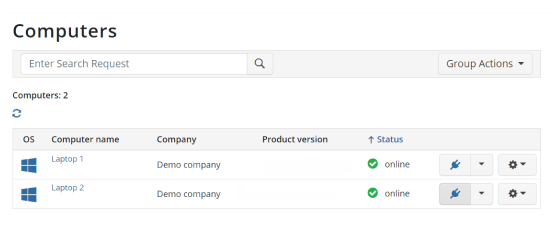 new
Access Windows Devices via a Browser
You can establish a connection with a Windows device right from the web-based console without having to install the MSP360 Connect app on the computer you want to connect from.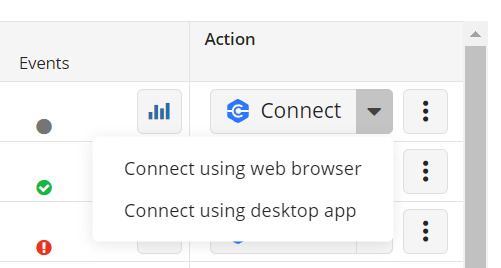 One Windows Remote Desktop Tool For Any Situation
Remote Support
With the current hybrid workflow, remote support is getting harder and less predictable. But, whether you provide remote support to your clients or your own team, you can be sure that MSP360 Connect is the right tool for the job. Just seamlessly connect to an active Windows session and resolve issues on the fly.
Work From Home
MSP360 remote desktop connection software for Windows is a great solution for those people who work from home from time to time and need to access files from their work computer. Access any files you keep on your Windows computer from any device to stay productive and connected.
Remote Learning
Distance learning has become more relevant than ever. With the help of the "meetings" feature, students can attend classes remotely. During the meeting, teachers can share their screens and record sessions. There is also a chat facility, where students can ask their questions.
Connect From Any Device
Connect remotely right from your iPhone! Provide support and access Windows devices wherever you are, and from any system – Windows, macOS, iOS or Android.
Main Features
MSP360 Connect is feature-rich and ready for action.
Fast and Stable Connection
Real-time connection based on WebRTC technology.
Advanced Security
2FA, SSL-encrypted internal and external connections, and password-level security ensure full data protection.
Multi-Monitor Support
Connect to devices with multiple monitors and easily switch between them, or view all.
File Transfer
Share files during the session.
Session Recording
Record your remote sessions and meetings, then play them back via a built-in Session Player.
Text and Voice Chat
Speak or exchange text messages while connected.
Multi-User Sessions
Join an existing remote session with your co-workers.
Standalone
Managed
Unattended Access
Set up a remote session without a connection partner on the other end.
Managed
Centralized Management
Overview, run and manage your remote connections from a web console. Create customer software builds and install them across multiple endpoints in bulk.
Managed
new

Web-Based Remote Access

Access Windows devices via a browser without having to install the MSP360 Connect app on your computer. Simply log into the MSP360 web console and connect.
Managed
Reporting
See full statistics on which of your team members has run a session, what endpoint they connected to, and for how long.
Managed
Black Screen and Lock Input
Protect your data by temporarily turning a user's screen black during a session.
Frequently Asked Questions About MSP360 Connect
How does MSP360 Connect work?
The tool allows you to access other devices remotely. All you need to do is install MSP360 Connect on your computer and the remote computers and establish a connection either directly from the web console or from the software.
How much does MSP360 Connect cost?
The price depends on the selected edition.
Compare our plans
and choose the one that suits you best.
What other operating systems do you support?
MSP360 Connect users can access Windows PCs from any computer or mobile device – that includes Windows, macOS, iOS and Android.
Which Windows systems can I connect to?
You can connect to Windows Server 2008/2012/2016/2022, Windows Server 2008/2012 R2, and Windows 7/8/10/11.
MSP360 Connect: Remote Desktop Solution for Windows