It's one thing to land a new customer, it's a whole other task to keep them around for the long term. That's where it becomes more important than ever for a managed services provider (MSP) to deliver excellent customer support alongside its technology and services to keep those customers around for the long haul.
Customer support broadly refers to the many different types of services that an MSP might offer to support its customers and ensure it's getting the outcomes that it's looking for. This could, for example, include installing and maintaining the products and services that the MSP is contracted to deliver, or providing a delightful customer service experience when an issue arises (as it inevitably does).
Further reading How to Enhance Customer Experience
Having good customer support can make a massive difference in how customers work with a business, or if they want to continue working with them at all. Customer service is a major factor in whether businesses want to do business with a company. Eighty-nine percent of customers are more likely to make another purchase with a business if they have a positive experience with customer support.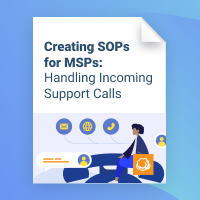 There are several factors that an MSP should consider when building out its customer support capabilities. Here are some areas to consider:
Incorporate customer support into onboarding of new clients. Setting expectations around customer support should start from the very beginning of the customer relationship. Make sure the customer feels welcome and informed as to what the expectations are for working with the MSP, as well as having all the information they need to begin a successful relationship. This is just the beginning of a communications cadence with the customer.
Implement a systematic communications plan. Do customers know who to call when they have an issue or a need? What happens when those calls come in? These are both critical process questions that MSPs should know the answer to. MSPs should make sure it is clearly communicated to customers who to contact and how, and that there are regular touch points, so the MSP can proactively identify any needs and how, subsequently, those needs will be addressed. The more systematic an MSP can make this, the less reactive it will be and the more consistent an experience it can deliver.
Set expectations and SLAs. Setting expectations is key if an MSP wants to meet (or exceed) them. Sitting down with a customer, preferably early in the relationship, to set service level agreements (SLAs) is a great way to set expectations around customer support. From there, the MSP has specific metrics and measures to ensure it is meeting customer service expectations. The MSP should clearly document its progress against these SLAs, so the customer is aware of where the relationship stands.
Stay in contact, be engaged. A huge element of good customer support relies on the human element. MSPs should train their employees in good customer service and how to interact in a positive way with customers. A friendly, prompt, and professional interaction with the team can go a long way towards ensuring customer happiness around their support relationship.
Address complaints quickly. Inevitably, there will be some issues that arise over the course of a customer relationship. What matters most is how an MSP navigates those challenges. Good customer support means quick investigation of a problem, then subsequent action to address it. The MSP should make sure they are communicating with customers often, so they are kept in the loop with how the issue is being addressed and feel confident that it is being addressed.
Further reading How to Deal with Customers' Complaints
MSPs that go the extra mile with customers around support will go a long way towards building impactful and long-standing relationships. Taking a few extra steps to ensure a positive customer support experience will certainly pay off in the long run.