Mobile devices have become an integral part of our lives – both personal and professional. Many issues require our personal presence near the computer because mobile phones have not yet become a full-fledged replacement for computers.
There are many examples of how phones regularly help us in our work, but let's focus on one specific example – the ability to connect to a remote desktop via phone in two clicks.
There are many applications that can help you connect to a remote machine to solve the issue at hand – whether it is helping a colleague, client, family, or friend, or needing to connect to your personal / work computer in the event that you need to get some important document, and you forgot to upload it to the cloud.
In this article, we'll explain in detail for whom, when, and why a remote desktop application on a phone can come in handy.
Who Benefits from a Mobile Remote Support Tool
Undoubtedly, there are many situations and professions that call for a remote desktop application on a phone. We'll look at some of the most common cases.
MSPs and IT Technicians
Mobile remote support apps will become an indispensable assistant for MSPs and IT specialists as an additional way to remotely support clients. With the remote access tool installed on admins' phones, it's easier to provide remote support to clients from anywhere.
For example, if the most experienced admin is away and other admins can't sort out what's causing a problem with one of the clients' machines, this experienced admin can connect to the relevant computer directly from mobile, using a remote support app.
Some mobile remote support apps have text and/or voice chat, by which MSPs can easily talk to their clients in real time while resolving an issue.
Small and Medium-Sized Businesses
There are various situations in which the mobile version of a remote access tool will be useful to small and medium-sized businesses. Let's take a look at some of the basic ones.
This case is close to the previous one with MSP remote support. Let's imagine a company with an IT admin working freelance two days a week. In the event of any unforeseen situation, a company may need urgent help from an IT specialist. This is where the remote access app comes in. Mobile remote access apps can be used to quickly connect to a computer and see what the problem is, or even solve it.
Or, for instance, you need to get some file from your computer, for example before an urgent meeting in a public place, but this file is not in the cloud. With the help of a remote access app, you can connect to your own computer and send this file to yourself.
Personal Use
Of course, remote access mobile apps can also be used for personal purposes. They are quite similar to the remote support cases described above but, in this case, it will be support for yourself and your family. It's always convenient to connect to a friend's computer in a few clicks while sitting at the airport and help them solve a problem, just like connecting to your computer if you accidentally deleted a file from your mobile phone.
MSP360 Connect As a Way to Access Computer Using a Mobile App
MSP360 Connect offers mobile remote support apps for iOS and Android, which are totally free and can be used for both business and personal needs.
The MSP360 Connect mobile app has a user-friendly interface that makes controlling the remote device easy and comfortable on any iOS or Android device. It comes with:
Remote access functionality to connect to devices in a few clicks. All that is needed to access a remote device is to specify their computer ID and then enter a PIN.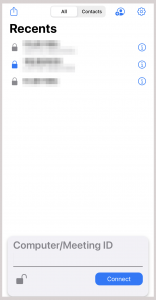 Advanced security options – 2FA, SSL encryption, and password-level security ensure full data protection.
Multi-monitor support to easily switch between a couple of monitors or view all.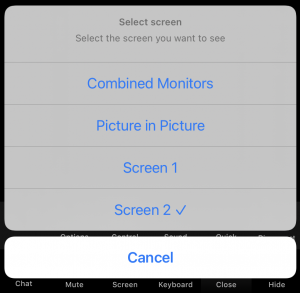 Meetings to communicate if you're out of the office or traveling.
VoIP to talk during a remote session.
Chat to talk using a keyboard if you are not able to talk.
Quick actions to send key combinations directly to the remote machine, and other useful features.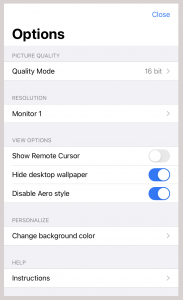 Conclusion
By installing MSP360 Connect on the computers you need to support, you can connect to them using both the MSP360 Connect desktop app and the mobile app, if you only have a phone with you. So the MSP360 Connect mobile app gives you the ability to remotely support devices and troubleshoot on the go, no matter where you are or whether you have a laptop with you.
To start using MSP360 Connect on iOS or Android, go to the download page, select the necessary OS, and then follow the direct link to App Store/Google Play Store.