Ransomware Protection & Backup and Recovery With MSP360 Managed Backup and RMM
Protect your backup data from ransomware attacks with the latest Immutability technology coupled with advanced storage options, making your business operations safer and more secure with MSP360.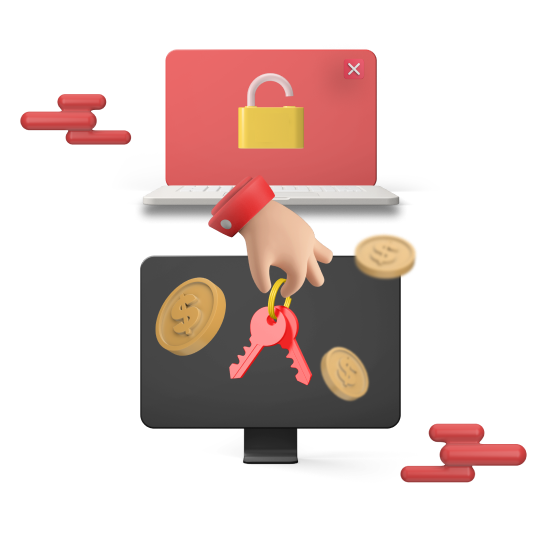 $8.19 M
Average cost of a single data breach incident (Digital Guardian)
93%
Of organizations never survive a cyberattack (PhoenixNAP)
75%
Of organizations will experience a ransomware attack (Gartner)
Steps for Keeping Backup Data Safe From Ransomware
Backing up data regularly is one of the most important things you can do to protect against a ransomware attack.
But that's true only so long as your backup data itself is kept safe from ransomware. If attackers manage to compromise your backups, too, they can render the data unusable for recovery purposes. As a result, you will find yourself in most cases with no option other than to pay the ransom if you want to restore operations.
Learn how to stay safe from ransomware.
Download Whitepaper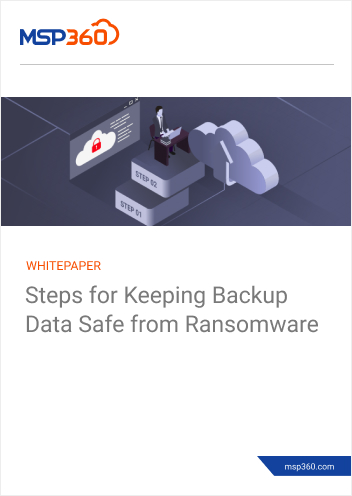 Ransomware Protection With MSP360 Backup and Recovery Solution
Backup Encryption
All connections in MSP360 Managed Backup are SSL-encrypted by default. We support AES encryption with key sizes of 128, 192 and 256 bits
Different Permission Levels
Add another layer of security by creating separate administrators with limited permissions and capabilities
Two-Factor Authentication
Lock access to the console and don't let cybercriminals steal your data. Easily track if someone tries to access the platform with your password
Immutability
Prevent backup data from being deleted or corrupted by ransomware with the additional GFS retention settings
Immutable Backups Explained
IP Allowlisting
Whitelist connections from specific IP addresses to avoid unauthorized access to MSP360 Managed Backup console
Modification Protection
Cybercriminals might delete or change some options that are vital for successfully creating backups. Lock editing of backup and restore plans to avoid data loss
Secure Data Restore
Automate ransomware protection and recovery and restore data rapidly at the chosen point in time to roll back to it in case of disaster
Flexible Retention Policies
Keep 2 or more backup versions to avoid any malware attacks or overwriting backup data with several file versions
Stay Safe From Ransomware With MSP360 Managed Backup
Enhanced Ransomware Protection With MSP360 RMM
Real-Time Monitoring And Alerting
Ensure endpoint visibility and stay aware with a pre-configured set of alerts. Get timely notifications about system health and mitigate issues on time
Patch Vulnerabilities
Patching delays can be fatal when ransomware targets unpatched systems. With efficient patching strategy in place, you can easily stay on top of security
Efficient Virus Detection
Detect suspicious activity with regular antivirus databases updates and virus scanning
Encrypted Connections
MSP360 RMM uses encrypted connections only to improve account security. It's impossible to perform any action except monitoring without enabling 2FA
Stay Protected With MSP360 RMM
Ransomware Protection And Recovery Best Practices
Frequently Asked Questions About Ransomware Protection & Backup and Recovery
It's a type of malicious attack created to block access to data, theoretically until the demanded sum of money is paid. Why theoretically? Because cybercriminals are not obliged to decrypt files once the ransom is paid, and you might end up losing all your data anyway.
Usually, it infects systems in two ways: the first one is via email, the second one is via suspicious links on websites or fake ads. These methods typically push the victim to click a link or download an attachment. Then the malicious software is installed and the infected part of the code encrypts all the data.
What is ransomware protection?
There's no way to guarantee immunity against ransomware, but you can avoid being affected in most cases. Basically, the best strategy is never to click suspicious links, double-check the contents of the emails you receive, never click pop-up windows with ads or suspicious ad banners on websites, have a solid backup and recovery tool in place, and keep systems up to date with timely patching.
How to protect backups from ransomware?