Guide to MSP Help Desk Structure
If your managed services company is in its early stages and you are confused about which way to go to build your support system, or which framework to follow, this article has the information you need.
There are several planning phases required to launch an organization and eventually become profitable. Perhaps the most daunting aspects are establishing an MSP help desk and selecting the perfect support team structure. They can be key components in achieving company objectives.
Tiered Support Model for MSPs Explained
Managed IT services largely adhere to the principles of a tiered support model to create the ideal MSP help desk. Over the years, the adoption of this framework has proven to be effective for resolving clients' issues in an appropriate and timely fashion.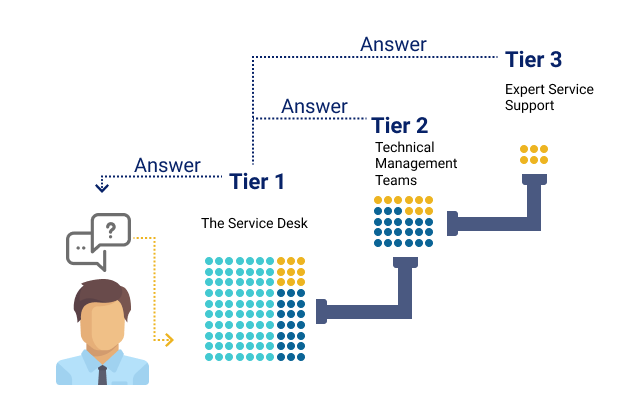 The tiered help desk structure is categorized as follows:
Tier 1 – The Service Desk
Your service desk personnel are like frontline warriors. They should be conscientious, professional, and most importantly, patient. It is common for clients to come to an MSP with a sense of urgency when reporting an impending or recurring issue. Therefore, in a multi-tiered technical support setting, it is critical for service desk staff to manage the issue and present a resolution. However, if an issue has to be escalated, then it should be immediately sent to the appropriate team.
From the perspective of expertise, Tier 1 staff members are generalists and have more broad-based knowledge rather than complex technical skills. Their main skills are accuracy, politeness, and the ability to respond swiftly. Tier 1 can generally settle up to 70% of complaints. Any issue that is deemed irresolvable at this level is passed on to Tier 2.
Further reading Service Desk vs Help Desk: The Difference Explained
Tier 2 – Technical Management Teams
The second level in the tiered support model consists of support engineers that possess a more refined and specialized IT skillset. The complexity of problems that are escalated to this stage is higher and may require more time to find a resolution.  Approximately 20% of incoming client reports to an MSP are handled by staff members at this tier. Accordingly, your SLA should have a clause that specifies the minimum and maximum answering time for each tier. Once a case is managed successfully, the team contacts the customer for ticket closure. However, if a problem persists, then Tier 2 teams notify Tier 3 support to step in.
Tier 3 – Vendor or Developer Support
Specialists at this level only step in when other personnel within the company's multi-tiered technical support system have proven to be ineffective in addressing user concerns.
Third line support is responsible for assigning an appropriate resource to tackle the issue. These highly-skilled engineers are costly to onboard but are an indispensable component of managed services. MSPs need a third line support team if they have to resolve numerous cases with high complexity that require an understanding of code and how to fix bugs. Following the resolution of a problem, a notification is sent out to the technical management teams and the service desk to close the ticket.
The Solution for Medium-Sized MSPs
Most medium-sized MSPs have about 25 to 30 employees categorized into IT support teams (e.g. L1: 3; L2: 3-5; L3- 2-3). Their client base may include companies with an employee count up of to 100, with the remaining averaging 20 to 30 employees per business. Depending on the tiered help desk structure, the escalation mechanism usually employs a service desk coordinator to circulate tickets amongst varying tiers.
Group Support Model: An Alternative to the Tiered Support Model
As a substitute for the tiered help desk structure, there's the group support model. A group support model calls for the development of clusters of teams made up of four to eight members. Each team is assigned its lead and is responsible for managing a focused clientele (for example, backup, project, NOC, and firewall, amongst several others).
The benefit of adopting this model instead of the tiered support model is that it allows support staff to work with each customer with a personalized and customized approach because their issues are usually handled by the same staff members in each instance. Moreover, this model allows L1/L2 engineers to be part of teams in some scenarios.
In smaller MSP teams where the number of team members does not exceed five, employees tend to develop a generalist approach, as they have the experience of collectively delivering tasks performed by L1 and L2 engineers.
Responding to Developments in the Realm of IT
Information Technology is arguably one of the most fast-paced industries in the world. Therefore, prospective entrants into this field must take into account several internal and external factors when deciding on the ideal MSP help desk structure. Consider your objectives, budget, and expertise while taking into account MSP best practices as the benchmark for the tiered support model implementation.