How to Enhance Customer Experience
Whether you're a major player or a newbie in the MSP space, you're always on the lookout for ways to expand your customer base, cut costs and increase revenue streams. While there are several strategies you can implement to achieve your growth objectives, enhancing the customer experience certainly tops the list.
Focusing on customers' needs and making them a top priority is the fastest way to profitability as an MSP. Not only does this give them an edge over the competition but it turns prospects and existing customers into loyal, long-term clients.
On the other hand, traditional MSPs are product/service-focused. While you should design offers, subscription plans and bundled offerings that make it clear what you do, customers aren't really interested in what such offers contain or the technicalities of how you deliver your managed services. They are interested in how you can help them solve their challenges and pain points and leverage technology to achieve the objectives of their organization.
Essentially, your sales team and customer success managers should help prospects and clients figure out how to achieve their specific business outcomes, rather than expounding on the merits of the services you provide. Even so, this is just one of the many steps you have to take to design a stellar customer experience for your customer base.
Understanding the Customer Experience
The customer experience encompasses the reaction of your customers as they progress through your customer journey — from acquaintance through retention. You should note that your take on interactions may differ from the customers' own perception of what is going on.
For instance, most interactions between MSPs and customers occur when the customer experiences downtime or has difficulties in using IT equipment. Even when you go above and beyond to resolve the issue, the customer may still be dissatisfied with the outcome. This may be due to any number of reasons, including unmet expectations and unclear communication.
Stages of the Customer Experience
The best way to avoid such situations and ensure a satisfied client base is by managing the customer's path and personalizing the customer journey.
You can achieve this by understanding the various stages that make up the customer experience and taking proactive steps to exceed expectations at each stage. Let's take a look at what MSPs should do to create an awesome customer experience for their clients.
Pre-Onboarding Process
At this point, prospects are usually at the consideration stage and typically ask a lot of questions to be sure they made the right choice in coming to you. Even after deciding to sign up, they may start second-guessing their decision and checking out your competition.
You should never ignore requests for more information and should strive to answer all questions on time.
While it's a good idea to influence a prospective client's decision by promoting the benefits of your services, don't overdo it. Pushy marketing messages often backfire. Rather than aggressively pushing your sales proposition, gently promote your offer through ordinary conversation.
One way to do this is by getting prospects to talk about their pain points and challenges and then offering viable solutions that align with the nature of your managed services.
The most successful MSPs are customer-centric — not solution-centric. Show prospects that you really care about their business and are not just selling bundled offerings to increase your client base and boost your bottom line. Treat them well and show them that you're willing to help them resolve their pain points.
Onboarding Process
The most important objective of the MSP client onboarding process is to make new clients feel particularly welcome, settled in and comfortable with their decision to sign up. After the initial welcome, get the new client acquainted with your team. Organize an intro tour that takes them through your processes, the proper use of communication channels, and educational content.
Further reading MSP Client Onboarding Checklist
Set customers' milestones and send timely updates on the progress and completion of each process. Expect questions and always be ready to provide answers. Above all, personalize your entire onboarding process to avoid making clients feel that you're just ticking items off a checklist.

Post-Onboarding Process
A lot of MSPs execute the pre-onboarding and onboarding process quite well, but drop the ball when it comes to post-onboarding. Communication with clients is vital at this point and savvy MSPs make it easy for customers to reach them anytime, anywhere via multiple communication channels (phone, email), which work at all times.
However, when you want to reach out to clients, it's best to do so via their preferred communication channels. Learn beforehand how they would like to be contacted.
After receiving a complaint or ticket about system or service downtime, send timely updates to keep them informed about the status of your resolution efforts. You can create a follow-up automated email that says, "Thanks. We've started working on your problem, and it will be resolved in N hours." This assures clients that their needs are your top priority and that your team is on top of the situation.
When clients complain about your services, response time to issues or unmet expectations, calling them over the phone or scheduling face time to offer your sincere apologies is the best way to handle such situations and show that you truly care about the problem. Such a personal touch also comes in handy when informing customers that their MSP contract is expiring and due for renewal. Call the customer a few days before the expiration date to remind them that their subscription will soon be canceled.
Finally, you should always listen to the customer. Gather feedback regularly, because the things they tell you are extremely valuable information that can help you improve the customer experience and ensure better service delivery. However, don't overload customers with long and frequent surveys; keep them short.
MSP's Standard Operating Procedures Bundle
Ensure consistent and timely delivery of services. Get 3 free SOPs which you can edit, share, and use in your own MSP:
Adding a new machine to the client's infrastructure
Handling incoming support calls
Managing MSP projects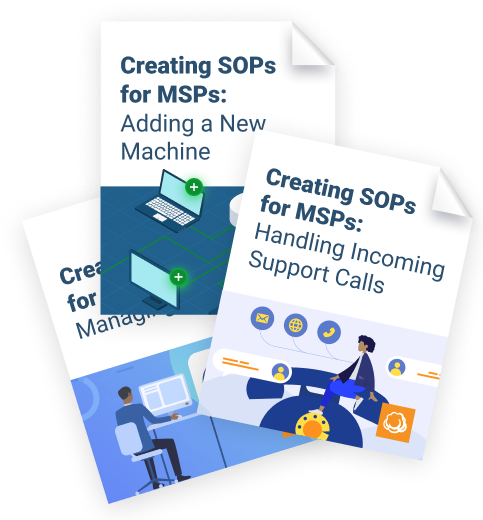 Transparency and Usability
To make sure that customers are not lost in your MSP documentation, applications, and website, you should make sure that each step you take is understandable from their perspective. This promotes transparency and usability.
The first thing you should do is to create a welcome kit for a smooth onboarding process. Offer educational resources, so customers don't spend all their time figuring out what they should do. You can send your customers a couple of introductory articles with general information about your services. You can also include the terms of your MSP referral program to inform customers of the additional benefits of working with you.
Managing customer expectations is a great way to control the customer experience. Savvy MSPs achieve this by investing time and resources in creating a detailed SLA that includes firm policies and processes around discovery, scoping, quoting, and billing.
Further reading Service Level Agreement for Managed IT Service Providers
Also, you should discuss with your customers each point of the contract. They should understand the terms and conditions, each item on the contract, how to contact you in case of problems, etc. Once clients thoroughly understand your contracts and SLAs, they'll temper their expectations accordingly.
Projects don't always go as planned. While you don't have to report each step to your clients, you should get them to sign off when circumstances force you to change the direction or scope of an ongoing project or service delivery. This helps to prevent disputes that may occur down the line.
Also, do not include services that you don't yet have the capacity or resources to deliver. Rather than overpromise and underdeliver, you should do the reverse. Always be honest about your current position and the extent of managed services you can deliver to your client base. You can always add on more services as you grow and acquire more expertise and resources.
Wrapping Up
Accurate customer expectations are set by designing a structured onboarding process and providing clients with open communication channels, accessible educational resources, and a detailed SLA. Done right, the above best practices can be incredibly helpful in creating a customer experience that turns prospects into loyal, long-term customers. Not only will clients see you as a savvy managed service provider, but you'll also become their trusted technology advisor and business partner.