Swag is not really a new idea. The technique is time-tested, and still delivers impressive results, even for contemporary businesses such as Managed Service Providers (MSPs).
As an MSP, you can use swag to publicize your brand, promote your business on IT conferences and build relationships with existing and potential clients.

Why Is Swag Important?
In the era of handwritten prescriptions, doctors never needed to buy pens. In some cases, not even their prescription pads! The nature of corporate/promotional gifts has changed, while the practice remains as dependable as ever.
The core principle here is simple, really. It is important to advertise your brand in as many different ways as you can, especially when competition is fierce. Promotional giveaways are a sensational way to do just that.
You cannot possibly participate in a tech conference, for instance, and not have swag to offer. There will be other MSPs with their branded freebies to distribute. It's unlikely that visitors will swarm around your stall only to look at your promotional material and listen to how good you are. That's not how human psychology works.
Be honest: wouldn't you do the same?
Swag Humanizes Business
There are compelling reasons to invest in high-quality swag other than just for advertising your MSP. Business gifts are a way to express your appreciation for your existing clients. They are a simple strategy to keep the relationship going.
Swag carefully selected for employees at different positions in the hierarchy of an existing client, helps you humanize your relationship with them. That's a huge advantage when it comes to retaining business.
How to Make a Mark with Your Swag?
That's a tough job, given that all MSPs would be distributing some freebies. You have to find a way to make your swag stand out from the rest. There are a few simple strategies that might help you.
A clarification: This section is about inexpensive mass swag you can distribute at a scale.
No Pens & Key Rings
Pens and key rings are technically useful, but they are also the most commonplace. Companies other than MSPs also use them as giveaways. Avoid pens and key rings if you don't want your freebie to be dumped along with a host of other similar items.
But don't dump the idea of gifting something useful. That's critical. The best way to be in the receivers' mind is to give swag they will use, preferably, on a regular basis.
Connect Your Swag with Your Service
Think of something not too expensive, but useful and something that ties closely with the nature of your business – that's IT. Mobile cases and screen guards are a strong option. So are USBs and mouse pads, or any other computer accessories.
If you go for mouse pads, check if you can have the services you offer printed on them without escalating your gifts budget too much. But please, make the pads look attractive, so that they grab eyeballs, and drive your promotional message home.
Microfiber cleaning cloths and webcam covers are other inexpensive swag options that you can distribute at IT conferences.
If your MSP has been doing particularly well and you are ready to spend a little more on your giveaways, laptop cases are an option. Magnetic mobile holders for use in cars are another possibility.
You could also think of folding wireless mouse or fabric Bluetooth speakers. These are somewhat expensive for mass distribution. However, they bring the benefit that the recipients are almost certain to use them.
Check out these marketing templates that we created to help MSPs sell backup services, including a promo email, customer presentation and a leaflet: 
FREE ASSETS
MSP's Marketing Templates for Selling Backup
Struggling to win new clients? Use this set of white-label marketing materials to close more Backup-as-a-Service deals.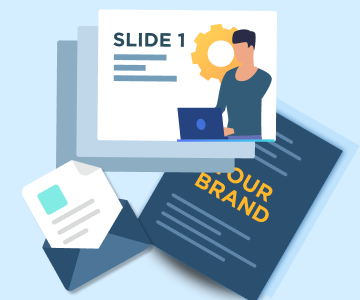 Be Creative
A number of articles you read on possible swag ideas will tell you that socks are favorites. How do you connect them with an MSP? Well, here are a couple of ideas.
Use the socks as containers and fill them with some relevant but not too expensive freebies. Go Christmas style, in other words. Neatly organized charging cables for mobile phones and tablets are suitable enough to be put inside a sock. So are USB drives, and flashlight pens.
So, here's a suggestion:
Choose a common item, but make it different.
Anti-phishing instructions printed on t-shirts, for example. Get a graphics designer's service, and create suitable cartoons or doodles to accompany the instructions.
Business Planner
If a tech conference is happening around year end or towards the end of the fiscal year, a single page printed business planner is a judicious idea for swag. But again, you'll have to check the cost of customizing them with your MSP specific information.
Not Just Your Logo
For these large-scale swag that you plan to distribute, just your logo will not do. Make sure that your contact details are also visible. The idea behind distributing your giveaways is to help prospective clients remember your MSP.
Swag for Your Existing Clients
This is where you need to be most creative and least stingy. Remember, these are business gifts you distribute to show your gratitude and strengthen the human connection you have with your client.
Foldable wireless mouse, fabric Bluetooth speakers, power banks, and wireless charging pads are some of the most appreciated swag. Coffee mugs, t-shirts, and socks are also among time-tested corporate favorites.
Don't Discriminate, but Do Differentiate
A bigger client deserves more investment in business gifts than a smaller client. Select your items accordingly.
The same applies to different employee levels. Your gift for the CEO or other senior managers, if they happen to be there, should not be the same as what you are distributing to other employees in the company.
Also, show your definite preference for the people you directly work with. Human relationships differ. To acknowledge that is not to be discriminatory.
A Catch 22 or an Opportunity to Be Distinctive?
The Knack study on business gifting says that recipients are tired of receiving gifts with logos. Why so? Because they really aren't comfortable wearing a tee shirt that has their MSP's logo!
They appreciate companies that give gifts without logos and prefer to do business with them.
That may well seem to be a catch 22, since it is difficult to think of business promotion without your logo prominently displayed. But you can actually use this as an opportunity to stand out.
Put your logo where it is visible, but not too obviously. The inside flap of a laptop bag, for example. Or the very bottom of the t-shirt instead of the traditional upper part, which will also look like an interesting design. Those who receive such swag will appreciate your thoughtfulness.
Conclusion: Awesome Swag Means Awesome Company Culture
Look beyond basic tees and badly designed sunglasses that come a dime a dozen. Whether it's your client, or your own employees – everybody can tell a good freebie from a freebie thrown away just because you have no other use for it.
A robust, funky, and good-looking water bottle with your business logo and a catch-phrase, sitting on 8 out of 10 employees' desk – that paints a pretty picture. And more than that, it boosts the results you get from everything else you're doing to nurture a positive culture.
Your sales lead, flaunting his company branded laptop bag in an international flight - that's the right vision to chase. Don't even try to do what several have tried and failed at miserably – that's throwing cheap and thoughtless swag in dozens.
Happy swag planning, MSP entrepreneurs!