Top Paid Remote Monitoring and Management Tools for MSP
Remote Monitoring and Management (RMM) is a category of services, designed to help IT specialists monitor and manage IT infrastructure - from desktops and servers to network availability and setup. These tools are essential for Managed Service Providers (MSPs), who monitor their clients in a timely fashion and provide services under given SLA's. IT technicians can save time on patches and update management, software installation, and configuration, solving issues, etc.
In this article, we are going to overview leading MSP monitoring tools on the market.
Ready to provide more than RMM to your clients?
The Best Paid MSP Monitoring Tools
Here you will find a list of TOP market-leading RMM tools with a brief description. There are a lot of such tools on the market, but we have shortlisted the best to help you choose. We have chosen the companies, that provide stable and thoughtful solutions, well-known on the market. There are remote monitoring and management tools for enterprise-level and small-mid range as well. You, for sure, can seek the hidden gem, but why, if there is a gem, lying right in front of you?
Further reading RMM: What MSPs Need to Monitor
Autotask Endpoint Management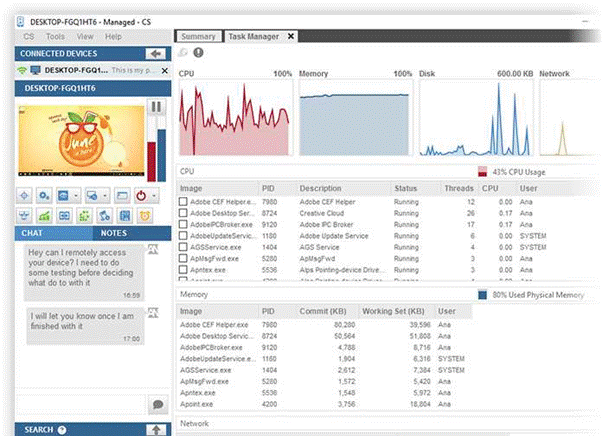 Autotask EM (AEM) is a SaaS management solution, so you do not need to set up your server infrastructure. AEM however, requires the installation of an agent on every device, of which you will be connecting to or from. You can download the agent on a remote system and manually start the silent installation, or you can use Active Directory GPO to do this work for you. An option of autonomous AEM installation, to deploy agents across LAN segments by using "push" functionality, if one of the devices already has the agent installed - you can just use it, as a starting point of massive deployment.
AEM can start your scripts on remote devices, collect log files, do some patchwork, run PowerShell commands, etc. You will be able to chat with the user, but not directly delete remote applications, nor change user groups' membership using GUI. All of these options, though, are fully covered when using CMD and PowerShell consoles.
The main advantage of Autotask EM is that it is part of a unified RMM/PSA solution, meaning you can easily integrate it with automation tools.
Further reading Introduction to Endpoint Monitoring and Management
NinjaRMM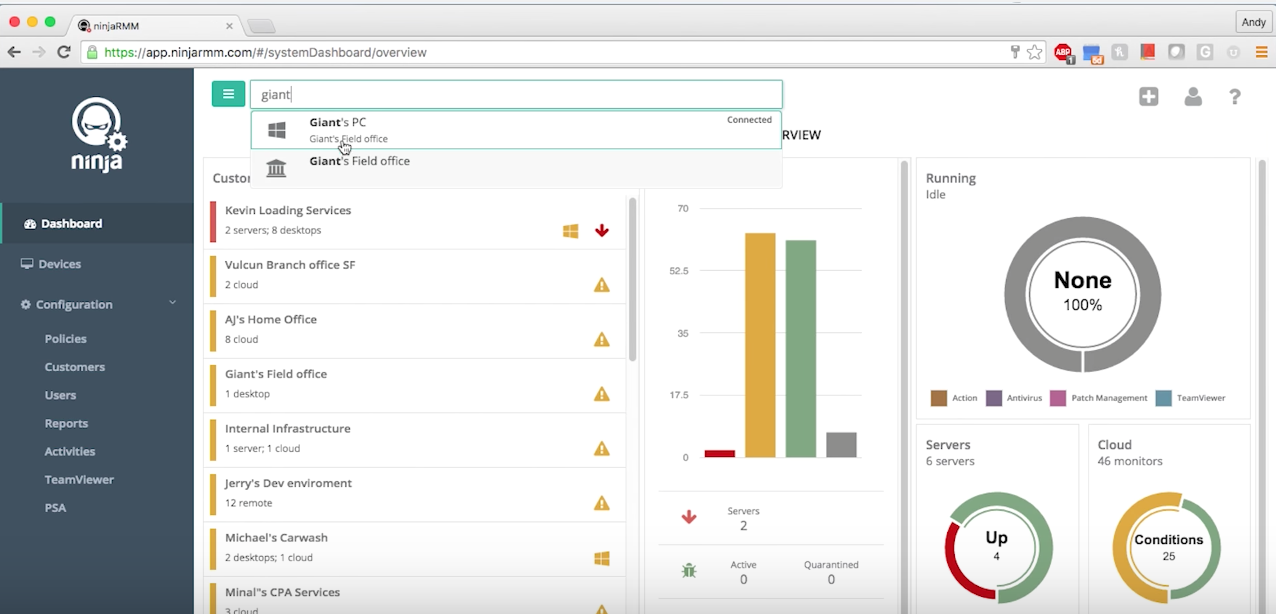 Ninja has introduced it's remote management and monitoring solution, that is more suitable for medium business users, rather than enterprise. It has, however, a wide range of flexible features and integration - you can integrate with most popular PSA systems on the market. Ninja is highly focused on security, so it offers amongst the most thorough 360-degree monitoring on the market.
The usual stuff for remote monitoring and management tools is also here - you can set up the software remotely, do patching, scripting, etc.
The other strong point for Ninja is easy, pay-as-you-go per-device pricing. If you don't like to pay yearly, or you are tired of bulky enterprise-like solutions and would like something lighter, yet packed with good core features - check out Ninja.
Connectwise Automate
Another option on the list is ConnectWise Automate, which has a cloud-based server with client-server architecture for managed computers. It has remote monitoring and reporting options, as well as alerting and automated system trigger-driven remediation. It allows you to manage user devices and monitor their performance using a unified dashboard, including tasks such as creating and editing user accounts, running shell commands and uninstalling apps with a few clicks.
This particular RMM solution includes an agent "push" installation method, for when you need to manually install only the first agent on the network and it can then handle others. ConnectWise Automate can also be integrated with TigerPaw and Autotask PSA systems for better management flexibility.
Repairtech Kabuto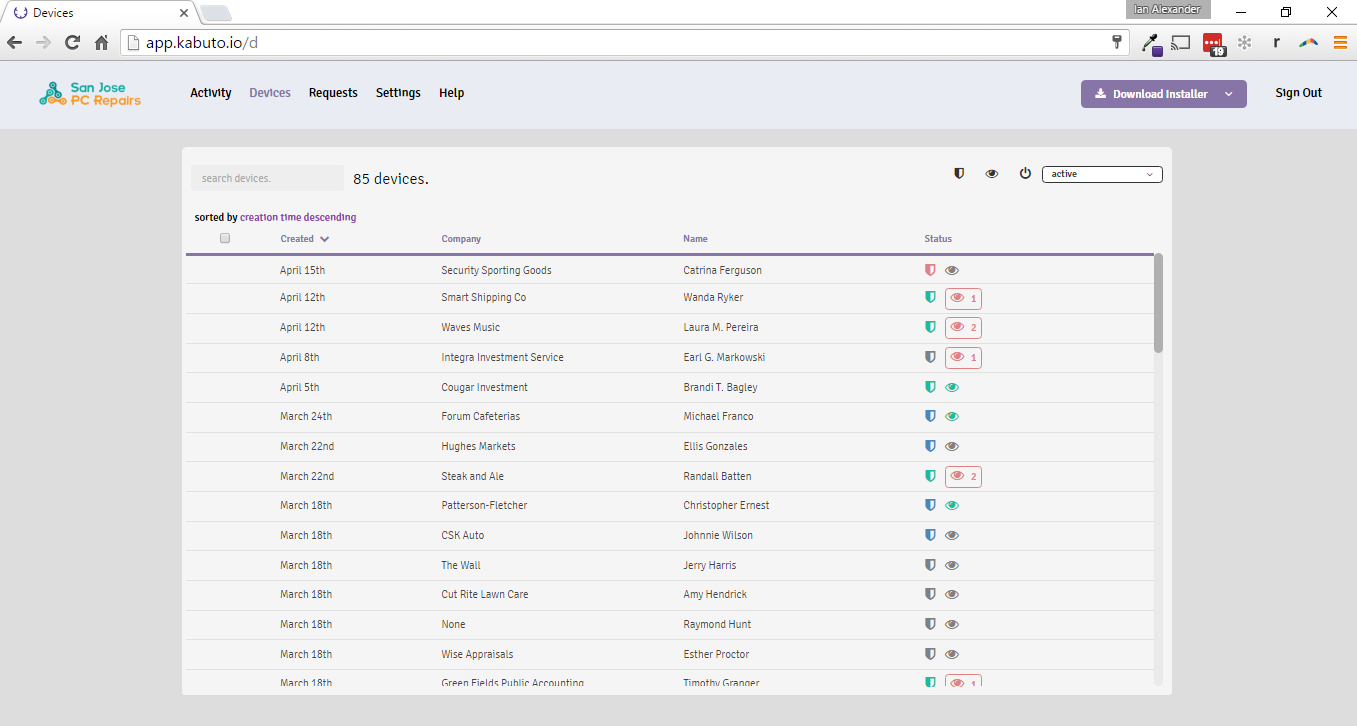 Rebrandable, easy-to-use, simple to install and start with, one of the cheapest on the list - this is Repairtech Kabuto. Kabuto may lack some of the features of big and heavy remote monitoring and management tools, but it is one of the easiest to start with.
Be sure, that each feature, that Kabuto lists on their advertising page is working well. Repairtech is not trying to put every feature in their solution - they are testing each one for quite a long time and it gets in the product only after a thorough examination.
Kabuto is turned towards SMB's in terms of pricing and communication - they are always ready to help, don't fuss around with sales requests and perform quite helpful webinars for their users.
Kaseya VSA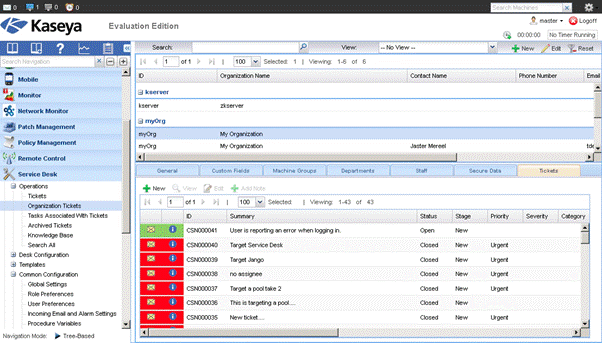 Similar to the above-mentioned RMM tools, Kaseya VSA is enabled to remotely manage clients' systems from one location, with a server based on a SaaS cloud. You can run commands and scripts as if you were right in front of it, without the end user's interruption. VSA is a part of an integrated Kaseya solution with RMM/PSA functions.
The software is a bit more complicated in terms of usage if you want to manage a few different companies' computers - you simply cannot group devices from different domains into one single dashboard. Other features and Installation methods are pretty the same as Autotask and Connectwise.
Continuum RMM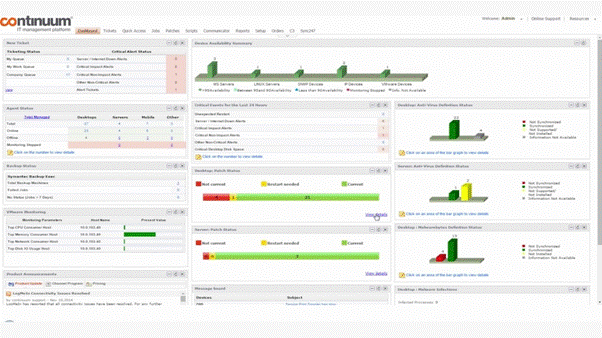 Another SaaS-based RMM solution mostly based on 'LogMeIn' collected data. The solution has widespread remote monitoring and management capabilities, including remote support tools, running scripts and remote data collection. Due to its roots from LogMeIn, it can be unstable sometimes.
Agents' deployment mechanics are consistent with other RMM tools: push and manual installations. With Continuum, you pay as you go, per device, with no device minimum. The company notably has US-based support technicians to ensure high-quality support.
Atera RMM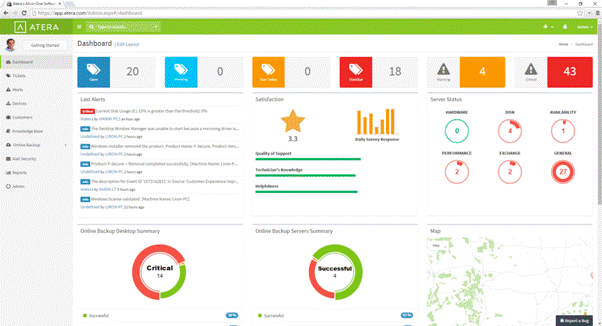 Atera produces an All-in-One SaaS management system for MSPs, including RMM features and professional services automation (PSA). Using a combination of built-in PSA and remote monitoring and management tools, Atera provides you with a fully-featured solution, but the software is a bit less customizable, compared to its competitors.
With remote monitoring and assistance support, Atera also has CRM capabilities, thus simplifying client management, in case you do not have separate CRM tools. The solution offers affordable pricing rates thanks to per-technician licenses.
Summary
As you may see from this review, most solutions have the same capabilities, but with slight differences that you can only evaluate when trying the software for yourself. This is simple, thanks to FREE trials and SaaS-based management servers.
When choosing from a variety of RMM tools, please do not forget to check whether it integrates with your antivirus and backup systems, allowing you to have a detailed view of what is happening in your network.
The last, but not the least piece of advice - evaluate the solution hard. Do stress tests, based on your experience and vision. All the aforementioned companies will happily provide you an extended trial period when you need one.