There is no cloud storage solution that fits all the needs of your company. No solution is built to store data backups and be used as a file-sharing and collaboration service at the same time. Sure, you might try using Microsoft OneDrive or Dropbox for Business for backups, or set up AWS Amazon S3 for file sharing but, in most cases, that would end up as an inefficient, expensive and insecure solution. In this article, we will define how you should choose a cloud storage provider, based on your unique needs.
Step 1. Create a Checklist for a Good Cloud Storage Provider
There are several distinctive features and characteristics that all modern-day cloud storage providers should have, including:
Profound security management. Data leaks happen all the time. And the most common reason for this is a weak security management setup and a lack of security tools. At the same time, lost or leaked data is a disaster: downtime, financial losses, or even lawsuits, if you work under compliance. So, your cloud storage provider should provide you with all sorts of identity and access management tools, including granular account settings, data encryption tools, multi-factor authentication, and robust physical security for your data.
Further reading Data Security Management: 10 Best Tips
Competitive, clear pricing. Some cloud providers do not care too much about their storage proposition; for example, those that focus on other services in their solutions stack. However, the biggest cloud storage providers are in continuous competition in terms of pricing and feature set, and nowadays the market is full of great solutions.
Further reading Amazon S3 vs Google Cloud Storage vs Azure Pricing Comparison
Responsive support team. As you are about to store your precious data in some storage that you cannot physically access, you must be sure that you will get help and consultation in the event of any problem. Check whether the storage provider that you are about to choose has paid support options, and whether they will answer your requests 24/7, and also try to contact their support during your trial to check their responsiveness.
Reputation. You shouldn't buy into some cheap, nameless cloud storage provider that has low pricing, a lot of fancy words on their web page, and no reputation. Later in the article, we will discuss that factor in more detail.
Step 2. Define the Needs
Data storage solutions are designed to fulfill different needs. So, you should first define what type of solution is needed in your company and then start looking for the exact vendor.
Backup vs File Sharing
The two most popular data storage implementations are backup storage, and file sharing and collaboration. Such cloud storage solutions differ in terms of pricing, feature set, and UI. They differ in every single part.
When you choose a cloud backup storage, you typically don't need a great user interface, but you do need low pricing for bulk data storage, a great API and data backup solutions integrated into the cloud storage service.
On the other hand, with file-sharing solutions you need, first of all, a clear, understandable user interface, since your end users will be working with it a lot. You also should look for the ability to create granular access permissions and to monitor activity within the storage. Lastly, some file-sharing cloud storage services allow collaborative work with documents, spreadsheets, and presentations, which increases the overall efficiency of end users in your company.
Compliance
When working under compliance, you should transfer, share and store your data with extreme care. Look for a cloud storage solution that is certified to work under your compliance case. Also, if you need your data to stay absolutely intact in the storage, check out the cloud storage vendors who offer a write-once-read-many (WORM) type of storage solution. In WORM cloud storage, once your data is uploaded, it cannot be modified at all.
Initial Data Transfer
If you already have terabytes of data that you need to transfer to the cloud storage and then continue to transfer only the increments, you will either spend months transferring your data via the Internet, or you could find a storage solution that allows initial data uploads via storage appliances; solutions such as AWS Amazon Snowball or Backblaze B2 Fireball.
These solutions work as follows: The cloud storage provider sends you the appliance, you upload your data to it, and send it back. Once the appliance is at the storage provider's premises, they upload your data to their data center via a local network. Once this is done, the dataset becomes available to you.
FREE WHITEPAPER
Consumer vs. Professional Cloud Storage
Find out which storage solutions best suit your specific needs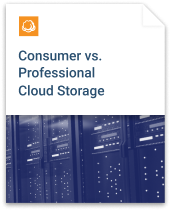 Step 3. Choose a Cloud Storage Provider
Now that you have your wish list, it's time to look for a cloud storage provider that fits your exact needs. Here, the only advice is to look for an already-established provider with a name and a reputation. Here's why.
Data storage is an extremely costly business. You need to build a bulletproof infrastructure within each of your geographically distributed, fortified data centers, and have a bunch of engineers and top-tier developers at your disposal. That all costs a lot, and nameless storage providers would not guarantee the safety of your data.
Moreover, since there is fierce competition between already-established big cloud storage providers, you will be able to choose one on the basis of your needs and price expectations.
Cloud-Storage-Friendly BDR Vendor
Finding a good cloud storage provider for your backups is not enough. In most cases, cloud storage solutions do not have a user interface or native backup solutions. So, you need to find a reliable and easy-to-use backup and disaster recovery solutions provider integrated into the cloud storage of your choice.
MSP360 Managed Backup is a flexible, business-oriented solution that supports the biggest cloud storage providers on the market. Here are the distinctive features of MSP360 Managed Backup:
Centralized management from a single pane of glass
Monthly and yearly payment options
Multiple OS and platform compatibility, including Windows Desktop and Server families, Linux, macOS, Microsoft Office365, and Google G Suite
You can try out MSP360 Managed Backup for free with a 15-day trial.