Rackspace and Amazon Web Services (AWS) are two of the biggest names in cloud computing. Founded in 1998 and 2006, respectively, they are also among the longest-established cloud hosting companies. In this article we will overview differences and similarities between these two companies.
The service offerings of Rackspace and AWS don't compete in all respects. Rackspace's main business centers on virtual servers and cloud storage, as well as managed services. AWS provides infrastructure offerings, too, through EC2 instances. However, AWS also has a broader set of services, such as serverless computing and hosted Kubernetes. Rackspace's offerings are not as broad in this respect.
Yet even if Rackspace and AWS do not compete on all fronts, when it comes to cloud servers and storage, they are clearly in competition. That leads consumers to ask: Are Rackspace cloud servers a better choice than EC2 instances? How do Rackspace server locations compare to those of AWS? Overall, does Rackspace offer better security, performance and availability than EC2?
EC2 vs. Rackspace Virtual Server Pricing
Drawing direct pricing comparisons between EC2 instances and Rackspace cloud servers is difficult because the products are not identical. Rackspace's billing model is somewhat different; it charges by the hour or by the month, whereas AWS charges by the second. In addition, the compute, storage and networking resources offered with each type of EC2 instance are not identical to those available from Rackspace.
For this reason, it's not possible to draw a universal conclusion about whether Rackspace or AWS is less expensive for a given type of virtual server instance. However, the following general observations apply when comparing EC2 vs. Rackspace pricing:
Rackspace's pricing models are simpler and, in general, lower for standard, entry-level instances.
However, Rackspace's pricing models are somewhat less customizable. There are dozens of different EC2 instances, making it easy to find an instance whose pricing and features closely match your needs. Rackspace's pricing and instance types are more monolithic. Although it offers several instance categories (General Purpose, Compute Optimized and more) it has fewer plans overall.
You can save money on EC2 instances by choosing Spot Instances, which allow you to access spare EC2 server capacity for lower rates at times when extra capacity is available. Rackspace doesn't provide this opportunity, although it does offer discounts for high-volume usage, long-term commitments and prepayment.
Note, too, that in addition to standard user-managed cloud servers, Rackspace provides an option for fully managed servers. That means that Rackspace admins help to set up and maintain the servers. On AWS, this is not an option; users must manage their own servers. If you're looking to combine management service with cloud infrastructure in a single package, Rackspace can be attractive.
Rackspace vs. AWS Security Comparison
AWS's main resource for managing security and access control within instances is the Identity and Access Management (IAM) framework.
FREE WHITEPAPER
Mastering AWS IAM for Amazon S3
Learn how to effectively manage the security of your Amazon S3 account to protect your and your clients' data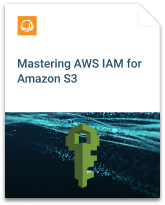 Rackspace provides a similar solution called Role-Based Access Control, or RBAC. RBAC is not as granular as IAM, but it is an effective way to restrict who has access to Rackspace infrastructure and accounts.
Rackspace and AWS both offer dedicated servers, which can help to improve security because they do not require users to share servers with other accounts. In this respective, Rackspace security and AWS security are similar.
If you are concerned about the physical location where your data is stored -- which will be an increasingly important consideration because of the data sovereignty requirements in the GDPR -- AWS offers more flexibility. It has sixteen regions, compared to only six for Rackspace. Both providers do offer geographic replication, meaning that cloud data can be stored across multiple regions at once.
Availability: EC2 vs. Rackspace
Rackspace and EC2 both provide Service Level Agreements (SLAs) that commit the companies to delivering 99.9 percent uptime or better. (Click these links to find the Rackspace SLA and the AWS EC2 SLA)
Of course, no operation is perfect. Rackspace and EC2 have both suffered downtime in the past. However, availability problems on both clouds are rare. Rackspace had a serious downtime incident in 2009. AWS has had a few failures over the past several years, but most did not impact all customers; they were limited to certain regions or certain services.
Generally speaking, Rackspace and EC2 are both extremely reliable. There is no significant difference in availability.
Can Rackspace Replace AWS (Or Vice Versa)?
If you're already using AWS, you might wonder whether you can migrate to Rackspace, or vice versa. The answer depends on what you use your current cloud for.
If you require only infrastructure, then AWS EC2 and Rackspace are relatively interchangeable. Apart from the differences in pricing models noted above, EC2 and Rackspace cloud servers operate in the same way.
However, the broader service offerings of the two companies differ in other ways. AWS offers more developer resources, such as the Cloud9 IDE, in addition to services such as the ECS container platform.
For its part, Rackspace offers managed services that are not available on AWS. In fact, you can even use Rackspace to obtain managed services for AWS infrastructure. In this respect, AWS and Rackspace are definitely not competitors.
Therefore, Rackspace and AWS as a whole are not interchangeable, even though their cloud infrastructure offerings are similar.
Conclusion: Rackspace, AWS and Multi-Cloud
If you're struggling to decide whether Rackspace or AWS is a better fit for your cloud hosting needs, remember that you don't necessarily need to choose one or the other. You could also adopt a multi-cloud architecture that enables you to use both clouds at once.
For example, if Rackspace pricing is a better fit for most of your workloads but you want to take advantage of certain EC2 instance types for some applications, there is no reason that you can't do that. Similarly, you could use Rackspace managed cloud servers in cases where you don't want to manage your own servers, but host other workloads on EC2.
Multi-cloud architectures are increasingly popular, and they work well as long as you have the backup and management tools required to support a multi-cloud strategy.