MSP360 and Wasabi: a Guide to Unified Billing
In this guide, we'll overview unified billing in MSP360 Managed Backup Service, a feature that represents the "one-stop shop" principle.
With the MSP360 Managed Backup Service, you can use any cloud storage vendor that fits your needs. That also means that you pay for the backup solution in two separate places – in the Managed Backup solution itself and in the interface of your cloud storage provider.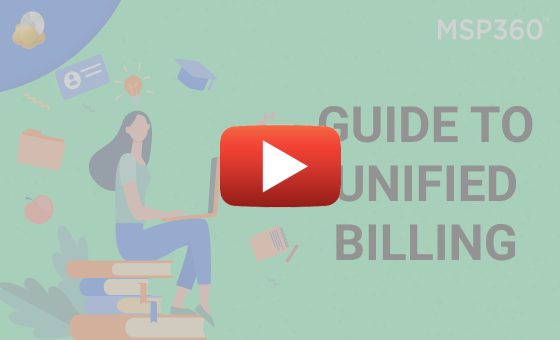 To add an additional layer of flexibility, together with Wasabi Cloud Storage we have developed an MSP360 Storage solution. Using this, you can manage your backups and storage in one place; all payments are processed inside MSP360 Managed Backup Service, and this is what we call unified billing.
MSP360 Storage Powered by Wasabi: How It Works
We offer a free trial period of 30 days for you to try out the storage and decide whether it fits your needs or not. During this period, you can use 2 TB of storage. When 2 TB or 30 days expire, whichever comes first, the trial period ends. Note that you can use a trial period only once.
After the trial expires, there are three scenarios.
You subscribe to MSP360 Storage. In this case, you just continue to use the storage. The monthly minimum payment is equivalent to the price of 1 TB / month – $5.99. Once you exceed this, you pay only for the storage you use (in GB). You'll get an invoice every month. Bear in mind that MSP360 Storage has a minimum retention period of 30 days. If stored objects are deleted from MSP360 Storage in less than 30 days, you will be charged an early deletion fee.
You don't subscribe to MSP360 Storage. In this case, the storage will switch to read-only mode, which means that you will be able to restore your data, but with no opportunity to back up anything new. After 79 days from the beginning of the trial period, access to data will be denied and you will receive a notification of this. After an additional week, all information will be deleted from the storage.
You delete your account. In this case, the processing will take up to 7 days, for security reasons.
How to Set Up Unified Billing for MSP360 Managed Backup Service
Please note: if you already work with MSP360 and want to use unified billing, you can enable this feature by contacting your sales representative.
To start using unified billing with MSP360 Storage Service as a new customer, sign up for a free trial on our website: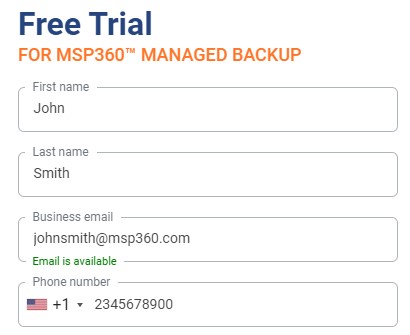 After entering the required information, you will see a Getting Started Wizard. As a new client, you get the MSP360 (Wasabi) storage by default (there's an opportunity to add your storage as well).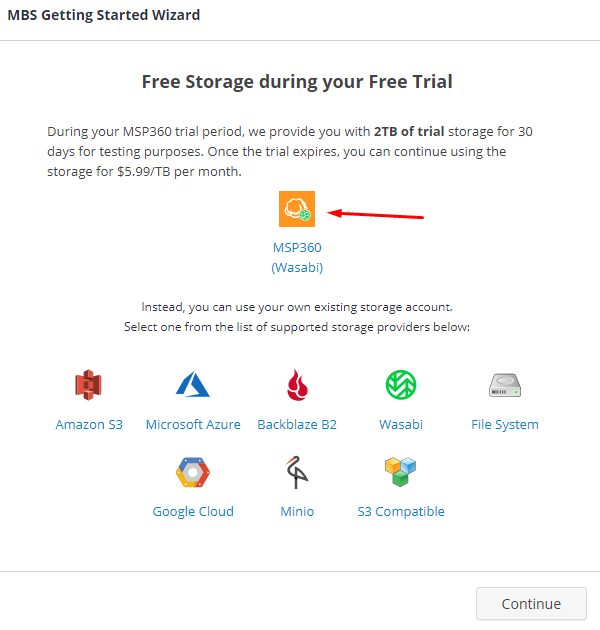 Download the MSP360 Managed Backup Service agent. You can skip this step by clicking Continue, and get the agent later.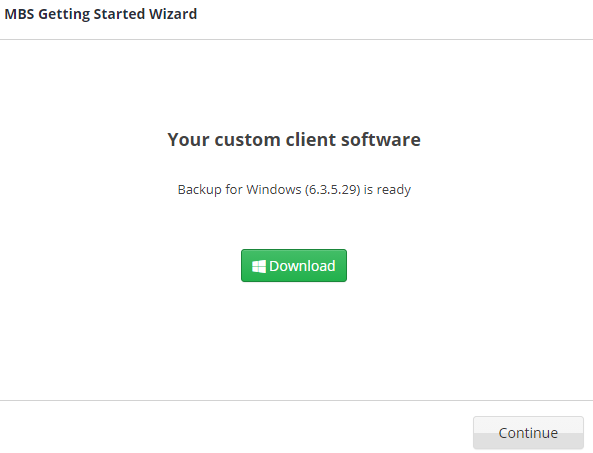 After this, the wizard will redirect you right to the MSP360 Managed Backup Service console.

Your storage account can be seen here, on the Storage tab, Storage Accounts section.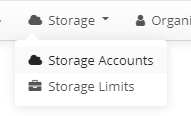 Whenever you decide to get a paid account, just click Subscribe.

Here, you can see some main points of the terms and conditions and a link to their full text. After you click the I agree with Terms and Conditions checkbox, the Continue button will become available.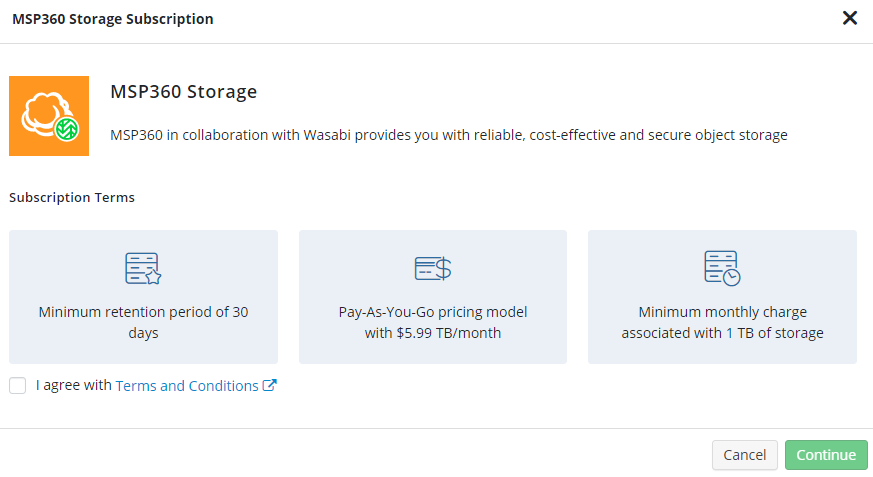 You'll then need to add your bank card if you haven't done this before, and that's all. All the payments will be processed automatically.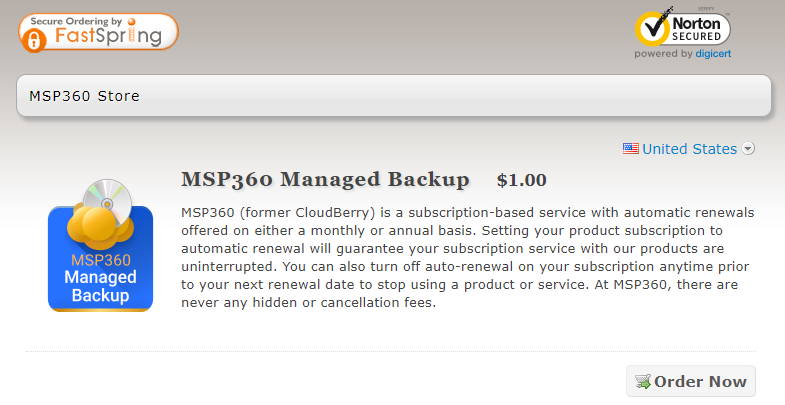 As you can see, getting MSP360 Storage provided by Wasabi is quite easy. Managing it is also simple; flexible and with clear prices, no need for additional registrations, and everything can be done through the MSP360 Managed Backup Service console. Try out our storage; all you need in order to access it is to register on the website. If you have any questions, don't hesitate to contact our sales team.