3 Reasons MSPs Make Mistakes Recovering Backups
To be successful and useful, backup service offerings need to consider recovery efforts and objectives well-before a disruptive event occurs. And yet, many MSPs don't focus on this end-goal.
Recovery has a lot of unknowns – especially when your focus on the backup itself. True disaster recovery requires a sufficient amount of effort put into the planning. But the recovery in a small business environment doesn't necessarily have the same complexities and requirements.
So then, why do MSPs make mistakes recovering backups?
You're Not Thinking in Terms of Recovery
Sure, backing up a server is a good thing. But what kind of disaster scenario will that backup be viable for? Are you storing backups on-prem? If so, what happens if there's a loss of location or a loss of Internet connectivity? How are you going to recover your customer's operations then? I ask all these questions to get you thinking about the actual recovery these backups you're creating will be used for.
It's imperative that you consider the disaster scenario and work backward to the backups you create. It's like going on vacation; you plan to hit the beach in Cancun, so you work backward and pack a swimsuit and sunscreen. Recoverability is all about planning. And recovery planning requires that you start at the result and work toward the work necessary to make recovery a reality.
FREE WHITEPAPER
The MSP's Technical Guide to Backup-as-a-Service
The components of a strong BaaS offering
The importance of including local backups and advantages of cloud backups
Guide to advanced recovery options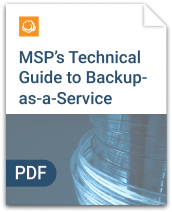 You Haven't Defined "Recovery" With Your Customer
This is a ripple effect from you not thinking in recovery terms. Your backup offering should have some kind of definition of what services you'll provide should a loss occur. For some MSPs backup services are just that – creating backups with recovery occurring ad hoc for an hourly rate. The challenge here is backup and recovery go hand in hand. You obviously aren't going to make service level commitments, mostly because you don't know what the nature of the recovery need will be. But recovery efforts should be established with the customer, so they understand what they're really paying all this money for while their business is operational.
Recovery Isn't Really Your Goal
Perhaps it's limited experience or expertise in the world of disaster recovery that has you only dipping your toes in the proverbial backup water and limiting the scope of your service to just backup and restores. If this is you, it's time to be honest with yourself: you're not really preparing your customer to be recovery-ready; your real goal is to simply create backups in the hopes they're enough to restore whatever it is that's lost as part of a disruption event. There are plenty of backup software providers that want to partner with you to either educate you or even partner with you to help you recover. Don't stop with just backups; go the whole distance and make recovery your service objective.
Recovering from "Backup Thinking"
In reality, you're not in the business of backups; you're in the recovery business. The backup-centric way of thinking has, fortunately, brought you to the point of offering backup services. But it's time to press on and set your sights on the real prize – recovery. Doing so will improve your offering and your execution, as well as the value and profitability of this service.