One important step in planning your backup strategy is choosing a backup solution that will fit your needs. It should be compatible with your IT infrastructure and be able to back up all your vital data – not only files and folders, but also system images, servers, etc. In this article, we compare native Windows backup tools and MSP360 Managed Backup.
Windows Native Backup Overview
Windows backup is a built-in feature that is free for all Windows users. It can be accessed from the control panel or the Start menu. With it, you can easily configure a backup of your files and folders, as well as your system image. However, it has limitations that make it unsuitable in some cases.
MSP360 Managed Backup Overview
MSP360 Managed Backup is a flexible solution that can be deeply customized according to your needs. It works on all popular platforms and can perform various types of backups, while providing a high degree of customization. Here is a link to an article on working with our solution:
Further reading How to Get Started with MSP360 Managed Backup Service
FREE WHITEPAPER
Windows Backup Best Practices
Taking regular backups of your data is the most basic backup best practice. But optimizing backup routines and maximizing your chances of successful data recovery following a disaster require going further.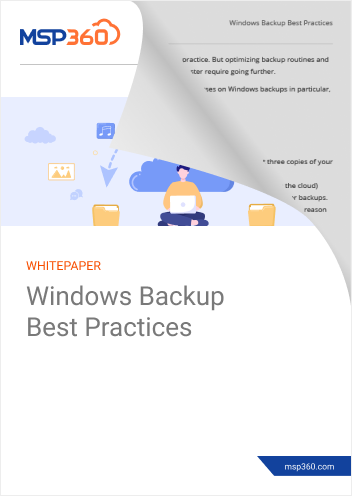 Windows Native Backup vs MSP360 Managed Backup: a Comparison
Windows backup is still widely used in the production environment, as specialists are used to it but, for the modern company's needs, it lacks functionality and usability. MSP360 Managed Backup, on the other hand, is packed with features that make a specialist's backup-handling job easier and help keep data secure. Below, you'll find a comparison table of these two solutions in terms of the most important parameters.
Comparison Parameter
Windows Native Backup
MSP360 Managed Backup
Security
As secure as Windows
High level of data protection: you can set a password to deny unauthorized access, encrypt your backups, and all connections are encrypted by default
Ease of use
Some options are difficult to find; image-based and file-level backups are configured in different menus
A one-stop shop: everything can be done from the web console
Ability to choose  storage destination
Image-based backup can be done only locally or onto an external drive; for file-level backup, you can use OneDrive (though its capacity is limited)
Works with both local storages and all popular cloud storage vendors; has its own cloud storage powered by one of the vendors
Types of backup
File-level

Image-based

File-level

Image-based

Virtual machine

SQL Server

G Suite/Microsoft 365

Exchange

Platforms
Windows
Windows, macOS, Linux
Scalability
Works on a single machine
Provides a web console for centralized backup management on any number of machines
Bandwidth consumption
Cannot be customized
Customizable
Reporting
Saves reports to the event log
Has many customizable reporting options, like backup history, scheduled reports, monitoring tab, and more
Retention policy
You can set up the file-level backup frequency and the period of keeping by choosing from the options that are available in the drop-down menu; for an image-based backup, there are no options, except saving the latest version
Flexible settings for any type of backup; you define how many copies of datasets to keep and for how long
Schedule options
For a file-level backup, you choose the options that are available in the drop-down menu; an image-based backup can be done on daily/weekly or monthly basis at a day/time that you also set up yourself
You can customize the frequency of both full and incremental backups manually or by using the predefined templates
Additional options
None
Compression, encryption, script usage, and more
Main features
Free and pre-installed
Flexible, scalable, and secure
It's Time to Grow
If you have just a single computer and do not need to back up anything but files or your current system image, the native Windows backup will suit you. This tool might work well for home usage, but a company or an MSP would need a more feature-rich solution – like Windows backup software from MSP360. It is flexible and scalable; you can create an individual set of preferences for each company you work with and easily deploy this set using our Remote Deploy feature. It is secure; you can choose the encryption algorithm and set up a strong password to protect your data. And it uses a single pane of glass style, so you can manage and monitor all your backups without effort. If you have any remaining questions, don't hesitate to contact our team.