File-Level vs. Image-Based Backup
File-level backup can back up single and multiple files, whereas image-based backup is there to create a copy of your whole system or selected partitions, to make it then recoverable. There are tons of different features that can be embedded into both these types of backups. However, in essence, it's as simple as that.
And yet it is sometimes not that easy to choose which type of backup to employ. In this article, we will discuss the advantages of both file-level and image-based backups, define when you should choose what, and briefly overview the right solution for the job.
What Is File-Level Backup?
A file-level backup is a type of backup which allows you to upload files and folders to the backup storage and then recover them. You can certainly back up databases and drive images with a file-level backup, since they are still files. However, this type of backup won't allow you to create a disk image or process a database, and it's generally not advisable to back up production-level file structures and quickly change files with it (such as, again, databases).
Advantages of File-Level Backup
File-level backup is great when you need to back up your own or your client's spreadsheets, pictures, and similar data. It's a simple and reliable technology that can be quite flexible if you have time to configure several backup plans for different needs. This type of backup is great when you need to recover single files or folders, in the event of accidental data deletion, for example.
Further reading Which Files to Back Up?
Typically, file-level backups are smaller in size compared to other types of backups, so you can run them more frequently and they will finish uploading faster. This also means that neither your corporate network nor the exact machine on which you perform the backup will suffer from high or long-running additional workload.
Further reading File-Level Backup With MSP360
FREE WHITEPAPER
Best Way to Back Up Files and How MSP360 Helps
Ensure that your files are safe and easily recoverable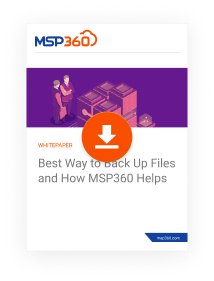 What Is Image-Based Backup?
Image-based backup is a type of backup that first creates a copy of your whole system and then allows you to upload it to the backup storage. Typically, you can choose whether you need to back up a whole system with all the drives, or just specific partitions.
This type of backup is useful if you need to create a master image of your desktops, or if you need to preserve your desktop or server in an exact state that allows you to recover it in the event of an emergency.
Needless to say, an image-based backup is way bigger in size compared to a file-level backup. Thus, it is typically advisable to schedule image-based backups outside of business hours.
Advantages of Image-Based Backup
There are several advantages to image-based backup, including:
Faster recovery of the whole system. Image-based backup was designed to recover your system as a whole, including the system itself, partition settings, installed solutions, and data. This means that you won't need to manually reconfigure your machine.
Enhanced recovery time and point objectives. Recovery time and recovery point objectives (RTO and RPO) are the metrics that specify how fast you should recover your environment to the production state in the event of a disaster. Whatever disaster your environment may face, including a malware attack, or a hardware or software failure, an image-based backup will allow you to reduce these metrics.
Bare-metal and straight to VM restore. In modern-day backup applications, you can recover your system images to the same or dissimilar hardware, even if there is no operating system installed. Moreover, some solutions will allow you to recover straight to hosted or cloud virtual machines. This makes your recovery objectives even more flexible, since you don't need to look for spare hardware to recover your environment to.
All this makes an image-based backup essential when you are planning your own or your clients' disaster recovery and business continuity.
Further reading Image Backup and Recovery Guide
How to Choose Between File-Level and Image-Based Backups
To be honest, there's no point in choosing a single backup type when it comes to saving your data. The best practice is to leverage the strengths of both types. For example, if you need to back up your corporate desktops, you can run an image-based backup once, to create a master image that will preserve your standard settings and application structure. Then you schedule regular file-level backup plans to make sure that all new and changed user data is safe.
To put it in a nutshell, with file-level backup it is oftentimes simpler and faster to back up and recover a small amount of critical data. Image-based backup is there to back up and recover complex configurations.
File Restore for File-Level and Image-Based Backups with MSP360
MSP360 Managed Backup is a feature-rich and robust backup solution for businesses of all sizes. It will seamlessly perform file-level backups and image-based backups to the local or cloud storage of your choice.
Moreover, MSP360 Managed Backup allows you to perform granular recovery from your image-based backup. This means that you can recover any file or folder from your image-based backup, thus making restores of your critical data even more flexible and fast.
To reduce downtime in the event of disaster recovery, MSP360 Managed Backup supports image-based recovery straight to a virtual environment, whether on-premises or in the cloud. This makes hardware loss a non-issue, since you will be able to perform a near-instant recovery straight to a cloud solution of your choice.