Getting Started with MSP360 Managed Backup Service
From this guide, you will learn how to sign up for MSP360 Managed Backup Service, enter the web console, install the software on your machine, and start your first backup plan.
Starting Free Trial
Click the Free Trial button on msp360.com, complete the form and click the Free Trial button at the bottom of the screen
You will be redirected to the "Getting Started Wizard" in the MSP360 Managed Backup console. For the purpose of this video, choose the 2GB free cloud storage that we provide you for tests. You will be able to add your own storage account later.
Backup Setup
After you click "Continue", you will be prompted to download the MSP360 Backup client for Windows. Click Download and install the software
When the installation is complete, click "Finish".
Now you need to add a user to your backup software. Let's do that remotely from the MSP360 Managed Backup web console.
To add a user to your backup software, select the "RMM" tab and click "Remote Management". At this point, you have one user already created automatically -- with the email address you used during the signup.
On the next page, select "Add user account" next to the computer name your software is installed on.
After you click "Save" in the appeared pop-up, the account will automatically be added to both the Managed Backup console and to your backup software on the computer.
MSP360 Managed Backup Service
Cross-platform backup and recovery
Flexible licensing
Bring-your-own storage approach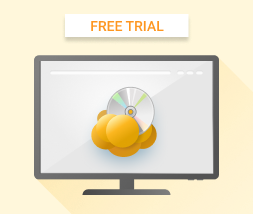 Backup Job Setup
Now, the software piece is ready for the first backup job. We will create a backup plan in the web console and run it remotely. To do that, click your computer name on the "Remote Management" page.
On the right-hand side of the screen, you will see a pop-up section. Find the "+" icon, click on it and select "Files" under the "Backup" section.
You will be redirected to the "Plan creation" page.
Open the second tab: "Backup Source" and choose the files you want to back up. Select your computer and navigate to the required files or folders for your test backup.
Your test storage will be selected by default on the "Backup Storage" tab.
On the next tabs, you can manage the retention, encryption, compression, and other backup options. Let's skip these tabs for the test backup plan.
Click "Save". You will be redirected back to the "Remote Management" page, where you will see your first backup plan listed. Click the green arrow to run the backup plan.
If you switch to the computer with the backup software installed, you will see that the backup has successfully started.
That's it. Now you know how to create a basic backup plan with MSP360 Managed Backup.