Most of your clients and even most of your tech staffers won't see any difference between a service desk and a help desk. In fact, many, if not all, MSPs themselves tend to not notice the difference between these concepts. However, from the processual and operational points of view, a service desk and a help desk are indeed different concepts. In this article, we define the difference between service desk and help desk and overview how you, as a managed IT provider, can make use of that knowledge in practice.
Service Desk vs Help Desk
Briefly, a help desk is focused on solving break/fix-type requests, whereas a service desk acts as a point for solving a variety of issues and delivering a range of services to the end users and clients. It is easier to think of a help desk as a subset of the broader service desk entity.
Why Does the Difference Matter?
For your end users, there won't be any significant difference between a service desk and a help desk. It might actually confuse them if you start providing different services under different names. So why should you actually care about having two different "desks"?
The answer is - because of the need for a granular approach to services. While a help desk is solely focused on solving technical issues, a service desk focuses on proactive solutions, service level compliance, and communication between your MSP and your customers. So you can and should implement different workflows for these entities and apply different key metrics to track their efficiency. Moreover, you can even assign different people to manage the help desk and the service desk.
Further reading Guide to MSP Help Desk Structure
The overall need to distinguish between the desks appeared with the rise of the ITSM and ITIL frameworks and approaches. These are two of the most popular and, at the same time, crucial approaches for any IT service company.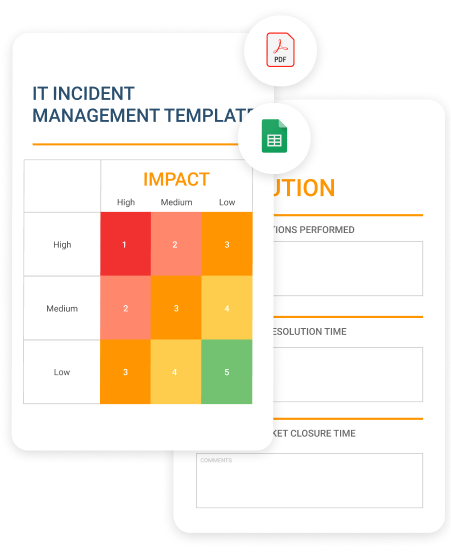 What Is a Help Desk?
A help desk comprises a number of processes and solutions that are aimed towards solving the end user's technical issues. There's typically no sophistication included, no long-term planning, reporting, or project discussions. You only focus on reactive break/fix types of solutions. Typically, the help desk comprises the hotline that your clients call when they have issues, and the help desk solution, a web interface where your tech staffers are assigned tickets to resolve.
It's of the utmost importance that, to be effective, all the elements of a help desk solution should be integrated and lead to a single point of resolution. In other words, whenever your end users call you, send you an email, or open a ticket, all that should be collected in a single solution to allow efficient problem-solving processes.
To upgrade your help desk, consider creating a self-service portal and include FAQs, guides, and other user-oriented documents that might reduce the pressure on your team. That is the first step in going from a help desk to a full-on service desk.
Further reading MSP Knowledge Management Guide
What Is a Service Desk?
A service desk typically includes the functions of a help desk but focuses on communications with your customers on a different level. It also comprises ITSM-related functions, such as problem management, report generation, project management, and analytics. Needless to say, the service desk should have an entirely different set of KPIs.
Should You Integrate the Help Desk and the Service Desk?
As an MSP, you should first of all focus on your customers' journeys and satisfaction with your services. So, a help desk should be coupled with the functions of a full-on service desk. If you're just starting to work on the ITSM processes in the MSP though, a help desk would be a good place to start.
Conclusion
It is really not that easy to appreciate the difference between service desk and help desk. Moreover, it is not easy to define the need to understand that difference. Indeed, why should you need to clutter your internal documentation and processes with two similar-looking entities, when you can focus on great technical support for your clients at each stage? The thing is that a granular approach to processes is a more mature and precise method of making your services better, one step closer to perfect. And distinguishing the help desk from the service desk might allow you to define, monitor, and control your processes with laser-focused precision.