ITIL for MSPs Explained
IT Infrastructure Library (ITIL) is a framework that defines core areas, KPIs, and processes for the effective provision of IT services. It is designed upon the IT service management (ITSM) approach and allows managed IT service providers to streamline and standardize their operations to maximize customer experience.
In this article, we will discuss the core principles and elements of ITIL, give an example of its structure on the basis of one of the areas it addresses, and define the possible benefits of ITIL for an MSP business.
The Basics of ITIL
ITIL is a library of processes, KPIs, objectives, and reports that should be implemented within the operations of IT service organizations. It defines objectives and activities for each area and process that an IT service company provides to its clients. It also overviews input and output parameters, structure, and the relationships between each IT service process. These processes are typically shown as diagrams and flowcharts.
It should be remembered that, while ITIL is a highly detailed framework, it does not overview exact tasks. The reason for that is simple – the accomplishment of exact tasks (like the installation of a new desktop) differs from one company to the next and cannot be standardized.
The Main Areas of ITIL
The ITIL library consists of seven areas, which represent the operations of an IT service company. They are:
Service support. Includes service desk, incident management, issue management, configuration and change management, and release management.
Service delivery. Includes SLAs, finance allocation, business continuity, and business delivery.
Infrastructure management. Includes stock management, hardware audit, hardware, and network maintenance.
Application management. Includes design, testing, and maintenance of the client's applications.
Further reading Application Rationalization Guide
Security management. Covers all security-related issues, including realization of IT security audit and creation of system hardening checklist.
Planning to implement service management. Defines the actions needed to implement the ITIL processes within the MSP.
Business perspective. Covers strategic IT planning. Here, an MSP acts as an advisor regarding the customer's IT infrastructure growth and evolution.
Example of ITIL Guidance
We will show an example of ITIL guidance in the context of the incident management part of the service support area. The overall goal of incident management is to solve support requests and create reports for further analysis.
ITIL incident management consists of several core parameters and definitions:
A flowchart for solving support requests
A report about the solved request for further analysis
Defines the needed tools: client's configuration database, knowledge base, help desk software
Defines the core KPIs: the overall number of support requests, the average time for solving the case, the average number of cases solved within SLAs, the average number of cases solved by the first line of support, the average number of cases per employee, the average number of wrongly assigned cases, etc.
Defines employee roles based on their level of expertise
Overviews escalation and triage schemes
As you can see, ITIL gives clear guidance on how to create, develop and manage support operations.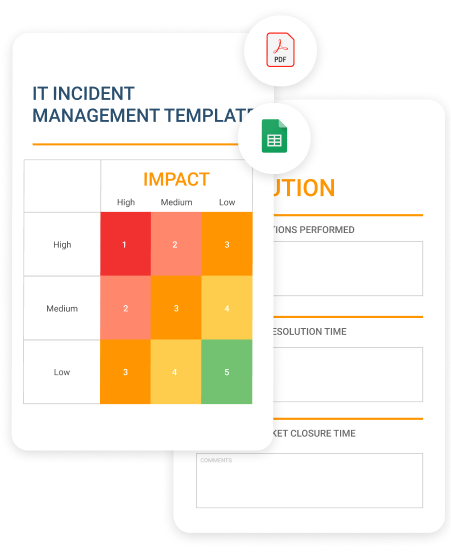 How to Start ITIL for an MSP
If you haven't previously encountered such detailed frameworks, ITIL might, at first sight, look too complex. Indeed, the approach was developed for organizations of all sizes, including enterprises. So, here's the action plan for an MSP intending to start ITIL:
Check out the IT service management approach. It's the basis for the ITIL framework and will give you an understanding of how you should redefine your MSP's strategic vision, goals, and objectives.
Buy the official ITIL 4 guide. Read it, and make notes. After that, you should be able to create a structural and processual map of your organization and define the core objectives, processes, roles, etc.
Define the long- and short-term goals that reflect your new strategy.
Create new internal documentation and documentation for customers. You will need new standardized procedures, knowledge base, etc.
Educate your team. Your whole team should understand the new approach and procedures, and take responsibility for your new strategy.
Make changes to your SLAs, if needed.
Implement the updated processes.
Review the processes and make the necessary changes.
ITIL Benefits for MSPs
Enhanced customer experience. ITIL is focused on providing quality-based customer services. Every goal is set on the basis of business needs.
Enhanced documentation. With ITIL, you have to create a number of standard operating procedures for your employees. This will allow you to standardize the onboarding procedures for new employees and minimize mistakes during support. Learn how to create standard operating procedures for your MSP business.
Enhanced processes. Each process should be carefully reviewed, documented, enhanced, implemented, and reviewed again. This leads to the identification and elimination of possible pain points.
Conclusion
ITIL implementation is as demanding and challenging as it looks. It will take time, effort, and dedication but, in the end, it has the potential to boost your managed IT business. This framework has been in development for 40 years, being constantly enhanced and fine-tuned. It's based on the real-life experience of enterprise IT service professionals and only focuses on efficiency and a quality approach.
If you want to take your business up a level, earn bigger clients, and expand, think about implementing ITIL in your business.