Customers rely on MSPs to provide important and often sensitive IT services, and many MSPs are hesitant to move those services to an outsourced model. Data security is extremely important and sometimes customers can feel their proprietary data is being "shared". Letting outsourced employees handle critical customer requests opens up risks that many managers aren't comfortable with. Will the outsourced employee handle private information responsibly? Will they have the skills to service my customers? Will there be communication issues?
It is important to remember that when an MSP scales up, the entire business has to scale with it. That means administrative and internal functions will be hiring as well. MSPs should consider outsourcing some of these non-IT functions (as well as technical roles). Doing so can make room in the payroll, plus outsourcing often costs less than hiring in-house and can also relieve the pressure on the team members in charge of hiring and onboarding.
Examples of Business Functions That Can Be Outsourced
Marketing: A marketing agency can support and sometimes even take over marketing duties like website maintenance, paid advertising, search engine optimization, email campaigns, and even event and tradeshow activation. Oftentimes, MSPs don't focus on any of these items, which can play a critical role in driving new business in the door.
Further reading Marketing Strategies for Growing MSPs
Sales: Outsourced sales companies can provide salespeople to source leads and close the loop on deals, but they don't stop there. Many firms can also optimize sales processes and help improve sales technology to reduce the cost of customer acquisition.
Further reading MSP Sales and Marketing: Frequently Asked Questions
Accounting/bookkeeping: Having a CFO is great, but many smaller MSPs simply don't have complex enough finances to require keeping a team of people on full-time to manage them. Accounting firms can lighten the load on administrative teams and executives by managing taxes, payroll, accounts payable, and accounts receivable.
HR: It may seem counterintuitive to outsource your people management function, but outsourced HR services providers can be a big help for small businesses, assisting with payroll, onboarding, workers' compensation, compliance, and more.
Further reading HR for MSPs: Essentials of Critical Human Resources Topics
Outsourcing MSP IT Functions
As we discussed, many MSP leaders are hesitant to outsource their core services for fear of reducing quality of service and losing customers. However, every MSP reaches a tipping point as they scale, where limiting service to in-house employees actually has the opposite effect: decreasing customer satisfaction.
Take the service desk, for example. Outsource that function and you might have to give up some level of control over customer experiences, risking relationships. Keep it in-house, and you risk long time-to-resolution for tickets, and burnt-out employees.
One solution to this catch-22 is to use outsourcing only as needed, in a supplementary fashion. There's no need to replace your service desk team, just give them support when the queue overflows. Outsourcing enables MSPs to scale up and down quickly in these situations, relieving the burden on in-house employees.
Common IT Functions to Outsource
Network Operations Center + Security Operations Center (NOC & SOC)
These two departments can be outsourced to a third party to cover monitoring and, sometimes, ongoing maintenance activities. The main benefit is that these departments are typically a 24/7 operation. Even large MSPs have a difficult time staffing a full-blown NOC & SOC. It also eases concerns for your engineers, knowing that the customers' equipment is being monitored and maintained 24 hours a day, and that if anything comes up, they will be notified.
After-Hours Support
Hitting on the 24/7 support aspect again, a common function to outsource is after-hours service desk support. As mentioned before, it's hard to staff, and most places have an on-call rotation that no one wants to partake in. Having dedicated resources to take those late-night / early-morning calls goes a long way. You can also outsource your entire service desk if needed and the same benefits apply.
Print Services
Almost every company requires printing. There are entire companies that offer print services that could be a huge value add for your business. Working with these providers can save your valuable time where they are strictly working on servers, firewalls, and other infrastructure and not on printers.
FREE WHITEPAPER
4 Essential MSP Business KPIs to Track
Define the potential issues, find most prospective growth factors, and cut ineffective operations.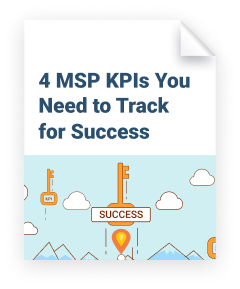 Key Criteria to Look for From Outsource Providers
MSPs turn to outsourcing when they can't handle their workload and can't find good employees to fill openings fast enough. However, there are other reasons to outsource beyond talent crunches.
MSP staffing companies sometimes offer talent specializing in services that you don't offer yet, but that your customers are asking for. For example, you could consider adding managed security services using an entirely outsourced team, providing outsourced SOCs or NOCs to your customers via a third-party partner.
Whether you're expanding a business function, supplementing an internal team, or adding a brand new service offering, outsourcing is an attractive option for rapidly scaling MSPs.
However, you can't choose just any partner and expect great results. When researching MSP staffing companies, look for a partner that will:
Offer highly skilled employees
Provide excellent service to both you and your customers
Cost less than hiring in-house
Conclusion
As you can tell from this article, you can use outsourcing firms and providers to augment your staff or replace an entire department. Use your judgment and consider which business functions and IT tasks can be outsourced. By working with your outsourcing firm to develop a model in which the most urgent, complex, or important tasks get worked on in-house while comparatively routine tasks get sent to outsourced employees, you reduce the risk of service breakdown.