Marketing Strategies for Growing MSPs
According to our survey, more than 50 percent of MSPs report that finding new customers is their greatest challenge. Are you one of them? If so, keep reading for tips on developing an MSP marketing strategy that will help you keep growing by acquiring new customers - and getting more business out of current ones.
The MSP marketing tips in this article are geared toward organizations that are already established and have the resources to invest in a comprehensive marketing strategy, but that still have room to grow within their markets.
(If you're looking for tips on marketing strategy for smaller MSPs that are just getting off the ground, check out our article on marketing for one-man show MSPs.)
A Comprehensive MSP Marketing Strategy
If your MSP business is established and you have a solid base of existing customers, you are in a position to develop a comprehensive marketing strategy. By comprehensive, we mean a strategy that leverages multiple marketing channels at once, and that allows you to engage constantly with leads. (If you need to get acquainted with marketing terms such as leads and learn more about what marketing channels are, refer to our MSP Marketing Beginner's Guide.)
No matter how you choose to execute your marketing operations, there are several core steps that you should take to build a comprehensive MSP marketing strategy.
Identify your customer base
First, you need to understand who your audience is. Be sure that you can answer questions like:
1. Which industries or verticals does your target customer operate in?
2. What is your target customer's company size?
3. What are the pain points of your target customer?
In other words, which technical problems do they face that you can help them solve? Do they need data backup? Network maintenance? Server or workstation setup and management?
4. Where do your target customers spend their time?
Do they go to trade shows? Are they active on social media? Information like this can help you choose which marketing channels to use to reach the customers.
5. What is their buying cycle?
Do they expect a free trial before they sign up for any paid service? Is there a lot of red tape that they need to get through in order to make a purchase, or can you complete sales without a great deal of friction?
Rather than think about some 'ideal' customer, it might be easier and more efficient to evaluate the existing customer base and the existing pain points that your company solves the best. It's a typical mistake to overthink while doing marketing assessment. Then you don't need to think about some imaginable customers - you need to understand your real customers.
Fill your MSP website with relevant content
If you are an established MSP, you should already have a website. To build a comprehensive MSP marketing strategy, you need to ensure that your site is filled with content that is relevant to your prospects by guiding them through the buyer's journey.
Toward this end, your site should not only describe at a high level what you do and which services you offer. It should also offer how-to guides, blog posts and other technical content. For example, if you are a networking MSP, a blog post about Linux networking interfaces might land you a prospect who is trying to troubleshoot a Linux networking issue, and might be interested in your services. This type of content serves several purposes. In addition to helping to attract customers to your site and demonstrate your technical expertise, it could draw the attention of other MSPs who might partner with you.
Further reading Content Marketing Tips from a Seasoned MSP
Your site should also make it easy for prospects to contact you. Ideally, you'll have a dedicated email address and phone number for your sales team that is prominently displayed on your site. The last thing you want is for prospective customers to have to track down your contact information in order to make a purchase.
Including a button on your website where customers can request pricing information is a good idea, too. This approach allows you to engage customers easily when they want to ask about pricing. It also eliminates the need to list pricing information directly on your site, which is usually not a good idea (because different customers might require different prices).
Further reading Creating MSP Website That Works
Decide how to promote your services
There is a number of marketing channels available for reaching prospects, such as: email, social media, blogs, radio or TV ads, billboards, print advertising, and trade shows.
Some of those channels (like print advertising or billboards) may seem old-fashioned, but don't write them off. Not everyone spends all day on Facebook or email. If your target customers are, for example, small business owners in the retail vertical, you might catch their attention with billboards more effectively than social media ads.
Check out these marketing templates that we created to help MSPs sell backup services, including a promo email, customer presentation, and a leaflet: 
FREE ASSETS
MSP's Marketing Templates for Selling Backup

Struggling to win new clients? Use this set of white-label marketing materials to close more Backup-as-a-Service deals.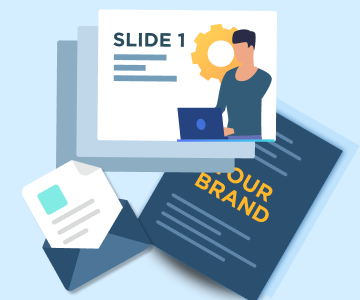 Plus, Google has restrictions in place that can make it difficult in certain cases for MSPs to run digital ads, at least for those whom Google considers "third-party tech support" providers.
Check out what the MSPs we've surveyed are using to promote their services and what marketing channels are currently most effective for them: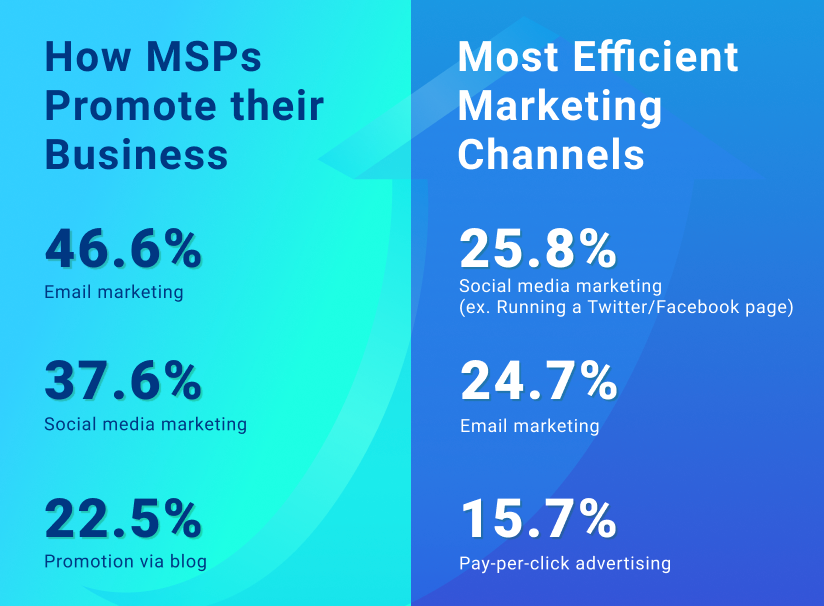 Track, analyze and measure
To a degree, deciding which marketing channels and strategies to use requires some intuition and informed guessing. However, once you have launched some campaigns, you can use data to make better decisions about which channels to keep using, and which to abandon. Consider which channels resulted in the greatest engagement over the past twelve months, and weigh the different levels of engagement against their cost.
Keep in mind that customers are always changing, and what worked today might not work tomorrow. Experimenting with new marketing channels and campaigns is always important for keeping up with evolving customer needs and expectations.
MSP Marketing Strategy Execution: In-house vs. External Marketing Agencies
Executing a comprehensive MSP marketing strategy requires ongoing coordination and oversight. There are three ways to achieve this:
1. Run a marketing operation in-house, using dedicated staff whose main role is marketing. This approach will give you the greatest degree of control over your marketing agenda, but it requires the greatest effort on your company's part. It can also be expensive in terms of salary paid to marketing employees.
2. Outsource your MSP marketing operation to a marketing agency. This strategy is easier to initiate, and it usually costs less than paying your own full-time marketing staff. However, you will have less control, and will only be able to execute the types of marketing campaigns that your agency agrees to. You also run the risk that your marketing agency lacks the technical expertise to understand what your MSP actually does, and the needs of its customers. The typical marketer does not understand how network switches work or the difference between a virtual machine and a container, for example.
3. Adopt a hybrid approach that combines in-house marketing operations with external assistance. For example, you could have an employee who works on marketing part-time, while outsourcing your content marketing needs to an external agency. This approach allows you to stay in control of your MSP marketing strategy, without requiring extensive in-house marketing staff.
Further reading Guide to Content Marketing for MSPs
Conclusion
Growing an MSP customer base is hard work. But there are strategies that deliver results. By knowing your customer, identifying which marketing channels to use and analyzing marketing performance carefully, you can build a comprehensive MSP marketing strategy that brings in new customers reliably and keeps your company growing.
If you choose an in-house or hybrid MSP marketing approach, consider using our free templates to help build your brand. All templates are white-labeled so that you can brand them with your logo and add any company information you need.