You might already be using an MSP help desk software to manage questions from users and customers, ensuring everything is streamlined and organized. But outsourcing your help desk can prove beneficial for the future growth of your business.

Role of Help Desk for an MSP
Help desk software assists MSPs in different ways. It can address queries from your employees and customers alike. Irrespective of the audience, the main goal of help desk software is to handle requests efficiently. There are several advantages to using such tools, including:
Single access point for receiving and responding to queries
Knowledge base answers for common topics and questions
Self-service options for advanced users
Pre-written template answers for more consistent support
Management features to oversee support activities
Scalability for consistent high-quality support to organizations of all sizes
Issue tracking for both support users and representatives
Further reading Creating an Effective MSP Help Desk
Why Outsourcing Makes Sense?
Impressive help desk software for MSP teams makes it easier to keep things streamlined. But as businesses grow bigger, internal MSP teams have a hard time keeping up with everyday demands. As the number of calls keeps increasing, the whole team is overstretched and it takes just a single person taking an unannounced sick leave to put unimaginable strain on the business. (Check out this whitepaper to find out how to handle incoming calls:
)
Managers become frustrated with the workload, and there are delays in resolving issues. The whole team is so focused on finishing the job, they hardly have time to research new technology that could improve your business' profitability and efficiency.
Outsourcing your help desk, on the other hand, offers the benefit of having a team of first, second, and third-line engineers available at all times. Phones are answered more promptly and issues get resolved on time.
Perhaps you've had problems go undiscovered until the first employee logged on during working hours, causing breaks in business continuity. Outsourcing your help desk allows out-of-hours staff in different time zones to pick up the issues overnight – sometimes resolving them right away – so your own MSP team doesn't know there was a problem in the first place.
Benefits of Outsourcing Help Desk
Cost Control
Outsourcing your help desk minimizes costs. Establishing your own contact center for responding to customer queries in real-time drains your finances and resources since you have to spring for software, servers, etc.
Hiring an external help desk service still delivers the benefits of having your own call center but at rates that are more reasonable.
When you are outsourcing your help desk, you are not only hiring one employee but also taking advantage of the expertise and skills of many. Working with a talented help desk team is sensational for acquiring a vast knowledge base. The outsourced team can save money by adopting specific IT strategies that worked with other clients.
Take advantage of vendor relationships already established by the help desk team. The overhead costs associated with buying software and hardware licenses in bulk are also reduced considerably.
Outsourcing reduces labor costs. Plus, you can scale your MSP's human resource capacity up or down instantly, thereby minimizing expenses and eliminating the uncertainties of workforce management.
Further reading MSP's Guide to Cost-Cutting
Scale Operations to Support More Clients
Unlike your regular MSP staff, outsourced help desk service providers won't take vacations, sick days, or national holidays. Rather than managing employees, you get continuous service from having all help desk calls answered professionally to providing end-user support.
This way you provide 24x7 support to clients and avoid frustrated users, major headaches, and complaints.
Such streamlining of help desk work allows for infinite scaling while your business focus shifts from ticket and HR metrics to product sales, marketing, and development.
Further reading Building a Successful MSP Business
Moreover, outsourcing your help desk enables your company to support any end-user irrespective of geographical location without staffing problems, effectively expanding your market pool and triggering more business growth.
Your team receives support from the outsourced help desk team during peak and non-peak hours without incurring high costs. What's more, outsourcing provides your business with the staff you need to increase your service delivery and ensure client satisfaction without increasing your payroll or headcount.
Build New Revenue Streams Using Customer Support
Most MSPs are undergoing extensive changes and formulating fresh business models to keep up with the evolving technology and market demands. Whether your next area of focus is digital transformation or cybersecurity, it is important you have sufficient flexibility and time to work on a viable strategy.
Running a full-time help desk is a big distraction and you will often find yourselves dragged away from strategic efforts to ensure tickets are being managed thoroughly and your staff is working at peak capacity.
However, outsourcing your help desk can make a lot of these problems go away. For starters, the outsourced team can take care of all front line support, answering calls, solving IT problems, and following up customer tickets. This leaves you with enough opportunity to focus on increasing your company's streams of revenue.
FREE WHITEPAPER
4 Essential MSP Business KPIs to Track
Define the potential issues, find most prospective growth factors, and cut ineffective operations.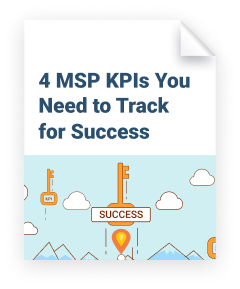 Get Customer Insights like Never Before
If you've been in the MSP game for some time, you know how bad a rep outsourcing used to have earlier. Thankfully, customer attitudes toward outsourcing have changed greatly in the last decade. Now, MSP clients and users are less interested in where the technicians are. Rather, all they want to know is how long it will take for their IT problems to get resolved quickly and efficiently.
A terrific outsourced help desk provider offers first-call resolutions and customer satisfaction calls, thereby ensuring both the quality of the work and the quantity of the tickets closed meet and exceed the expectations of the clients.
Doing your research, development, and implementation tasks in-house take a long time, thereby increasing costs and decreasing efficiency.
But hiring an external partner for help desk services allows MSPs to access more knowledge and manpower, making it easier to improve efficiency, optimize operations, and handle customers with more complex environments.
The help desk team serves as an extension of your own team. Leave the outsourced technicians to tackle resource-heavy activities and increase the productivity of your in-house MSP employees. Thanks to dedicated technical expertise and smarter proprietary technology, outsourcing allows MSPs to operate more efficiently and support greater numbers of clients.
Improve Support Outside Normal Working Hours
Customers can now call your business anytime, including weekends. This gives your business an edge over the competition.
Conclusion
Setting up your own in-house help desk takes time and money. Plus, if not done properly, it can be a recipe for disaster. You require dedicated resources on every level if you wish to operate a help desk properly.
But if you burden your existing MSP staff with support functions, their performance in other job areas may be compromised.
So, you are better off outsourcing your help desk functions. Contracting the help desk of a reputable company helps your business save money and lets seasoned professionals operate your help desk. Outsourcing is a salient way to save the company money while delivering an optimal experience for your clients and employees.