Guide to Content Marketing for MSPs
Content marketing is a powerful way to grow your MSP business. But it takes careful planning and hard work to pull off a successful content marketing strategy. If you simply start churning out some low-quality blog posts or YouTube videos without a long-term content marketing plan, you're unlikely to see much return on your investment. Toward that end, we've prepared this guide to everything you need to know in order to launch a successful MSP content marketing campaign. We'll explain what content marketing is, how to get started, and which types of content to consider producing.
Further reading MSP Marketing: How to Start So It Works
Word of Warning
Before we jump into the details of how to do content marketing for MSPs, we want to be upfront about an important fact: no matter what others may say, creating effective content is time-consuming and difficult. You must be dedicated and prepared to spend a lot of time creating the content for a content marketing campaign. You must also be prepared to wait for results. Sometimes, content marketing may not yield any noticeable results for over a year.
Know, too, that content marketing is typically not worth the time and effort for very small MSP businesses. If you are a one-person MSP, your time would probably be better spent optimizing your processes and operations than creating content.
The above notwithstanding, MSP content marketing can be a great way to expand your business, provided you follow the right strategy and have the resources in place to create compelling content. Keep reading for tips on how to do that.
What Is Content Marketing?
Content marketing is a way of engaging with customers through relevant and valuable content. It should keep the readers on your website and spark their interest in learning more about the services you offer or other ways they can engage your business.
As noted above, content marketing may not be the best choice for small MSPs, since it doesn't generate marketing leads as fast as networking or paid advertising. However, for bigger MSP businesses, content marketing helps you to build your reputation, provide your clients and prospects with value, educate them, upsell services, drive more traffic to your website, build a community around your services, and more.
MSP Content Marketing: Should You Do It Yourself or Outsource?
Given the time required to create good content, many MSPs outsource their content production and content marketing operations. This approach offers several benefits:
It saves you time.
You don't need to worry about generating content topic ideas.
You can work with professional writers, who may be able to write faster and more effectively than you.
Some content marketing agencies will handle content distribution for you, so you don't have to worry about figuring out where to post your content or how to advertise it.
Yet there are also drawbacks to outsourcing content marketing, including:
Marketing professionals may not understand your business in-depth. They may also have limited expertise in the technologies you use.
The quality of the content can be poor in some cases, and your ability to request revisions may be limited.
Outsourced content can be expensive, and pricing structures are almost never tied to content performance; thus, you may end up paying exorbitant prices, even for content that ends up performing poorly.
Further reading The Power of Content Marketing for MSPs
The Middle Ground
Keep in mind that outsourced content marketing doesn't have to be an all-or-nothing proposition. You can outsource some aspects of the process but perform others yourself. For example, you or your team members could take responsibility for topic generation, then hire professional writers to write articles on that topic. Or, if you want to write your own content but don't have a lot of confidence in your writing strengths, you could draft your own articles and hire a professional copy-editor to improve the writing.
Check out these marketing templates that we created to help MSPs sell backup services, including a promo email, customer presentation, and a leaflet: 
FREE ASSETS
MSP's Marketing Templates for Selling Backup
Struggling to win new clients? Use this set of white-label marketing materials to close more Backup-as-a-Service deals.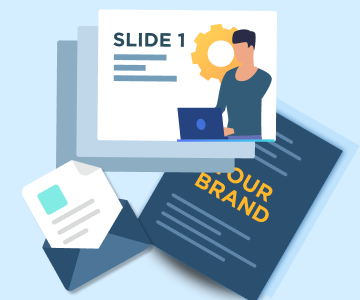 Getting Started with MSP Content Marketing
If you decide to write your content in-house, here are the basic steps to follow to get started:
1. Topic idea generation: Create a list of general ideas you want to cover, then elaborate on each of them. To assess the ideas, consider ranking all of them on a scale of 0 to 3 (where 0 stands for "doubtful" and 3 for "most relevant") based on the value these ideas can potentially bring to your customers.
2. Know what you're saying: If you have doubts about your ability to cover a given topic effectively, don't talk about it, or look for outside expertise to help.
3. Know your audience: What type of content do they need? Hint: search for in-demand ideas from the questions your users leave and the troubles they face.
4. Focus on the customer: Good content shares your knowledge about a relevant topic in a way that speaks directly to customers. Be sure to tailor your voice and information to what customers care about, even if that is different from what matters most to MSPs.
5. Differentiate content:  Another great practice of the MSP content marketing strategy is to use different content for your blog and social media. Make sure you keep that distinction in mind when creating different types of content.
6. Review: Schedule review days, when you evaluate your content marketing plan and refresh it as needed.
Further reading Content Marketing Tips from a Seasoned MSP
Content Formats to Create
Content marketing commonly includes several distinct categories of content. Each category serves a different purpose and involves different types and forms of content.
SEO Content
SEO content is content on your business blog designed to drive Web traffic to your website. To be most effective, a blog should be updated with new content three to four times per week -- so this is a big investment.
Writing effective SEO content requires awareness of the principles of SEO, such as how to research keywords and how to use them within an article.
If you don't have the time or SEO skills to create SEO content yourself, consider hiring a professional writer. Ideally, look for one with an IT background who can write authoritatively about the technical topics you want to cover. Expect to pay around $300 per article for these writers. Be sure to vet potential writers carefully; ask them for sample content, and make sure the content they produce is always original (rather than copied from elsewhere, which will cause you to be punished by search engines). To catch plagiarism, you can use Grammarly, Copyleaks, and other plagiarism-checking tools.
It's important as well to build analytics into your SEO content. Tools like Google Analytics can help for this purpose. Also include simple and consumable calls to action (CTAs) in your content. Check out our Crash Course in SEO for MSPs for more information.
CTAs usually offer a reader to provide their contact info to move to free downloading or to subscription
Content for Social Media
Social media content is generally shorter than SEO content. It may also be less formal in tone.
In order for it to be effective, gain a sense of what readers are looking for by assessing the content already there. For example, look at recent Reddit threads about a topic you want to post about, or sign up for Google alerts on that topic.
Social media content can promote your business, but be careful not to let that be the only thing it does. Your content should also include educational information that appeals naturally to the audience.
Further reading Top 100 Ideas for MSP Content Marketing
Content for Business-to-Business (B2B) MSP Sales
Some MSPs offer services that other MSPs may want to purchase. Creating content around these services can help with this business-to-business sales. Don't forget that you create a content marketing strategy around these services, not simply content to attract attention, so you need to involve your target audience into the sales funnel.
This content should highlight the features of the service or product you want to sell to other MSPs. Promoting it via social media is a good way to reach MSPs. Create new content on a regular basis in order to keep sending the message to other MSPs about the services you offer.
Simple and Easy-to-Consume Content
A fourth content category is a content that is simple and easy to consume. It doesn't fit into any other specific content category; it's not SEO-focused, and it may or may not be shared via social media.
Examples of this content include memes or humorous posts about your daily business routines. Just be sure, of course, to avoid any content that may be deemed offensive or unprofessional.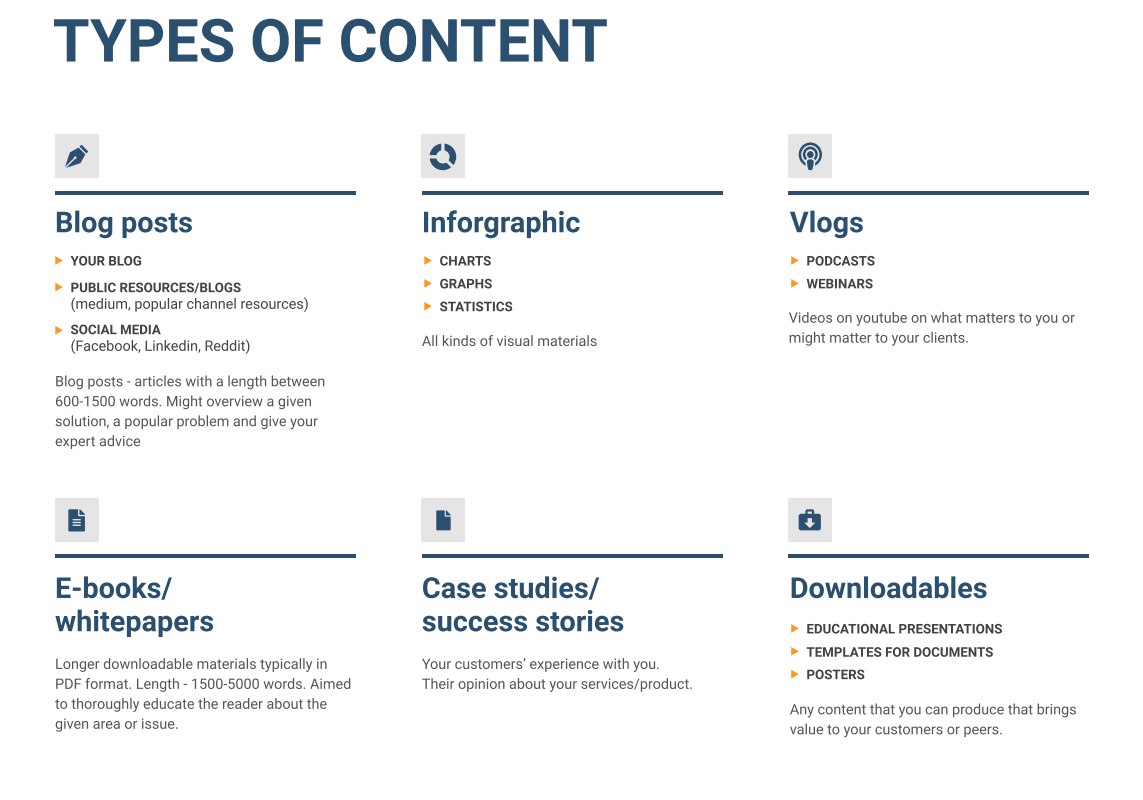 Further reading Reasons and Ideas for MSP Webinars
Conclusion
Content marketing is hard work. But you can reduce the amount of time and effort it requires by working with external writers or content marketing agencies. Whether you produce your content in-house, outsource it, or do both, a carefully planned MSP content marketing strategy will pay off in the long run by increasing brand awareness and helping you to sell more to existing customers and new clients alike.