Guide to MSP Social Media Marketing
Social media marketing is a great way for MSPs to increase their brand presence and generate leads. Indeed, the majority of MSP marketers report that social media is a priority for them.
At the same time, however, social media marketing can be difficult. It requires some special techniques that make it different from other types of marketing. For example, unlike other marketing initiatives, social media marketing is not something you can typically outsource. Only you know your business well enough to create meaningful content on social media.
If you're an MSP looking for tips on overcoming these challenges in order to get started with social media marketing, keep reading. This article provides an overview of what social media marketing means, why it is important, and how to go about doing social media marketing for an MSP business.
Further reading MSP Marketing: How to Start So It Works
Why Does Social Media Marketing Matter for MSPs?
Although you may think of social media platforms as a place for chatter and entertainment, rather than serious professional activity, the fact is that social media marketing provides a range of benefits.
The most obvious is the lead generation and lead nurturing. Social media is a great place to find people who may be interested in your services and help them learn more about your business. This is especially true because many social media communities are built around particular interests, so it's easy to find groups where your offerings are relevant.
But that's not all. Social media marketing also offers the important benefit of helping to generate backlinks for your website, which increases your SEO effectiveness.
More generally, social media is an excellent way to engage the community. Even if the content you post on social media is not directly related to lead generation or nurturing, it will increase brand awareness and (when used properly) will enhance the image of your brand. In turn, by bolstering your brand, social media marketing will reinforce all of your marketing activities -- even those that take place beyond social media.
Further reading Guide to MSP Branding
Check out these marketing templates that we created to help MSPs sell backup services, including a promo email, customer presentation, and a leaflet: 
FREE ASSETS
MSP's Marketing Templates for Selling Backup
Struggling to win new clients? Use this set of white-label marketing materials to close more Backup-as-a-Service deals.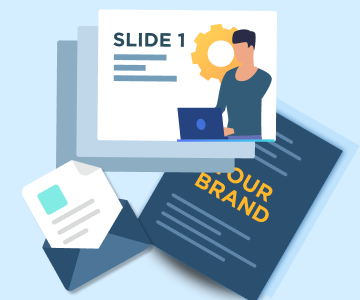 MSP Social Media Marketing Platforms and Tools
There is a long list of social media platforms and tools that you should be aware of in order to launch social marketing campaigns. You don't have to use all of them, but you should be familiar with them in order to assess which ones are the best fit for your needs.
Social Media Platforms
Facebook: an obvious, widely used social media platform.
Twitter: ditto.
LinkedIn + LinkedIn Sales Navigator: a social platform geared toward professionals.
Instagram: another general-purpose social platform.
YouTube: the largest social media platform for video content.
Spiceworks: hosts discussion forums and other social platforms tailored for the IT industry.
Tools for Social Media Account Management
The following tools help manage social media content for marketing purposes through features like post automation:
Hootsuite: lets you monitor mentions of your brand in addition to managing posts
Amplifr
Publbox
Zoho
Buffer
Graphic Editor Tools
Since images are an important part of most social media posts, you should have a tool to work with them. Here are some good options:
Canva: an image-manipulation platform designed for social media.
Iloveimg: for image modification (resizing, cropping, etc.).
Figma: mostly used for interface design, but can be useful for designing sophisticated images and layouts, too.
Piktochart: a tool for building infographics.
Stock Photo Sources
If you need stock photos to use as the basis for images in your posts, consider the following sites:
Unsplash
Shutterstock
Pixabay
Best Practices for MSP Social Media Marketing
There are myriad approaches you can take to social media marketing. Your strategy will vary depending on the audience you are trying to reach, the platforms you are posting on and the type of content you create. Thus, there is no one-size-fits-all MSP social media marketing strategy. That said, the following are some general best practices to consider:
Post from a business page. Usually, it's better to create an account for your business and post social media marketing content from there rather than personal accounts.
Make your contact information obvious. Make sure someone interested in your services can easily find you by adding contact information to your account.
Watch your competitors. See what content they are posting to inspire your own ideas and make sure you are not behind the curve.
Differentiate platforms. Your content should be tailored to each platform you publish to. Content that works well on Facebook may not work well on LinkedIn, for example.
Post consistently. Strive to establish a consistent presence by posting regularly. Of course, make sure each post you submit is of sufficient quality; never post low-quality content just to keep up with your schedule.
Analytics is a must. Analytics is critical for tracking the performance of your posts, and determining which strategies work and which don't.
Don't be hard on your sales pitch. Your posts can promote your business, but your content needs to deliver value to your audience that goes beyond marketing. In other words, make sure all of the content you post is generating genuine interest and not just an advertisement for your brand.
Learn to love visuals. Whenever possible, include images, videos, infographics, or other visuals in your posts.
Be present. Answer questions and engage in conversations.
Don't be rude. Cultivate a positive, friendly image. Trashing people or ideas, even if you think it makes you look funny or clever (and even if they are your competitors) will not pay off.
Don't show off. You want your audience to find you helpful and supportive, not self-promoting. It's OK to celebrate your company's successes on social media, but do it in a humble way.
Further reading Top 100 Ideas for MSP Content Marketing
What Should MSPs Post on Social Media?
As noted above, the content you post should be tailored to the platform it appears on. Here are some guidelines for popular platforms.
MSP Content for Facebook
Technology news.
Product updates.
Eye-catching content and ads: lead generation forms, surveys, and more.
Videos -- but remember to include subtitles, because users rarely turn audio on Facebook.
Industry news and company updates. Don't post entire articles on Facebook (no one will read them there) but summarize news in bullet points, and include links to more information. Don't forget to pin the most important posts.
Special offers: consider offering small gifts to users who repost your content, take part in your surveys, and so on. Join MSP-related groups and subscribe to the big players' pages to stay up-to-date, get inspiration, and learn about trending issues.
Join MSP peer groups and communicate with other providers.
Partner with third parties for promotion: create shareable content and ask them to post it from their own accounts in order to increase organic interest.
User-generated content: for example, pose a problem and ask your audience's opinion. (Later, you can convert these answers into a blog post or article for your website.)
Customer testimonials.
MSP Content for Instagram
Short news and overviews of the latest updates (you can use links in Stories).
Instagram Stories: polls, new features / products / events announcements.
Visual materials (focus on materials that are extremely easy to understand and digest: photos, diagrams, and so on).
Don't be afraid to post fun content (like event videos and memes) but be sure to do it professionally. Also, make sure that all of your content is humorous, or your audience finds you frivolous.
If you have enough subscribers, you can set up Instagram live streams with Q&A sessions.
MSP Content for LinkedIn
Industry news and company updates.
Information about vacancies at your company.
Long-form content (articles are OK on this platform).
Motivational content and business insights.
Further reading Sell Your Managed Services Effectively with LinkedIn
MSP Content and Strategies for Twitter
Follow your company hashtag and retweet comments, reviews, answer questions, etc.
Follow your partners' accounts to expand your network.
Make short announcements (obviously, long-form content doesn't work well on Twitter).
Use Twitter to send notifications to your users.
Post important news and updates with links to your website for more information.
Fun content. This is also OK on Twitter.
MSP content for YouTube
Create detailed "how-to" videos (instructions, guides, etc.).
Q&A sessions: invite experts and interview them.
Introduce yourself: create videos that highlight your personal background, what you do in the business, your goals, and so on.
Customer testimonials: testimonial videos emphasize that you are communicating well with your customers. They are also easy to make; go to your customers' offices and make short videos there.
Link to your YouTube content from your blogs. This is a good way to link your YouTube videos and CTAs and to ask blog readers to subscribe to your YouTube channel or collect contact information from them.
Whenever you post a video on YouTube, share the link via other social networks and your website.
A final point about YouTube: remember that not everyone is a natural public speaker. Before posting a video, make sure you are comfortable speaking clearly, concisely, and compellingly. If not, take some time to train yourself on this topic, or consider outsourcing video production.
Conclusion
Social media marketing is a vital technique for building your brand and finding customers. But successful social media marketing requires more than just creating and posting content willy-nilly. Make sure you choose the right platforms, build the right content, and maintain a consistent, regular presence.