Guide to Web Advertising for MSPs
In some cases, Web advertising is a powerful way for MSPs to reach audiences. But it is also complex. It requires the use of special tools, as well as crafting an advertising strategy that allows you to reach Web audiences effectively.
Below, we offer tips on how to plan and execute a successful Web advertising strategy for MSPs. We explain what Web advertising entails, which types of ads you can place on the Web, platforms, and tools to use for Web advertising, and how to get started with a Web advertising campaign.
Further reading MSP Marketing: How to Start So It Works
What is Web Advertising?
Web advertising is an advertising strategy where you display information to customers based on a pay-per-click model (which means you pay only when someone clicks on your ad).
To place ads, you participate in auctions, where you compete with others based on keywords and ad targeting. Your position in the auction reflects your bid (which means how much you're willing to pay), ad quality, and the targeting methods you use (such as demographic factors, devices, time of day, and so on).
Web advertising can be used to serve a variety of purposes. It can help drive traffic to your website, track customers' behavior, generate reports on ROI, generate leads, and more.
Types of Web Advertisements
Search Ads
Ready-to-buy leads, it takes not so much time to acquire users when everything is set up and running BUT the mature campaign can take up to a year. it's quite hard to estimate and setup
your bidding strategy (because you are competing with bigger players with bigger budgets).
Social Media
Promotion pays-off in the long term. Learning the mechanisms of social media ads is time-consuming.
Facebook
Instagram
Twitter
Snapchat
Reddit
Video Ads
It can be hard to fit your offer into 5-15 seconds. People often skip ads.
The optimization process is laborious and the format settings are complex.
Further reading Reasons and Ideas for MSP Webinars
Web Advertising for Small Businesses
Web advertising can work well for small MSP businesses, but it's not the right solution for all types of advertising goals.
Generally speaking, Web advertising for small businesses is most effective when you target audiences based on location; that way, you can reach leads only in the geographic area served by your business. Advertising on social media platforms, such as LinkedIn and Yelp, can also be effective for small businesses, although the cost per click (CPC) rates you will pay for advertisements on these sites tend to be higher.
Check out these marketing templates that we created to help MSPs sell Microsoft 365 as a managed service: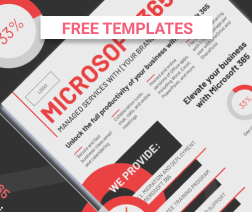 Outsourced vs. Do-It-Yourself Web Advertising
Web advertising can be done by virtually anyone, but it's a difficult process for those who have never done it before.
Our expert says: "An MSP can master a bare minimum of PPC knowledge to start a tiny campaign, but they are likely to end up losing money. If you want to advertise wisely, you need to spend more time figuring out all the metrics and tactics, which is very time-consuming… especially if it's a small MSP with a lot of primary work to be done."
Platforms and Tools
There are several major platforms where you can place Web ads:
Google Adwords: This is generally the best place to start. It includes a keyword planner and remarketing (which lets you limit ads to people you've already targeted, in order to concentrate on them as leads), as well as an ad platform.
Bing ads: Similar to Google Adwords, but based on Microsoft's Bing search platform.
Reddit / Facebook / Twitter / LinkedIn / Instagram / Yelp / YouTube: These social media sites (along with similar platforms) allow you to place ads. They can be a good option for a small business.
Moz Keyword Explorer: This is a tool that helps you determine which keywords to target. It's not an ad

placement solution, but it can help in planning Web ad campaigns.
Further reading MSP Marketing Tools: Top 7 Free Picks for Powerful Marketing
Where to Start
Web advertising starts with knowing your goals. Do you want to increase brand awareness, generate leads, generate revenue, or something else? You need a specific idea of what you are trying to achieve before you can plan a successful Web advertising campaign.
Once you have set your goals, the process is relatively straightforward. The first step is creating ads that will attract people who are not currently aware of your offerings but might be interested in them. Then, after leads have been generated and entered into your CRM tools, they become prospects with whom you can engage further in order to collect contact information.
Our expert says: "Attract unknown people who indicate interest in your offering. After the lead has been attracted and created in your CRM tool, this unknown website visitor becomes a specific prospect with known email, first and last name, and any other information you ask him to fill. All major social media already have specific 'lead generation forms' that can capture a lead right away without landing him on the advertiser's page. Even Google Ads started beta-test of those forms not long ago. Brand awareness - in a nutshell, firstly, it means that your goal is not to capture a lead, but just to show/test some message about your brand/offering. This kind of advertising usually works in a long-run perspective. Important: use two approaches simultaneously."
Other tips include:
Don't rely on paid ads in the long term; think of them as tools you can use from time to time to generate leads.
Send a strong message with your ads. Make sure your ads are tailored to your target audience's needs and communicate your value clearly.
Evaluate keywords carefully; they're critical to traffic. To learn more, check out our Crash Course in SEO for MSPs.
Create captivating images. For most MSPs, this will mean working with a designer.
Understand basic advertising concepts and metrics, including conversion rates, cost per acquisition (CPA), cost per click (CPC), and ROI.
Best Practices for a Successful Advertising Campaign
To get the most out of your Web advertising campaign, consider these best practices:
Start by search-based advertising (using platforms like Google Adwords). These are the simplest and often least expensive forms of web advertising.
Examine your competitors' ads by performing keyword searches to see which ads appear in responses. What topics do you see in their ads that you should either emulate or avoid?
Define and differentiate your verticals. Each vertical should have its own ad, with different text and images.
Use granular search terms. For example, if your competitors bid on keywords like "break and fix in new york," you can use a more-targeted keyword, such as "computer disaster recovery in Brooklyn." More granular terms usually cost less, and they are also more effective at making them stand out from the crowd.
Check search engine results pages (SERP) data to determine the best (and most cost-effective) keywords for your ads.
Follow up immediately on leads generated from ads by making phone calls, sending emails, and so on.
Check your Search Ad Quality Score Quality reflects the relevance of your ads and keywords to the target audience. The higher the quality, the more frequently your ad will be displayed, and the lower the cost per conversion will be.
Perform split tests by creating identical ads, then changing keywords and comparing the results.
Remember, analytics is a must. Collect ad metrics such as CPC and CTR. Also follow revenue metrics, such as CPA and ROI.
Budgeting for Web advertising
How much should you expect to spend on Web advertising as an MSP? That depends on which niche you choose for advertising. The cost of running ads for managed backup services will be different from the cost for managed security services, for example, because the target demographics and the cost of bidding for the respective keywords will differ.
That said, a general rule of thumb is that you should expect to spend 8-10 percent of your overall budget on marketing. It's up to you how much of that to spend on web ads, although $200 a month is a good number to start if you are a smaller MSP and are running the advertising campaign yourself (rather than outsourcing it, which, of course, costs more).
These suggestions can help you launch your first web advertising campaign at a minimal cost.
Keep in mind that Google Ads and Bing Ads offer free credits to you get started. You get a $100 credit after you spend $25 on these platforms.
For further guidance, check out Google's guide to campaign budgets.
Step-by-Step Instructions for Web Advertising
If this is your first time launching a web advertising campaign, the following are the steps you can expect to follow.
1. Select the type of campaign
Type (search, social media, display ads, etc.).
Campaign name.
2. Set up targeting.
Targeting is typically based on:
Location.
Demographic factors (age, gender, interests, affinity index, etc.).
3. Set a budget
Choose a daily or total budget.
Choose a bidding type: manual bidding or automated bidding strategies (maximum clicks, target CPA, etc.).
Select manual or automatic payments.
4. For a search campaign: add keywords
Define your semantic core.
Add negative keywords to exclusions.
5. Prepare your ads
Add banners (if using display ads).
Create catchy headlines, descriptions, and ad extensions (to make your product or service stand out).
6. Set up conversion tracking on the website or landing page.
7. Launch your campaign.
Examples of Web Adverts
Example 1

The query that triggered this ad was "managed service provider in Chicago"
Ad parts:
Managed IT Services - headline 1 (It's always good to have a keyword in the first or second headline)
Your Virtual IT Department - headline 2 (one of the headlines is usually used for highlighting features or supporting the keyword)
You Focus On Running Your Business — Prescient Solutions Has IT Covered. Virtual Help Desk, 24x7 Monitoring, Desktop Support, and Mobile Support. - description (expand your offer/service here, dive into features, benefits, and special offers)
(888) 343-6040; Desktop Support. Virtual Help Desk. Mobile Support. 24x7 Monitoring. Locations: Brookfield, Chicago. - ad extensions (unlike headlines and descriptions, an extension is an additional part of the ad, which means it isn't displayed every time. There are about ten types of extensions, e.g. call extensions, price extensions, site link extensions (the most important), location extensions, etc.). Extensions are good for listing features one by one. It's also good if the extension contains keywords (in our example, the location extension contains "Chicago", hence it's highlighted and attracts more attention).
Example 2

YELP search query: "IT Services & Computer Repair", Locations: Chicago
Promoted results are always displayed above organic ones, although they look absolutely the same (except for the sponsored results note in the header) which means they get more traffic.
Conclusion
Web advertising for MSP business is more complex than it might seem at first glance. To do this effectively, you need to spend time researching search queries, creating effective ads, and customizing your ads to reach the right target audience. But this effort can be worth it, especially if you reinforce your Web advertising campaign with other marketing methods, and remember to follow up on leads generated from Web advertising.