Guide to Email Marketing for MSPs
Email marketing is a double-edged sword. On the one hand, email can be a great way of reaching customers in a personable setting. On the other hand, if customers feel that you have abused their email accounts by filling their inboxes with spam, you will quickly lose their trust. This, among other reasons, is why it's important to have an MSP email marketing strategy in place that enables all of the benefits of email-based marketing, without the drawbacks. Keep reading for tips on finding this middle ground.
Further reading MSP Marketing: How to Start So It Works
Email Marketing: the Basics
Email marketing serves two main purposes:
Keeping in touch with existing clients.
When it comes to lead generation, email marketing has a low conversion rate (expect 1-2 percent conversion at best). For that reason, it's not usually worth the effort if you are a small MSP. Your time would be better spent on cold-calling and networking, which will produce more leads.
On the other hand, just about any MSP will benefit from the relationship-building that email enables existing customers. Use email to instruct and educate your customers, and to encourage them to purchase more of your services.
Further reading MSPs: How to Upsell Effectively
Getting the Most from MSP Email Marketing
To be most effective, email marketing should be used alongside other marketing activities, such as social media campaigns (which tend to be less effective than email campaigns, but are still worthwhile) and cold-calling.
It's also important to ensure that your emails don't cross the line into becoming spam. Once you do this, you end up turning off customers much more than you engage them. The most important thing to do to avoid having your emails perceived as spam is to ensure that they contain relevant, informative content.
The frequency with which you send emails is a factor, too. The rate at which you send emails will vary depending on which type of campaign you're pursuing (see the following section for more on this). But as a general rule of thumb, if you find that most of your emails are left unread, or result in unsubscribe requests, it may be a sign that you are sending them too often.
Check out these marketing templates that we created to help MSPs sell backup services, including a promo email, customer presentation, and a leaflet: 
FREE ASSETS
MSP's Marketing Templates for Selling Backup
Struggling to win new clients? Use this set of white-label marketing materials to close more Backup-as-a-Service deals.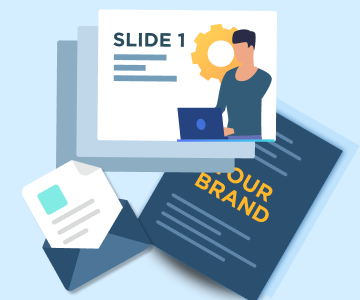 How to Organize MSP Email Marketing
Types of Email Campaigns
There are several distinct types of email marketing campaigns:
Nurturing (or follow-up) emails: You may send emails to follow up with new contacts, such as "hot leads" who have signed up on your website. These email campaigns usually last for a period of days.
One-time newsletters: These emails provide news and updates. They are used to re-engage leads who have grown cold.
Blog emails: Used to develop stronger relationships with your most loyal audience -- existing customers.
"Thank you" emails: Whenever you reach a new milestone in your business (such as a five- or ten-year anniversary, or the launch of a new type of service), email existing customers with the announcement and demonstrate your gratitude for their help in making your success possible.
DIY or Outsource?
You can run email campaigns yourself, or outsource them to a marketing agency.
In some cases, especially if your time is truly scarce, outsourcing emails may be worthwhile. But in general, we recommend learning to run your own email campaigns. An outsourced marketing agency won't know your customers as well as you do. Plus, creating and sending marketing emails is not particularly time-consuming, once you learn the basics. Emails are typically only a few paragraphs long, and distribution can be easily automated using mass-email tools.
Tips for a Successful MSP Email Marketing Campaign
Getting the most out of email marketing depends above all on knowing your audience. Write emails that contain information they care about and that addresses their pain points. Those are the emails that will actually be read. Don't make the mistake of focusing on information that matters more to you, the MSP, than to customers. And, by the same token, be sure to keep the emails understandable. Avoid technical jargon that only MSPs know; instead, use plain language that the average customer can easily digest.
Presentation matters, too. Depending on your audience, you may choose either to send plain and personal emails that consist just of text, or you can send flashy marketing emails with graphic and interactive features. Both approaches have their place; the key is to understand what your customers expect. Customers who value a personal approach will benefit from simple and plain emails; those who see your company as a large, well-established organization might be more receptive to standard marketing emails.
Choosing the right subject line is also critical. You want your subject lines to be descriptive but also creative in order to entice readers to open the email.
In the messages themselves, focus on being short but informative. Get to the point quickly; don't expect your audience to read through paragraphs of text before you reveal the key information you are trying to convey. Use images strategically, but don't be excessive.
Finally, make sure you test your emails before distributing them to your audience. Ensure that all of the links inside the email work, and that your email can be viewed without issue on both PCs and mobile devices.
MSP Email Marketing Tools
There are a variety of tools that can help you automate and streamline email marketing:
How to Choose the Right Email Tool
When selecting an MSP email marketing tool, consider:
Testing support: Does the tool support A/B testing to help you assess which emails are most effective?
Editor: How sophisticated and easy to use is the editor for crafting emails?
Automation: How much does the tool automate the creation and distribution of emails? How granular are automation options? If you want to schedule an email to be sent automatically, for example, do you have to send it to your entire list at once, or can you specify a different schedule for different contacts?
Reporting: How much reporting and analytics data does the tool provide about your emails' effectiveness?
Assessing Email Campaigns
Assessing the effectiveness of your email campaigns is essential for optimizing your success.
Chief Metrics to Collect
The most important data points to track include:
Deliverability: How many people actually received the email successfully?
Open rate: How many readers opened the email?
Click-through rate: How many people clicked on links in the email?
A number of subscribed people: How many people are subscribed to your list?
Starting Point for Various Types of Emails
The following are some general guidelines for which metrics to expect:
Nurturing emails (hot leads): open rate: 25%, click-to-open rate: 10% = 2.5% CR.
Newsletters (colder leads): open rate: 20%, click-to-open rate: 8% = 1.6% CR.
For blog (loyal customers): open rate: 35%, click-to-open rate: 15% = 5.25% CR.
Spam report rate (how many people report your email as spam): should be less than 0.1% (try to keep it as low as possible).
Remember that performing A/B tests and crafting relevant, informative content will help you improve your numbers.
What Not to Do: Ways to Scare Your Prospects Away
Finally, here are tips on what to avoid in email campaigns:
Send emails with no real value for customers.
Use email templates that are overloaded with features.
Fill the text with emojis.
Add confusing CTAs.
Use topics and titles that are difficult to understand.
 Be too persistent (keep sending emails to unsubscribed customers, for example).
Choose the wrong time to send emails.
Don't check your emails for grammar, broken links, missing CTAs, and so on, before sending.
Use the same email chain for different marketing purposes or audiences.
Buy a list of email addresses (usually a waste of money).
Write too technical.
Overload the reader with emails.
Ignore reply emails.
Create sales-only emails  (instead of informational ones).
Write headlines in capital letters or overuse exclamation and question marks.
Ignore customer needs and only talk about your brand.
Conclusion
Email marketing is a powerful technique for both generating and nurturing leads. But there are a variety of rules to follow in order to get the most out of email marketing campaigns. Be sure your emails are relevant to your customers, that they are used effectively alongside other marketing techniques and that you avoid email campaigns that leave your customers feeling like they have been spammed.