The "as a service" model refers to a solution, a platform, or a product that is provided and managed for an internal or external client by a third-party agent. This model is popular nowadays due to its flexibility and simplicity for the customer. You don't need to find, test, and integrate the solution yourself; you just have to find a solutions provider, who will manage everything IT, leaving you with only the business-related tasks.
Needless to say, there is everything as a service nowadays, starting from analytics up to quality assurance. In this article, though, we will discuss why and how to implement backup as a service within an organization.
What Is Backup as a Service?
The backup as a service model, or BaaS for short, applies to backup management performed by a third-party service provider for its customer. Backup management typically includes:
Data classification and backup planning
Backup solution setup and management
Backup cloud and local storage management
Recovery plans and procedures procurement
The BaaS model allows an end user to delegate all data backup needs to a service provider, ensuring data safety according to service level agreements between parties. It's a perfect model for both small companies without an internal IT department, who can rely on a provider to perform IT routines for them, and for big companies who want to build an ITSM/ITIL-style relationship between their departments.
Why Do SMBs Need Cloud Backup as a Service?
According to a study by the National Cyber Security Alliance, 37% of SMBs who have experienced data loss have suffered a financial loss, 25% have filed for bankruptcy and 10% went out of business.
With the number of cybersecurity attacks growing each year and IT infrastructures getting more complex, it is clear why organizations should employ the more user-friendly and convenient BaaS model. Here are more pros for it:
Client-oriented. Backup as a service is not a solution, but a service, oriented towards solving a given client's tasks and challenges. In other words, it's customized based on their needs.
Budget-friendly. BaaS providers always build their solutions based on the client's existing budget. The costs of buying a solution, backup and data management, and developing backup and disaster recovery plans are embedded into the proposition. External backup as a service providers typically use a pay-as-you-go model, which allows budgets to be optimized on the go.
Simplified backup management. Since BaaS providers do the management, it's safe to say that it only remains for the client to define where there's a need to backup and recover data.
Further reading 6 Benefits of Backup as a Service
FREE WHITEPAPER
Full System Backup and Recovery
Check out our comprehensive guide covering system state, system image, and application-aware backup and recovery, as well as bare-metal recovery: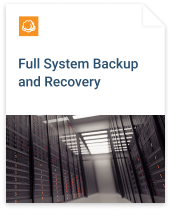 Backup as a Service Challenges
However, on the other hand, there are several challenges and concerns regarding the integration of the cloud backup as a service model within an organization. These factors need to be considered, so you can make a well-rounded decision:
Less control over processes and infrastructure. If the third-party storage provider hosting your data experiences an outage, you could lose it. Also, your data could be compromised. So, choose BaaS providers who work with the most reliable cloud storage solutions out there.
Higher bandwidth consumption. Although BaaS providers will still provide you with local backup, they typically aim for cloud storage as their first storage solution. That means you will have higher requirements for bandwidth and higher bandwidth consumption during backup and recovery operations.
Inaccessible data due to Internet outage. The classic BaaS approach relies on cloud solutions; hence, if you have no Internet connection, you can neither back up nor recover your data. To deal with that concern, most of BaaS providers nowadays include all types of local backup in their proposition.
How Do You Employ a BaaS Provider?
At this point, you may be wondering how to find an external BaaS provider, or how to develop an in-house backup as a service solution?
If you are looking for a provider to do backups for you, contact several big companies on the market. They will be able to assess your budget and needs, define the proposition and outline the service level agreement. Together you should classify your data, and define the backup and recovery methods for the various platforms and operating systems you use.
If you are building an in-house BaaS solution, you should first define the needs of your business and establish your recovery point and recovery time objectives in order to find the appropriate software and, if needed, hardware. Thus, you also need to classify the data, choose the platforms for backup, and put together a backup and disaster recovery plan.
Choosing a Cloud Backup as a Service Vendor
It's not always easy to choose a vendor that will provide you with backup as a service. If you are having a hard time picking one, here's a screening list that should help you:
Does the provider support all your operating systems and platforms?
Do they support cloud and local backups?
Will they create a backup and disaster recovery plan for you?
Will they base their estimates on your RTO and RPO requirements?
Do they have 24/7 support for emergency situations?
How will they secure your data in transit and at rest?
If you have several candidates with greatly varying price points for a similar offering, find out why there is such a difference. Remember, the best choice is not always the cheapest nor, indeed, the most expensive solution.
Further reading 4 'Must-Have' Features of the Managed Backup Software
MSP360's Backup Solution for SMBs
If you are looking for a ready BaaS solution for your own business, MSP360 Managed Backup Service will provide you with everything you need – a flexible cross-platform backup solution that is managed from a single pane of glass. You won't need to build a costly local infrastructure, as MSP360 is integrated with the biggest cloud storage providers out there and also provides you with local backup options for better data protection.
Sign up for a free trial of MSP360 Managed Backup Service today!