Backup as a Service (BaaS) and Disaster Recovery as a Service (DRaaS/RaaS) represent two major models ensuring high availability for the enterprise. All companies want to protect their production data against such disasters as fire, flood or human faults. And, when a disaster happens, these companies want to minimize their losses and restore data as soon as possible.

This article explains the difference between DRaaS vs BaaS and can help MSPs choose which model to offer to their customers.
Backup as a Service (BaaS)
In BaaS model a provider offers data backup to off-site storage systems. So, when choosing this solution, a company decides what files need to be backed up. If it's an application development, then databases, images, source code and all other files are required to resume operation from the point when a disaster happens.
The provider's function here is to ensure data consistency and restore backed up copies. If the client's infrastructure goes out of order, the client is responsible for its redeployment and shall restore all other files beyond BaaS Service Level Agreement (SLA) manually. Therefore, after a serious interruption like fire, the company also has to install and configure required hardware.
BaaS provider restores only data.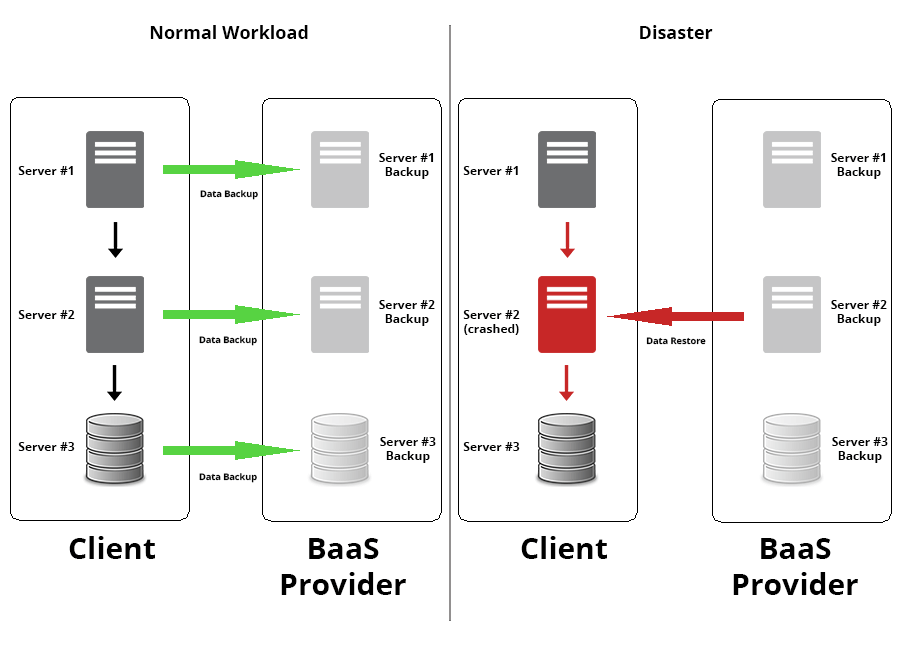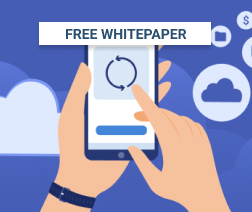 Disaster Recovery as a Service (DRaaS/RaaS)
Although the backup function is often a part of DRaaS (or RaaS), the process of data recovery is still different. In this case, company servers are replicated (mirrored) off-site as recovery instances in a cloud. The replication level depends on a DR-scenario, so it could be a minimum, scaled-down running environment or a full-scale suspended copy of the infrastructure in a cloud.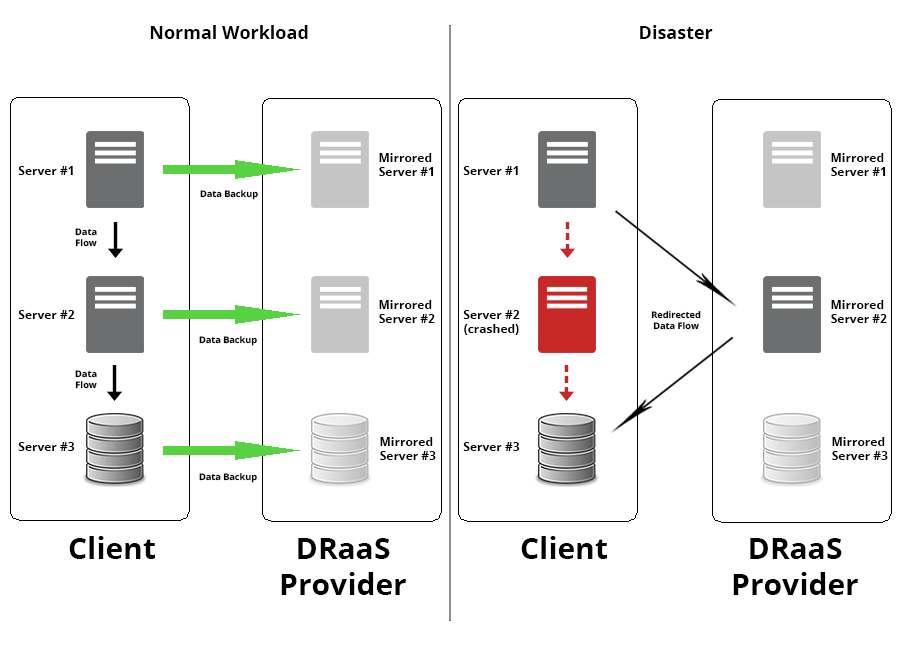 A DRaaS provider ensures a replicated infrastructure consisting of the same components and it backs up client's endpoints at the intervals specified by the SLA. When a disaster hits the company, the duty of its MSP is to deploy disaster recovery servers and provide the staff and applications with remote access. So, the only thing a client has to worry about is switching on replicated servers and proceeding to work as if nothing happened.
A DRaaS provider restores infrastructure including all hosted applications, file systems and current system configurations.
An MSP offering DRaaS needs to maintain the replicated infrastructure, so its costs are heavier than those of a BaaS provider whose only task is to maintain storage. Therefore, DRaaS solutions are usually offered at a higher price as compared to BaaS.
Backup as a Service vs Disaster Recovery as a Service
So, how to choose BaaS vs DRaaS as an offer? It, of course, depends on customers' infrastructure and business specifics. To summarize the differences, we listed a few crucial factors that could influence your client's choice.
Your client needs BaaS if:
The company infrastructure can be easily reassembled in case of a disaster
Their business is not focused on application or web-service maintenance (e.g., access to the data is not required frequently)
Their measured RPO and RTO don't exceed the expected rate
They have a DR specialist on board
They need a a less costly solution

Further reading

 MSP's Guide to Providing BaaS
Your client needs DRaaS if:
The company infrastructure consists of multiple parts that can't be easily reassembled in case of a disaster
They develop web-services or applications that require 24/7 access
The amount of their data increases dramatically
They have hired generalists to deal with a lot of different tasks
They can bear additional expenses

Further reading

 DRaaS as an MSP Offering