Backup as a service, or BaaS for short, is an alternative to an on-premises, build-your-own backup solution. BaaS implies offsite backup of your data by a service provider. Typically, it's a centralized tool that allows backup and recovery management and monitoring from a single pane of glass.
In this article, we will define the six core benefits of cloud backup as a service for businesses.
Benefits of Backup as a Service
Below, we overview the main business benefits of the fully controlled backup as a service solution.
#1 Low Capital Investment
First of all, since the BaaS solution allows you to leverage cloud storage solutions, you don't need to build and support expensive local storage infrastructure. You typically pay a fee for the BaaS solution itself, depending on the number of licenses you need, and the amount of cloud storage you use. Some backup as a service vendors, like MSP360, allow you to back up to third-party cloud storage providers, such as Amazon Web Services with its Amazon S3 storage solution. Because of its size, Amazon S3 has highly competitive pricing and charges $0.023 per GB of used storage per month.
Further reading Amazon S3 vs Google Cloud Storage vs Azure Pricing Comparison
#2 Scalability and Ease of Management
Price is not the only benefit of the backup as a service tool combined with cloud storage solutions. Such solutions are infinitely scalable; in other words, no matter how fast your data volumes grow, these services will grow with you. From the backup solutions perspective, backup as a service is typically designed to allow you to manage as many computers and servers as you need from a single pane of glass. And, with regard to storage, Amazon S3, which we mentioned earlier, will easily host petabytes' worth of data.
On the other plus side, you don't have to manage BaaS solutions as much as on-premises solutions. Since you don't own the infrastructure, it's the solutions provider who maintains and manages the hardware.
FREE WHITEPAPER
Full System Backup and Recovery
Check out our comprehensive guide covering system image, system state, and application-aware backup and recovery, as well as bare-metal recovery: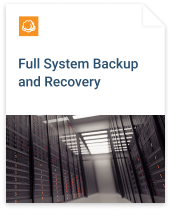 #3 Flexible Storage Choice
Modern backup as a service providers support both cloud and local backup destinations to allow you to choose the best storage for the job. MSP360 Managed Backup Service, for example, allows you to choose from the most popular cloud storage solutions, including AWS Amazon S3, Microsoft Azure Storage, or Google Cloud Storage, to name a few examples. At the same time, you can connect your local file storage, whether this is a removable hard drive or network-attached storage.
Further reading Benefits of Cloud Storage Explained
#4 Reliable Data Protection
Security is among the top priorities in data backup, being your last line of defense if disaster strikes. So BaaS solution vendors take data security seriously, providing their users with all sorts of encryption and identity and access management capabilities. Moreover, if you store data in the cloud, it has an unprecedented level of reliability; 99.99999999999% is guaranteed by the biggest vendors on the market. These levels of security and reliability typically tick all the boxes, even when talking about strict data storage and transfer compliances, such as GDPR or HIPAA.
#5 Advanced Feature Set
Backup as a service providers are competing to provide their clients with as much flexibility as possible. Users can control any aspect of backup and recovery, including scheduling, bandwidth usage, number of copies of a single file, and whether they need to recover individual files or the whole system. Modern BaaS providers support most operating systems and many business applications, which allows them to provide backup of all business premises with a single solution.
Further reading 4 'Must-Have' Features of the Managed Backup Software
#6 Business Oriented
Lastly, BaaS solutions are typically designed to help businesses concentrate on their core features, rather than tracking, managing, and maintaining backup procedures all the time. Backup and recovery operations can be set up to run automatically, troubleshooting is handled by the BaaS provider, and all the necessary details, such as notifications, billing, and storage details, can be managed from a single dashboard.
Backup Solution Tailored for Businesses
MSP360 Backup combines all the benefits of backup as a service mentioned above. Perfectly tailored to the needs of small and medium-sized businesses, MSP360 Backup provides an easy-to-manage, cross-platform backup and recovery solution. With the 3-2-1 backup approach and improved recovery time objectives, you can ensure best-in-class data protection for any workload.