Any crucial desktop or server system needs two parts of protection: file backup and system backup. While file backup is all about user files and folders, system-level protection is necessary to recover the entire system in case of any failure. In this article, we are going to briefly compare Windows built-in image backup features with MSP360 Backup features.
Image Backup vs Regular Backup
If you already implemented the file backup strategy, then you can recover these files and folders in any case, but file backup is not enough when failure strikes your entire operating system or hardware. In this scenario, you can simply recover the system using the only so-called image-based backup (synonyms are: image-level backup, system image backup). You can use it to restore a system from scratch - i.e. on the bare metal.
Bare-metal recovery is a technique that enables you to recover backed up data on a computer with no installed operating system. It allows you to restore normal computer operations after disasters such as ransomware strikes, hardware failures, and operating system malfunction. All of the cases typically require complete erasing or replacement of the storage media, so having a proper backup of such data is crucial.
FREE WHITEPAPER
Full System Backup and Recovery
Check out our comprehensive guide covering system image, system state and application-aware backup and recovery: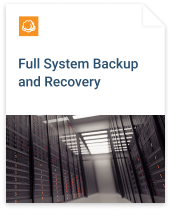 Since there is no operating system (remember, it is corrupted by a virus or any other failure), any image recovery scenario begins with booting your computer using external media (hard drive, DVD, USB flash drive) with special software installed. Then you can use this software to recover previously created Windows Server 2012 system image backup and continue normal operations.
Windows 2012 has a built-in backup tool - Windows Server Backup, which allows you to create and restore image-based backups. Let's look at this feature closely.
Windows Server 2012 Bare-Metal Recovery
with the Built-in Tool
Windows Server Backup is grown from a well-known Ntbackup tool and allows you to create the simple file and image-level backups with no additional tools. It is built in any modern Windows OS, either desktop or server.
Built-in Windows backup application allows you to create local or network-based backups, but it doesn't support cloud repositories itself. But If you are running Windows Server 2012 or newer, you can install an additional Microsoft Online Backup Service, which integrates with Windows Server Backup, allowing you to create Azure-based cloud backups. Though it is not supported by any other service - bad news if you are not an Azure subscriber.
You can schedule full Windows Server 2012 system image backups, but there is no way to shorten backup windows with modern techniques such as synthesized backups. Windows Server Backup simply creates a full backup every time it runs full system backup. There is also no way to simplify implementing of the hybrid, or 3-2-1 backup strategy, - you need to manually create separate backup tasks for all of these scenarios.
Windows Server 2012 bare-metal recovery is achieved using its installation media - you need to boot the server from it and then select the System Image Recovery option. Then you need to provide an external drive with a backup or setup network resource by providing NIC drivers and network credentials.
How MSP360 Improves Image Backup and Recovery
MSP360 Backup supports bare-metal restore out of the box, offering you a one-stop solution in the bare metal department. It not only allows you to restore backups on a bare metal but also perform image-based backups to any cloud or local backup repository.
Our solution supports a broad range of cloud services, including Amazon S3/EC2, Google Cloud, Microsoft Azure, and dozens more. Thus allowing you to simply integrate server-level protection with any cloud service used in your environment. MSP360 Backup not only supports a lot of cloud storage solutions but is deeply integrated with their proprietary features. For example, it supports low-cost Amazon Glacier service and allows to seed backups using Amazon Snowball service. Deep support of cloud service features is one of our main goals.
In the case of server disaster, it is important to restore normal operations as soon as possible. But in case of hardware malfunction, it can be tricky because you may simply not have necessary replaceable parts. In such case you can quickly perform Windows Server 2012 bare-metal restore using the cloud Virtual Machine as 'hardware' - we support Amazon EC2 and Microsoft Azure. If storing backups in the same cloud services, the process will not last long.
Since system images are typically quite large, it is important to shorten backup windows. For example, you can enable features like Synthetic Backup: it uploads only changed parts of image backups, thus lowering the need for storage and lowering time for backup. At the end of Synthetic Full, you always get one full backup that is changed incrementally without any blocks and without a fear of failing due to one block being corrupted. If you want to learn more - please check our guide to synthetic full backup.
As an additional benefit, you can create Hybrid backups in one single backup plan: after MSP360 Backup completes local backup, it simply transfers this data to the cloud with no need to capture it again from the production server.
Image-based backup and cloud VM for server OS restore are supported in MSP360 Backup starting from Server Edition.
While performing Windows Server 2012 bare-metal recovery, you don't need to worry about Windows installation media since MSP360 Backup is able to create a bootable USB capable of performing the bare metal restore.
Summary
Image-based backup allows you to restore normal computer operations after disasters of any kind, so it is important to implement this backup type.
You can protect the entire Windows-based server using the built-in tool Windows Server Backup, but keep in mind that it is limited in support of cloud repositories and not so flexible as third-party tools. For example, it is harder to configure Hybrid backups or implement a 3-2-1 strategy.
You can evaluate MSP360 solution for Windows Server Backup during a 15-day free trial and check whether it meets your needs. If any questions arise - please don't hesitate to contact us!