System Image Backup and Recovery Guide
What Is System Image Backup?
System image backup is a backup technique that allows to copy all drives of the computer and the state of its operating system at a given point in time and allows it to recover that computer to this state.

System image backup works as follows:
Backup software creates a copy of selected drives.
If the drive contains several partitions, each partition is then saved as a single file, an image.
The software adds a copy of a boot sector and drive configuration data to images.
While Microsoft generally calls that backup technique system image backup, many backup vendors (including MSP360) and users tend to name it image-based backup.

System image backup solutions can be helpful in cases of hardware or software failure, disaster recovery, or any malware attack. Speaking of less disastrous situations, you may need system image backup if you would like to switch to different hardware keeping the same system settings and configuration.
The greatest advantage of system image backup is a faster recovery of entire systems. The faster you restore your data, the sooner you can get back to business operations. (Check out our article to learn more about common backup recovery mistakes.)
System Image-based backup is actively used to backup and recover the production servers to enhance the recovery time and recovery point objectives.
FREE WHITEPAPER
Reliable Image-Based Backup with MSP360
Get highly reliable, fast and easy-to-use backup images that can be deployed to virtually any type of recovery target.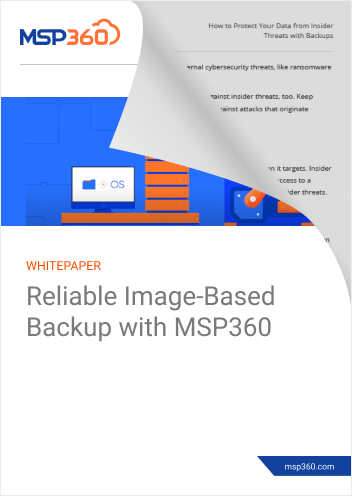 System Image Recovery Options
There are three options to recover a system from an image-based backup:
File-level restore, when you recover the selected files
Recovery of the selected partitions to the drive
System recovery with the ISO file.
Below we will overview each of the options in detail.
File-Level Restore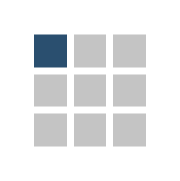 The recovery of individual files and folders from the system image backup is called file-level or granular restore. It often saves the day when you need to recover only one file without downloading the whole image from the failed machine. That's not a standard recovery technique and is available in 3-rd party backup solutions, such as CloudBerry Backup.
Further reading How to Recover Individual File from Image-Based Backup
Recovery to the Drive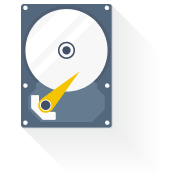 Sometimes you boot your machine and one or several partitions are missing or do not work. There are two possible reasons for that: HDD/SSD failure and file system failure. In these situations, you can recover only the selected partitions from system image without recreating their structure, or reinstalling the OS.
Recovery with ISO File
ISO file is basically an archive with the .iso, .img or .ima file extension. Nowadays, it's an industry standard and files with mentioned extensions are used to distribute large programs. The idea behind the ISO image file in system image backup is that you can store and recreate, when needed, an exact digital copy of a disc or a selected partition.
ISO files typically contain everything you need to run and install a given program. That is why, for the full system recoveries, ISO-images in CloudBerry Backup contain not only copies of partitions, configuration, and a boot sector, but also a Windows PE (PE stands for Preinstalled Environment). This makes images bootable - you don't need any installed OS on the machine to boot it and recover your data.
Further reading Creating a Bootable ISO Image with MSP360 Backup
Bare-Metal Recovery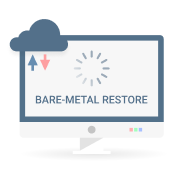 A computer without an operating system installed is called a bare-metal machine. Bootable ISO images help to recover the system to these machines fast and without additional configuration. This method works best whenever the hardware is upgraded, or under maintenance, for instance.
Further reading Bare-Metal Recovery Guide
System Image Recovery Destinations
The system image recovery process is different for different types of IT-architecture. There are three common destinations for a recovery:
Physical machine
Virtual machine
Virtual cloud machine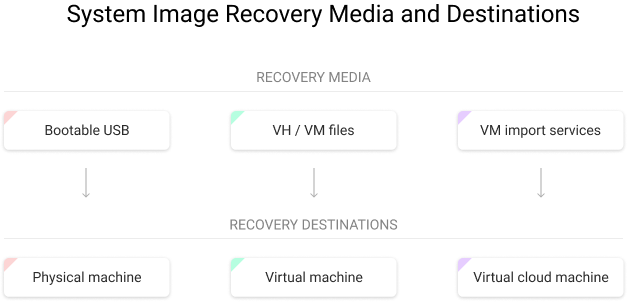 We don't mention granular and straight to drive recovery on the scheme and further in the article since it can be done on any machine, physical or virtual, with an OS installed.
Physical Machine
In case of a bare-metal restore, you need to recover with a bootable USB, a device containing the ISO-image.
Further readingHow to Create a Bootable USB for Windows Server
We don't mention granular and straight to drive recovery on the scheme and further in the article since it can be done on any machine, physical or virtual, with an OS installed.
Virtual Machine
Virtual machines are booted similarly to physical ones - from an archive file that contains the image of the drive. The extension of this archive is defined by the VM-environment you are going to use for recovery. Two of the most popular VM-environments (Hyper-V and VMware) have extension formats starting with VH and VM (VHD, VMD, etc).
To recover your system as a virtual machine, you should first convert the ISO file to the needed format. In MSP360 Backup, this operation is automated.
Further reading Restoring Image Backups as VMware Virtual Machines
Cloud Virtual Machine
Big cloud platforms offer web services like Amazon EC2, Microsoft Azure VM, and Google Cloud Compute, that allow to launch cloud VM within their environment.
You can build a cloud virtual machine from scratch or use an image of a server. The procedure is similar to server recovery to a virtual machine. All mentioned providers allow to import virtual machine images, but they each have different naming, feature set, user-interface, and requirements.
This method works for backup and recovery of the inners of the cloud virtual machines. However, the aforementioned providers also allow you to backup such instances at a higher level, using the embedded API. (Check, for example, how it is possible to perform the backup of the Amazon EC2 machines).
System Image Backup vs. File-Level Backup
Using image backup might not be preferable for all situations. Sometimes, file backup is a simpler option.


*LOB - line-of-business software that is crucial for regular business operations.
File backup is faster for both backup and recovery and typically takes less space than system image backup. Granular restore from the image is slower than simple file restore.
For a file server, recover the partition with system data from an image-based backup, and the user-related partitions from a file-level backup to accelerate the process.
System image backup allows recovering system configuration and partitions' structures. File backup preserves only the data structure.
System image backup is more preferable for servers because applications that affect other machines and users cannot be backed up and recovered as files.
Desktop image is not a necessity if you have a couple of files and don't need to backup configuration, you can simply perform file backup for these folders.
System image backup is preferable for bare-metal machines.
Further reading File-Level vs. Image-Level Backup
Conclusion
With system image backup, you can create a block-level volume snapshot of the full disk or other partition at the chosen point in time to be able to roll back to it in case of disaster, and recover rapidly from your backup media. Besides bare-metal recovery, system image backup gives you the capability to virtualize from backup software if your server is down, thus significantly reducing the downtime. Even in a worst-case scenario, with properly implemented and managed system image backups, the downtime could be reduced to minutes.