What does 3-2-1 backup mean, and what is the best way to achieve it? Keep reading for a 3-2-1 backup rule overview and best practices for implementing 3-2-1 backup in an easy and cost-effective way.
3-2-1 Backup Rule Explained
The 3-2-1 backup rule specifies that data backup solutions should satisfy each of the following requirements.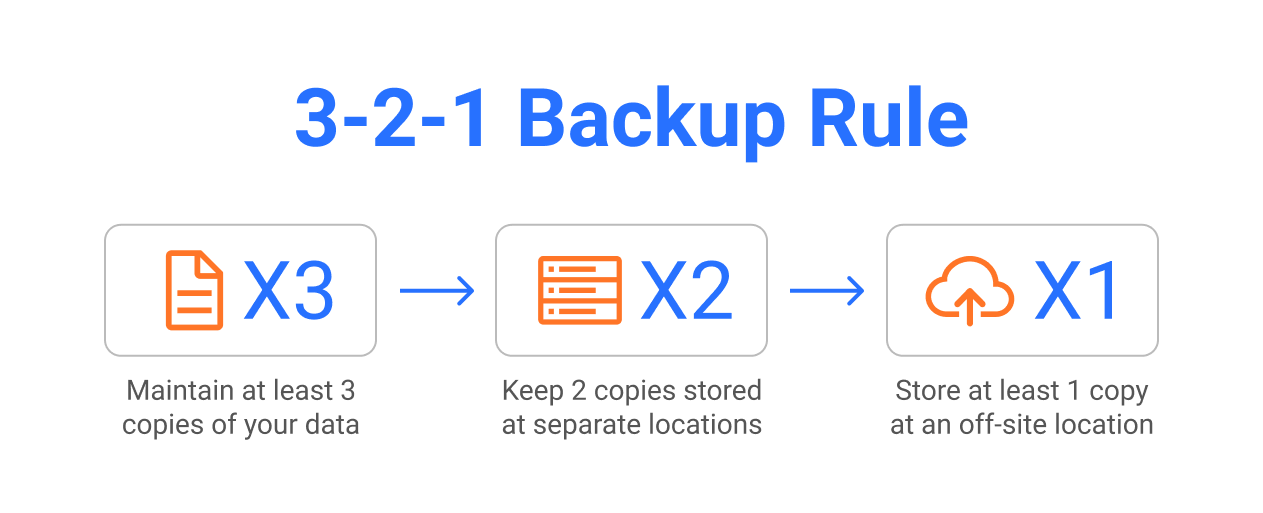 Three Copies of Your Data
First, following the 3-2-1 backup strategy means that you should always have at least three distinct copies of your data.
One copy is the production data (i.e., the original data that you use for real-world) purposes. The other two copies are backups.
Each copy of the data -- the production copy and the two backups -- should be stored and configured in such a way that it will remain intact even if the other copies fail or disappear.
Finally, each of these copies should contain the same version of the data. In other words, you don't satisfy this rule if you have one copy of data from a backup that you performed yesterday and two other copies that were created last week. All copies need to contain the same data from the same point in time. (Creating data backups from multiple points in time is often a good idea, but it's not part of the 3-2-1 backup rule.)
This is an ideal way to perform a 3-2-1 backup which is, to an extent, impossible when talking about big production datasets. To define how often you should backup your production data to comply with your business needs, check out recovery time and recovery point objective concepts.
Two Storage Media for Your Data
Second, at least two of the copies of your data should exist on storage devices that are physically independent of each other. For example, one could be on a network-attached device or a file server, and another could be a flash drive that is not attached to the server at all.
Storing different copies of data on different internal hard drives within the same server is not enough, because the failure of that server would make all the copies inaccessible. For the same reason, you can't meet this part of the 3-2-1 backup rule by storing multiple copies of your backups on the same RAID array, or in the same cloud. The storage media should be independent of each other.
Further reading What is RAID? Is It any Good for Backups?
One Data Copy Should Exist Offsite
The third and final part of the 3-2-1 backup rule is that at least one copy of your data should exist in an offsite location, meaning one that is physically located in a different place than other copies.
Thus, if two of the copies of your data are stored in your office, you should store the copy at a different site -- such as another office, or in a cloud-based data center.
Using the Cloud to Make 3-2-1 Backup Simple
There are ways to satisfy each part of the 3-2-1 backup rule without using the cloud. However, given the affordability and flexibility of modern cloud storage, it just makes sense in most cases to take advantage of the cloud in order to do 3-2-1 backup.
Specifically, cloud storage offers:
Inexpensive data storage, which helps you maintain three separate copies of your data without breaking your budget.
A distinct type of storage medium. Any data stored in the cloud is independent of data stored on local disks or the local network. This makes it easy to maintain at least two independent storage media.
Easy offsite storage. If your production data is in a local data center, the cloud is an easy way to create an offsite storage solution. Or, if your production data lives natively in the cloud, you can easily use geo-replication to store a second copy of that data in another cloud region, which satisfies the offsite storage requirement of 3-2-1 backup rule.
Scalability. Whether you can run out of space with your local backup storage, most professional cloud storage solutions don't have a limitation for the amount of data you upload.
In each of these ways, cloud storage helps meet the different parts of the 3-2-1 backup rule.
FREE WHITEPAPER
Full System Backup and Recovery
Check out our comprehensive guide covering system image, system state and application-aware backup and recovery, as well as bare-metal recovery: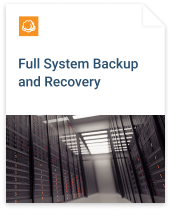 Best Practices for Cloud-Based 3-2-1 Backup in 2022
So why exactly should you choose cloud-based storage solutions in the upcoming year? Well, the recent chaos and the sudden move of most businesses from their premises to the home offices means that you will most likely face issues with accessing, managing, and maintaining the on-prem servers, or hard drives. Thus, the move to the cloud is eventual.
If you choose to use cloud storage as part of your 3-2-1 backup strategy, consider the following tips for getting the most out of it.
Evaluate Different Cloud Options
There is a range of cloud storage solutions available today which can be used for 3-2-1 backup strategy implementation. Well-established options include the storage services from the "Big Three" cloud providers: Amazon S3, Azure Blob Storage, and Google Cloud Storage.
However, there are also several newer cloud storage providers, such as BackBlaze B2 and Wasabi Hot Storage, that offer compelling prices and feature sets.
Be sure to evaluate the different cloud storage options available to you in order to choose which solution is best as part of your 3-2-1 backup strategy.
Choose a Cloud-Agnostic Backup Solution
In many cases, being able to use more than one cloud storage solution at once is important for meeting the 3-2-1 backup rule. You may need two different clouds to provide two independent storage media.
For that reason, avoid backup software that allows you to upload data to only one specific cloud and thus locks you in a single provider without the ability to use cheaper or more efficient cloud storage. Instead, choose a cloud-agnostic solution.
Keep in mind that cloud-agnostic backup software is valuable even if you only use one cloud currently. Your needs may change in the future, and being able to use whichever and however many clouds you choose will give you the flexibility to keep meeting the 3-2-1 backup rule no matter how your workloads evolve.
Further reading Is Your Backup and Disaster Recovery Vendor Storage-Agnostic?
3-2-1-1 Backup
To get even more reliability out of your cloud-based backup strategy, you can take 3-2-1 backup strategy a step further by following the 3-2-1-1 backup rule. Under 3-2-1-1 backup, in addition to having one offsite copy of your data that is connected to the Internet, you also keep another offsite copy that is disconnected from the Internet when it is in storage. Thus, you have two offsite copies of your data, one online and one offline.
The reason for this strategy is that the offline copy helps protect your data from ransomware and other types of cyberattacks. Data storage that is connected to the Internet is susceptible to attack, but if you have an offline copy as well, it is isolated from Internet-based threats. (There is still technically a small risk from attacks that don't rely on the Internet, but since the vast majority of cyber threats today depend on network connectivity, an offline copy greatly increases data security.)
Hybrid Backup: Use One Backup Job to Create All Backups
A final best practice of the 3-2-1 backup strategy is to perform what's called hybrid backup. Hybrid backup means that you back up data to local storage and to the cloud at the same time, using one application and one process.
Hybrid backup eliminates the need to create local and cloud-based copies of your backup separately. In this way, it streamlines the backup process and reduces the chances of an oversight that could leave data unprotected.
Tools like MSP360 Backup make it easy to perform a hybrid backup to a variety of local storage media and different cloud storage services using just one tool and process. Plus, MSP360 Backup encrypts and compresses all data before beginning the backup process, improving security and speed.
Further reading Hybrid Backup in MSP360 Backup 5.6
Conclusion
No matter the size of your organization or how much data you have to back up, the 3-2-1 backup rule is a good rule of thumb to follow. It maximizes the reliability of your data backups and protects them from most types of disasters, including ransomware attacks and natural calamities.
When you choose a backup software provider, ensure that it works with all of the data storage locations and services you may need to use to meet the 3-2-1 backup rule requirements. And to get even more out of your backup strategy, select a solution that supports low-cost cloud storage tiers, such as Amazon S3 Glacier so that you can keep costs low while keeping data reliability high.