Peer groups can be a valuable source of information both for a startup managed IT provider and for an already-grown business. There, you can typically find advice regarding your operations, gather templates for documents, and sometimes get discounts for certain solutions.
In this article, we overview more pros and some cons of participating in a peer group and discuss how to find one that suits you.
MSP Peer Groups - Everything You Need to Know
The modern MSP peer group is based on an internet forum, sometimes with limited access for members only. In this forum, you can find a number of discussions regarding different managed IT and business-related topics. You can raise your own topics to get advice, and message other peers and experts in the community.
Some peer groups will also provide you with documentation, such as presentations or templates for standard contracts, and host regional meetups, conferences, or webinars. Sometimes, you will even be able to get paid help from a master MSP, who will review and give you feedback regarding your processes or solutions stack.
Why Do MSPs Need to Consider Joining Peer Groups?
An MSP peer group won't solve all your problems and won't necessarily allow you to instantly increase your MRR and thrive. Here's why you might need to join:
Get advice. Whether you are a startup managed IT provider or an experienced one, there are times when you need some advice. Who should you hire next – a technician or a salesman? How can you organize triage and dispatch operations better? How should you tackle non-paying clients? All these questions can be solved with the help of your peers
Work out the stack. The modern-day MSP solutions stack is changing. Some say that the cloud is taking over. But is it really? How should you change the offer, and which solutions should be added to the stack? It's a good idea to monitor what others are using in order not to fall behind the competition.
Further reading MSP Technology Stack: Software and Hardware Overview
Networking. Peer groups provide great networking opportunities. For example, if you are a startup, you can find a bigger MSP in your area who, for a fee, will provide you with clients that are too small for them to onboard. It's a good place to look for an alliance, too. You can partner with security professionals or MSSPs to formulate an improved offering and acquire bigger clients together.
Further reading How and Why to Build Alliance with an MSSP
Documentation. As we've already mentioned, some peer groups provide their members with valuable documentation, such as templates for MSAs, SLAs, SOPs or presentations, and print-out materials.
Discounts. Some peer groups are owned by vendors – typically RMM solutions providers – who can provide you with discounts for their solutions. Also, many vendors out there are eager to get access to a closed community and will create special offers for that community. Lastly, other MSPs can include you in their referral programs, so you can get both discounts and benefits.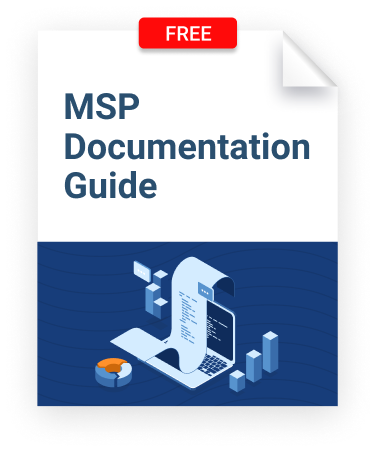 How to Pick the Right One
Below are three questions that you should answer in order to choose MSP peer groups that fit your needs:
Do you need in-person meetings? Then you should look for a community in the same geographical area as you are. Why might you need that? To check with MSPs facing similar verticals and similar legislation. Also, personal meetups are a powerful source of network opportunities, although, in today's world, personal meetups and conferences have become less of an option.
Do you fit? Some peer groups are closed communities. To enter them, you are required to have either a given number of clients or a solid MRR, or use specific solutions if the peer group is owned by a vendor.
Are you looking for specific expertise? MSP groups are not always the best source of specific knowledge. If, for example, you are looking for project management advice or a community about cloud services, you'd be better off looking for groups focusing on exactly these areas.
Top MSP Peer Groups
Below is a list of the biggest and most popular MSP peer groups out there. Check them out and choose whichever suit you best:
Peer Discussions
Not all peer groups require you to have a high MRR or to use certain solutions. Of course, open peer MSP communities won't provide you with such benefits as discounts or templates, but you can get great advice from peers all over the Internet and be on top of the business and technology news. Here are some of the best groups that you can join easily and for free:
r/MSP. You will already have heard of that huge Internet forum that is the size of the Internet itself, Reddit. You can find any community here, both funny and stupid, but also quite useful. The Reddit MSP community is one of the best, and actually the biggest, on the Internet. Dozens of topics arise here daily from managed IT providers all over the world. Some say it's a toxic community but, in most cases, people there are willing to help and share their expertise and knowledge with you. The community also has a Discord channel.
Peer group Slack channels. The MSP Geek and IT Pool Party peer groups also have free-to-join Slack channels with thousands of active users.
Not All Sunshine and Unicorns
Be aware that MSP peer groups are not always great and willing to help you to succeed. Peers are your competitors and sometimes, instead of trying to help you, they will try to find out your prices and weak spots, especially if you operate in the same geographical area and business vertical. They may also try to contact your clients.
The second thing to be aware of is the toxic community. Peer groups are sometimes gathered around an expert or a group of experts that unite the whole community and lead it. If these experts are uninterested, toxic, aggressive, or unprofessional, you'd definitely be better off on your own.
Lastly, if you join a peer group owned by a vendor, this vendor will typically get access to your business numbers and sometimes to your clientele. There are a number of reasons to avoid this, including situations where vendors are contacting your clientele in order to sell them their products directly. This is certainly a dirty practice and, although it's rare, it exists nevertheless.
So, you should weigh all the pros and cons before choosing a peer group and attend it with care. Once you find one that fits you, it might be a great source of advice, help, and growth opportunities.