Some MSPs will tell you that you should not waste even a minute of your time creating a business plan while your business is only a project. Other, more mature managed IT providers will tell you that, unless you have to secure funding from a partner or investor, an MSP business plan is - you guessed it - a waste of time.
The simple truth is that a business plan is an instrument. In this article we will define the core purposes of an MSP business plan and explain when it might be helpful for a start-up or already-established managed IT provider.
What Is an MSP Business Plan?
A business plan is a written document containing a detailed overview of the future or existing business, including mission, strategic and operational goals, marketing analysis, financial estimations, and technical considerations. Its purpose is to prove that the idea behind the business is well thought out and that the business will be profitable.
Further reading How to Build a Successful MSP Business
MSP Business Plan Purpose
As noted above, the details and the depth of an MSP business plan depend on its aim and the people involved. There can be several different purposes of business planning:
Give investors enough data to make an informed decision. For example, if you have enough knowledge and a well-formulated and calculated business plan, you can count on some form of private investment to gather the capital to begin a business.
Create a roadmap. A step-by-step roadmap, with operational and strategic goals, and a mission statement will help you to focus your business on what really matters – KPIs, MRR growth, verticals, and a thought-through offering. This will help you and your team to understand the nature of the business better and, in the end, achieve better, more focused, results.
Don't forget, however, that a business plan can be changed during the lifetime of your MSP. It should not be carved in stone; if the nature of your market or your goals change, change your plans accordingly.
Below, you will find the basic points that should be included in any MSP business plan. Bear in mind that we do not discuss financial estimation and analysis, due to the specifics and the complexity of the topic.
Executive Summary
An executive summary is a short description which overviews the main points of the business you are about to start, including overview of the nature of the business, customer description, challenges you are about to solve, services you will offer, team profile, and sources of funding.
Business Description
The business description contains the most general idea and objectives of your business. It should include he mission statement and the vision of the company, strategic goals, core business objectives, and key tracking metrics.
The business description is one of the most underestimated parts of an MSP business plan. Many managed IT providers tend to think that it contains nothing else but general words that mean nothing. However, this part can be a starting point for a strong corporate culture, which, as we know, can be one of the greatest competitive advantages of them all.
FREE ASSETS
Business Plan Essentials for MSPs
Create a structured business plan to define your business opportunities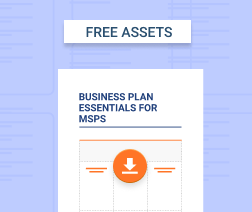 Market Analysis
Ultimately, this part of an MSP business plan will show you, your partners or investors that your idea is viable. It should contain as many details as possible about the market you are about to enter, including:
Your target customer, including considerations of whether or not to target verticals, the size of customers, and the number of customers you will be able to acquire and handle.
Competition research. Look at the number and the nature of MSPs and break/fix companies working in your area. Are there any big competitors who rule the market? Are there any niches that you can make use of?
Your positioning. Considerations about the services you are about to offer, the stack and, if possible, the software and hardware tools you will work with. You should either create a positioning which will distinguish you from your competition or be sure that you will offer a similar, yet superior stack.
Action Plan
After you've done with the research, you need to create a detailed course of action. This should be projected over a reasonable time in the future. You should also define whether you are going to grow during the next years, or if you are planning to work in a small team, and whether or not you are about to target any verticals.
After you've done with creating strategic goals for your MSP business plan, it's time to make them measurable. You will need to create a number of key performance indicators that will show you if you are going the right way or not. There are many KPIs out there, the most important of which for MSPs are: monthly recurring revenue (MRR), i.e., the amount you are earning from MSP services per month; sales conversion rates, i.e., the number of clients you land versus the overall number of prospects you have contacted; and the number and nature of support cases. The basis of your MSP offering is the support you will provide to your customers. Hence, you should create several KPIs for tracking the efficiency of your support.
Once your KPIs are ready, you should include marketing and sales channel considerations in your MSP business plan, including the exact channels of promotion and sales and how you will budget them.
FREE WHITEPAPER
4 Essential MSP Business KPIs to Track
Define the potential issues, find most prospective growth factors, and cut ineffective operations.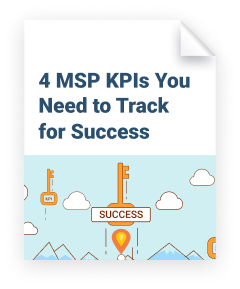 Appendix
The appendix to your MSP business plan should include all the additional documents that you can enclose. If you have performed an in-depth market analysis, such as a SWOT analysis, for example, or a risk analysis, or have created a financial model, you should enclose that in your business plan.
Conclusion
If you don't need to defend your business idea in front of any investors or partners, you don't need a carefully detailed business plan. Remember, the idea of an MSP business plan is to guide yourself and your team. So, spend time on creating a strategy, analyzing your market and competitors, and estimating the main KPIs, so as to carefully define your market proposition in writing. That should be more than enough to begin with.