Top Help Desk Metrics for MSPs
Like any other system that you rely on to power your business, your MSP help desk should be monitored systematically. It's only by collecting metrics about your help desk's performance that you put yourself in a position to identify problems, optimize processes, and maximize the cost-effectiveness of your help desk operation.
With that need in mind, keep reading for a list of the top key performance indicators (KPIs) you should track for your MSP business's help desk.
Average Resolution Time
Average resolution time measures how long it takes you to resolve issues that are reported to your help desk. It helps you assess whether you are meeting customer expectations and resolving issues quickly enough to protect your business's reputation.
Calculating this KPI is simple, using this formula:
Total time taken to resolve tickets during the selected time period divided by the number of tickets resolved in the selected time period.
You should always strive to minimize the resolution time. Streamlining processes and creating an environment of team accountability will help you to do this.
Average Response Time
This KPI, which measures how long it takes your team to begin responding to a new issue, reflects the efficiency of your helpdesk.
To calculate it, follow this formula:
Total time taken to respond during the selected time period divided by the number of responses in the selected time period. Response time is calculated for every agent response rather than for every ticket.
When assessing your average response time, take your help desk's opening hours into account. Staffing the help desk for longer periods can improve the average response time. So can creating a culture of accountability, in which each team member strives to respond as quickly as possible to incoming tickets.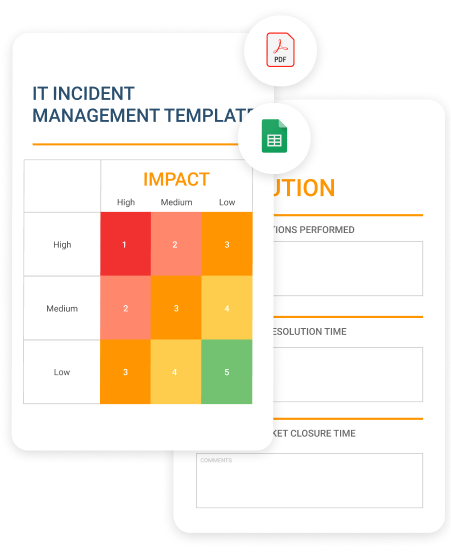 SLA Compliance Rate
Your SLA compliance rate measures how well you are meeting contractually defined customer expectations.
Calculate it with this formula:
(number of tickets where SLA was met / total tickets) * 100
SLA compliance is key to customer satisfaction. Businesses want minimum downtime, and they are often willing to pay a higher rate for better SLA times. It's critical to make sure you are able to meet the SLAs you promise.
Tracking SLA compliance also helps you to evaluate the overall performance of your MSP help desk. Poor SLA compliance may be a sign of inefficient help desk operations, a lack of staffing, gaps in the ticketing system, or other issues.
The average rate for SLA compliance for service and support issues is 80%.
You can increase your SLA compliance rate by:
Setting realistic SLAs based on business requirements and IT capabilities.
Communicating the SLAs and risks of SLA violations to the business and technicians.
Establishing escalation rules, so that each issue quickly receives the attention it requires.
Automating the process of routing and assigning tickets.
Training your technicians properly.
Further reading Guide to Creating Service Level Agreement for MSPs
First-Time Fix Percentage
Your "first-time fix" KPI represents the percentage of user issues that are resolved after only one customer contact with your company. This contact usually takes the form of a help desk phone call or email.
Calculate this KPI as follows:
(number of tickets resolved after the first call / total number of tickets) * 100
A high first-time fix percentage is a valuable promotional tool for new customers, as it proves you get the job done fast. It also reflects a streamlined support process for customers, because it means they do not have to spend much time reporting an issue before it is fixed.
Further reading First-Call Resolution: What MSPs Should Know
Customer Satisfaction Rating
Measuring customer satisfaction is critical because it costs much less to retain existing customers than to get new ones. Good customer satisfaction ratings are also a strong marketing tool and a source of solid referrals.
According to Connectwise research, the average for high customer satisfaction ratings is 85% and above.
Customer satisfaction is hard to quantify with exact precision, but you can gain strong insight by asking customers to complete surveys and assigning each completed survey a score based on customer responses to numeric questions (such as, "On a scale of one to five, how would you rate our help desk responsiveness?").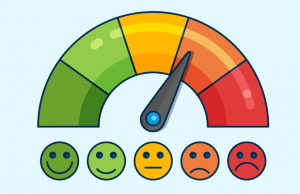 Then, calculate an overall customer satisfaction rating with this formula:
(total survey score/total possible points) * 100
Improving customer satisfaction ratings is pretty straightforward in most cases: provide timely responses, reduce average resolution time, engage consistently with customers, perform recurring business reviews and make customer satisfaction a part of your staff's culture.
Measuring Customer Satisfaction: A Comprehensive Guide
Explore the best approaches to measuring customer satisfaction for your MSP business.
Cost per Ticket
Measuring and improving the cost-effectiveness of your help desk requires you to know how much you spend to resolve each ticket. This figure reflects a number of factors:
Salaries and benefits of help desk staff.
Salaries and benefits of help desk managers.
Costs of help desk software, computers, and other material.
Telecommunication costs.
Facilities costs.
Calculate the cost of each ticket by determining the total monthly operating costs of your IT support operation, then dividing it by the monthly ticket volume.
Help Desk Staff Utilization
Agent utilization is a KPI that measures how much time your help desk staff spend resolving issues. While you obviously want to make sure staff are not sitting idle, it's important to make sure their utilization is not so high that they risk burnout and low morale, which will, in turn, lead to high staff turnover.
Calculate staff utilization using this formula:
(average calls or tickets handled per month) X (average time it took to handle those calls or tickets) ÷ (number of days worked in a month X number of work hours in a day X 60 min/hour) X 100.
Example: (375 tickets a month x 18 min) ÷ (21 days X 8 hours X 60 min) X 100 = 67%
Staff Satisfaction
This metric measures the percentage of agents on the help desk who are either satisfied or very satisfied with their job. This is a critical metric to track, not just because keeping your staff happy is important for morale, but also because it correlates with customer satisfaction. Happier staff usually deliver better service.
You can collect data about staff satisfaction using annual or semiannual staff surveys.
Agent satisfaction is a bellwether metric that impacts many other service desk metrics. It is
positively correlated with customer satisfaction and negatively correlated with agent absenteeism and turnover, meaning that absenteeism and turnover go down as agent satisfaction goes up.
Further reading Guide to MSP Employee Retention
Real-Time Metrics
The KPIs described above help you measure performance over periods of time. But you can also collect KPIs to measure performance in real-time so that you can gain insight into the state of your operations minute-by-minute.
Common real-time help desk metrics to collect include:
Tickets opened today
Tickets closed today
Tickets opened vs. tickets closed: this measures how efficient your organization is at resolving problems, and can also highlight areas where your team's technical skills could be improved.
Assigned tickets per technician
In-progress tickets: this allows you to see if your technicians are falling behind or keeping up with their tickets.
Resolved tickets
Unassigned tickets: if your tickets are not being assigned fast enough, you may need to consider changing your triage process.
Tickets past due
Conclusion
By way of conclusion, here's a final point to keep in mind: if you try to track too many KPIs, you'll find yourself overwhelmed or, at least, unable to analyze all of them meaningfully. So, instead of calculating every help desk KPI you can think of, identify a half-dozen or so that are most important to your MSP business goals. For example, if you want to improve profitability, tracking cost-related KPIs may be a priority. Or, if staff morale and customer satisfaction are your main areas of focus, track KPIs that provide insight into those areas.
As long as you identify the right KPIs to track and make use of the insights they deliver, you set yourself up for success.