A standard operating procedure, or SOP for short, is a step-by-step document that comprises workflows, frameworks, and procedures that are taken as the standard for your managed IT services. SOPs are a common instrument for most MSPs wanting to standardize and streamline their operations. These documents help to onboard new tech staff members faster and ensure that the quality of support is of the required level.
Nearly any MSP operation can be represented as an SOP, whether it is answering a support call and creating a ticket, installation of a new machine, onboarding and offboarding end users, or verification of a backup. In other words, everything routine and repeatable should become a standard procedure.
With the right approach, you and your tech team can create and maintain a customized, efficient library of standard procedures. In this guide, we will discuss how to create standard operating procedures in seven steps.
#1 Define the Need
First of all, you need to define exactly why you should standardize this or that process, the results you are expecting and the key performance indicators you will use, if applicable, to measure the success of the process. To define the need, answer these two questions:
What problem will you solve with this standard procedure?
Will this SOP lead to faster operations and fewer issues?
Remember that sometimes you don't need to over-document processes; smaller procedures and tasks should be left without strict guidelines and frameworks. However, if you can logically group several small tasks into a bigger one, such as, for example, grouping ticket creation into the bigger process of ticket triage, then there is room for an MSP SOP.
#2 Choose the Format
You should choose the format of your standard operating procedure according to its structure and flow. If you need to onboard a new endpoint or check an inventory, a spreadsheet or a checklist will be the most appropriate format. If, for example, you are creating an SOP for a dispatch process, consider a written document with lots of flowcharts.
#3 Brainstorm the Steps
One of the most important parts of creating standard procedures is to define the exact steps of the given workflow. To do that, gather together the most experienced team members and those who will use the document, and brainstorm the ideas to work out a step-by-step, easy-to-follow structure for the future MSP SOP. The structure should include:
The beginning and the outcome of the procedure. To avoid mixing different procedures, you should clearly define the scope of the SOP.
Key actions. What steps are required?
Possible scenarios. If the procedure is subject to a high level of uncertainty, define several possible scenarios and outcomes.
To create a clear structure, use a flowchart or a mindmap.
Further reading How Your Employees Can Contribute to Your MSP Business
#4 Work out a Unified Style
A messy MSP SOP library will be abandoned by your team within days. So, you should create streamlined, structured documents that are easy to read and understand. Here are some top tips to do that:
Use simple, understandable language, shorten your sentences, and don't use passive voice. Imagine that your document will be used by your parents. They might not grasp the technicalities but they should understand the concepts.
Create a clear, step-by-step structure. Steps should not intersect with each other.
Unify the terms and the naming of the processes, where possible.
The best way to maintain a unified style is to create a glossary with the most-used terms and styling features, so anyone who will create or modify the standard procedures at your MSP will use the same guidelines.
Further reading Guide to Creating MSP Documentation
#5 Write an MSP SOP
Now it's time to create the document itself. As we have already mentioned, the format will vary from one process to another. However, most SOPs should include:
Title page, including the date created and modified, the name of the person responsible for the creation and revision of the document, and the version of the SOP, if applicable.
A short description that overviews the purpose of the document and the ins and outs of the process.
The body, or the standard procedure itself, with all the processes, frameworks, workflows, flowcharts, links to scripts, etc.
A glossary, if needed. This should include all abbreviations, terms and other details that might be not obvious to the reader.
Equipment and solutions list. If the SOP requires your tech team to install a piece of hardware or software equipment, you should list everything they should know and have at hand.
MSP's Standard Operating Procedures Bundle
Adding a new machine to the client's infrastructure
Handling incoming support calls
Managing MSP projects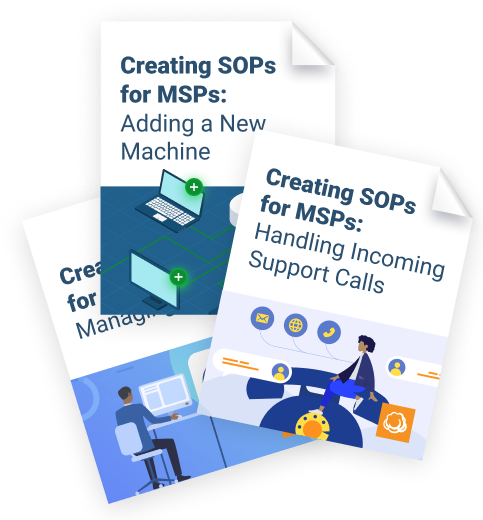 #6 Review and Test
Once the document is ready, send it to the team members who will most likely use it and ask them to review it. Once the review is done, test the SOP in a sandbox environment and try to achieve the desired outcome. If you face any hurdles or hiccups during the testing phase, get back to the drawing board and change the SOP.
#7 Release the SOP
It's time to release your fresh standard operating procedure. Make sure you:
Embed it into your documentation workflow.
Have sent it to all the team members who will use it.
After you have released the SOP, check that your team fully understands how it works and uses it as a guide. If your team refuses to use your standard procedures, you need to investigate why. It might turn out that your MSP SOPs are still not optimal from the operational perspective, and you should review the documents.
MSP SOP Maintenance and Management
The MSP SOPs you create should be reviewed on a regular basis. Don't forget that your most skilled tech staff should help you with that routine. Whenever there are any changes that affect any standard operating procedures, whether processual, hardware, or software, you should review the documents immediately in order to avoid losing precious details.
To store and maintain the SOPs, you can use standard spreadsheets and documents, but that's not very effective. Check out one of the MSP documentation software options, like IT Glue or a similar solution, that will help you keep track of all the versions and changes in your standard procedures. Additionally, these solutions will also help you to create and deliver a solid internal and customer-facing library.
Conclusion
Today's business environment is far from being stable. And it's not the fancy technical solutions that will help you thrive; it's the efficiency of your operations that can set you apart from the competition. So, learn how to create standard operating procedures, get to the drawing board and create yourself a solid basis for your future growth.