MSP Help Desk Ticket Escalation
Ticket escalation is the process of moving tickets between the levels of your managed IT help desk and assigning them a priority level. It's the cornerstone process of providing customer support. In this article, we will review the escalation process in detail, and talk about the necessities, best practices, and the toolset that will help you.
Basic Ticket Priority
Before we move to the escalation itself, we need to define how tickets and calls are sorted in your helpdesk and how they get their initial priority. That is the basic process that needs to be thought through in order to achieve operational success.
Triage and Dispatch
The number of support requests varies from one managed IT service to another, but it's typically tens, and sometimes hundreds, of requests a day. These requests can come in different forms – a call to your hotline, an email that will be converted to a ticket, or a ticket created via a self-service system (this last one might not be the best idea, as we will discuss later on). One of the best practices is to gather all support requests into one ticket system by one standard and solve them according to a prescribed workflow.
However, there are typically more tickets waiting in the queue than staff ready to answer them. How do you define the priority of the requests? Of course, if you ask your customers, most will respond that everything is urgent and should be solved ASAP. There are two best and one not-so-best practice in the ticket triage process. They are:
Level 1 chooses the priority
Your level 1 support staff define the priority upon receipt. Once they receive a request, either by phone, email or directly at the helpdesk, they gather the information regarding the issue from the client, assign a priority, try to solve it immediately, or escalate the ticket. A ticket may have two characteristics: urgency and assignment. There are several levels of urgency. They typically depend on the practices of the given managed IT provider, but normally there are four: Urgent, P1, P2, and P3, where P1 is more urgent than P2, and P2 is more urgent than P3.
When the dispatcher first investigates the ticket he or she should also decide if it can be solved by level 1 (and, depending on your practices, solve it right away or pass to level 1), or it should be passed to level
You have a dedicated dispatcher
You may have one or several dedicated dispatchers who gather the initial information and assign a priority to all incoming requests. That method allows the separation of the triage and the actual help-desk functions, which might create a more focused, precise atmosphere in which to solve the client's issues. However, keep in mind that you need either to have a backup dispatcher or to create a rotating system where all your level 1 employees work in this role from time to time. That will allow you to avoid the situation where the dispatcher is ill or heading off on vacation and you don't have a spare one. The dispatcher should also review the status of the tickets in progress and make sure your SLAs for response times are met.
The priority is set by the customer
As we have already mentioned, allowing your customers to select the priority of the ticket is a bad idea. Most of your requests will immediately become urgent, and the help desk an instant mess. However, providing your users with a ticket system where they can create tickets is not a bad idea. You should either disable the ability to choose a priority for the tickets or make sure all requests first go through the dispatcher and are triaged.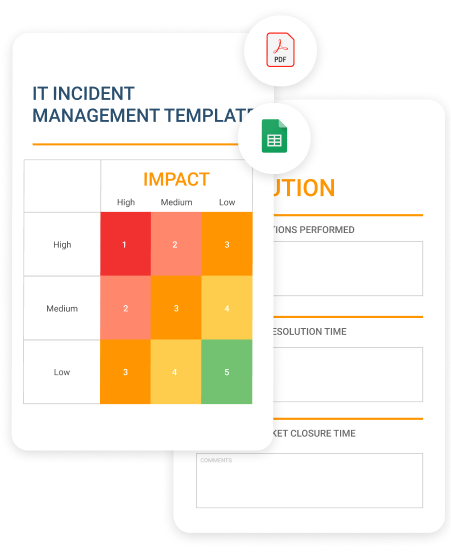 Moving Between Levels
Your ticket inflow is normalized and the priorities are correctly set. Now you need to solve these tickets. A typical MSP help desk structure consists of several layers, where differently skilled staff members constitute the layers. The number of layers varies from two to three, depending on the complexity of your cases. Level 1 is for basic issues, whereas level 3 is for the technically challenging issues that require more knowledge and expertise.
Most of the tickets are typically solved by level 1, but some need to be moved to higher levels if the staff member does not know how to solve the given issue, or if the issue should be solved by someone with different levels of access to the client's systems.
Time Frames
Setting time frames is important from two perspectives – from your customers' point of view and for your team.
Initial response. Your customer should understand the time frames for the initial response. They are typically set in the service level agreement (SLA). Depending on the urgency, the SLAs for the initial response can be:
Urgent – 1 hour or less
P1 – 2 hours
P2 – 4 hours
P3 – 8 hours
Internal time frames. There are also internal time frames for your staff for solving and escalating the ticket. Set a given period in which each level should work on a given ticket. For example, if level 1 does not know how to solve an issue in 30 minutes, he or she should pass this ticket to level 2, and so on. This will allow you to speed up the support process. On the other hand, for a smaller team, setting strict time frames might not be that efficient. If the team is seated next to each other, it's easy to just ask other staff members about the issue and the possible solution. If the solution is not known, then the ticket should be escalated.
Ticket Escalation Best Practices
1. A professional services automation (PSA) solution integrated into a help-desk solution can help you to automate some of the processes; the emails will create tickets automatically, and you will be able to create canned responses, generate auto-responses and define SLA time frames. This will also allow you to analyze ticket metrics and define the potential pain points of your help-desk processes.
2. Check for repeating issues. Either fix them or create canned responses.
3. You should set out contact methods in your master service agreement (MSA); otherwise, your clients will use any humanly possible way to reach you. This will disrupt processes and eat up your time.
4. Keep the user updated. Your user should be informed when the ticket is received when it's been escalated, and when it's solved. If the issue takes more time to be solved on a particular support level, update the user regarding its status once every 24 hours, or give an estimation for such an update.
5. Create standard operating procedures (SOPs) for MSP operations that can be standardized, like answering a support call and creating a ticket for a customer.
Further reading
Conclusion
Working with support requests is what distinguishes a mediocre managed IT provider from a great one. Enhance your ticket escalation procedures to improve your customers' experience further. In this way, your customers will stay with you for years and bring you the referrals you need in order to grow and thrive.