Full System Backup and Restore Guide
This article provides an overview of ways to back up your Windows computer. It addresses both desktops and servers. We will discuss methods of file-level, application-aware and full system backup and restore.
File-Level Backup and Recovery
File-level backup is the first item that comes into mind when most people think of data backup. It involves preserving files by making copies of them. File-level recovery works similarly: You choose the files to recover, and recover them.
Further reading File-Level Backup With MSP360
System State Backup and Recovery
System state backup is a Microsoft proprietary technology. It supports the backup and recovery of files and settings that are critical for the system's operation. System state backup covers significantly fewer files than the image-based backup, and can, therefore, be run more often.
However, the time you spend to plan and execute system backup and restore for different types of systems can vary significantly. Thus, you cannot use system state backup for bare-metal recovery to a different type of server. You can, however, use it with virtual machines as long as the virtual hardware profiles of the backup and recovery machines are identical. Besides, this type of backup and recovery does not include user files or other data.
Further reading System State Backup Guide
System state backup is a technology built for Windows servers. You cannot run it on Windows desktop. Below in this article, we will discuss why you don't need this method for Windows desktops.
FREE WHITEPAPER
Full System Backup and Recovery
Check out our guide to backing up Windows computers, both desktops and servers: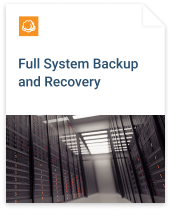 Image-Based Backup and Recovery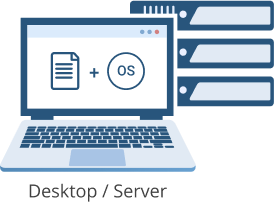 Image-based backup entails backing up the whole system, including disks structure, system settings and the operating system itself. Recovery from image-based backup is usually much faster than applying system settings from scratch and manually recreating the unique data structure that existed on your computer at the time of the backup.
Further reading System Image Backup Guide
"System image backup" is a general term frequently used by Microsoft. In most cases, image-based backup and system image backup are interchangeable terms.
Recovery Types
There are several options for performing recoveries from image-based backup.
The options are:
Granular recovery. Recovery of the selected files or folders from the image. This saves time when you need to restore a folder, instead of a whole machine.
Image recovery directly to drive. If one of your drives has failed or you've experienced a critical file system error, you can recover only the needed partitions from the system image backup, without the need to reboot the whole system.
Image recovery to the machine without an installed operating system. This type of recovery is called bare-metal recovery. You don't need to have OS installed to perform this type of recovery, but a bootable device that contains the backup image is required.
Further reading Bare-Metal Recovery Guide
Recovery Destinations
There are also several types of recovery destinations that are possible with image-based backup. The three most common destinations for system image recovery include:
Recovery to a physical machine
Recovery to a virtual machine
Recovery to a cloud service
In terms of full system recovery, all of these destinations have distinctive differences, pros, and cons. Learn more at the link below.
Further reading System Image Recovery Destinations
Application-Aware Backup and Recovery
Windows Servers are built to provide services for users and other servers. They are the basis for most IT infrastructures. Popular Windows Server applications include (but are certainly not limited to) the following:
Database servers - Microsoft SQL, MySQL, etc.
Email servers - Microsoft Exchange
Users catalog and management - Microsoft Active Directory
Web services - IIS, Apache, etc.
File servers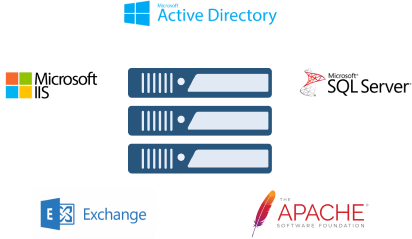 All server applications have unique backup and recovery specifics that vary depending on the server configuration and the nature of the infrastructure of which it is a part. For example, servers may be integrated into clusters or have different connections to external services, which create unique backup and recovery requirements. For this reason, you should be extremely cautious when planning recovery procedures for a server.
In general, it is a good idea to start by planning how to recover services and how to rebuild connections between them and the infrastructure they support. Only after formulating this recovery plan should you choose a backup method that is compatible with it.
Windows Servers vs Desktops
All of the backup and recovery methods discussed above, except for system state backup, can be applied to both Windows server and Windows desktop operating systems. However, the time you spend to plan and execute backup and recovery for different types of systems can vary significantly.
For example, the failure of one server that provides a mission-critical service, such as Active Directory, will lead to a halt in the business processes that rely on computers. For the modern company that usually means almost all business processes.
In contrast, a machine with a desktop operating system does not typically run mission-critical services. One failed desktop won't lead to major business continuity issues for a number of systems; it will usually only affect the individual user of that desktop.
When you need to recover the desktop, you can either recover files back to the machine from which they were lost or re-create a new machine from a recovery image. If you have a domain in your infrastructure, you should check and re-add the user's data to the corporate network, if necessary. In most cases, that is all you need to remember when performing desktop recovery.
Conclusion
Everything related to Windows backup should first be planned and only later implemented. Evaluate your infrastructure and then decide what you should back up, where to back it up and how.
After that, you can choose the right backup software and type of storage for the job. When you're in the midst of this evaluation stage, check whether MSP360 Managed Backup for Windows suits your needs.
Full System Backup and Restore with MSP360
MSP360 offers a fast and simple full system backup and restore process for both Windows desktop and Windows Server. Check some of the features and benefits that you get with MSP360 Backup for Windows Server: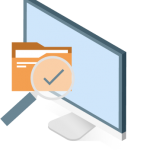 Backup and Restore of System State and System Image
MSP360 Backup provides:
Recovery from system state backup - if you need to restore only the operating system and configuration
Recovery from image-based backup - if you need to restore a full copy of the needed computer or server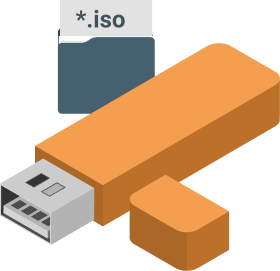 Full System Backup and Emergency Recovery
Easily create a bootable USB drive or ISO file for a bare-metal recovery in case of a system or hardware crash. Install additional drivers for a hardware configuration that is different from the current machine.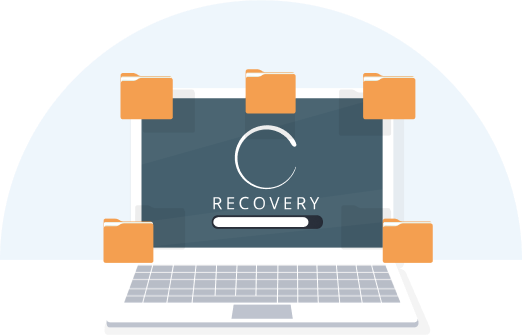 Flexible Retention and Recovery
Why recover only the latest version? MSP360 Backup allows recovery to the point in time that you choose. Store as many versions as you need for as long as you need with flexible retention settings.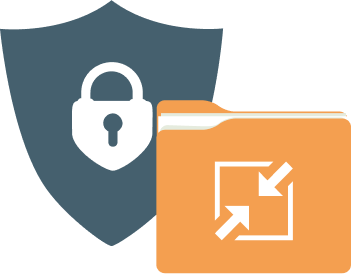 Compression and Encryption
Compression allows you to reduce storage (and thus save money) while improving backup time. With AES-256 encryption, you can be sure that all your files are protected.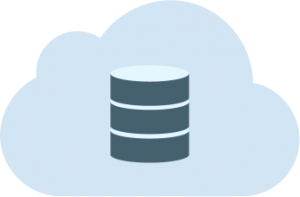 Cloud and Local
MSP360 Backup allows you to store your backups on local storage and any of more than 20 cloud storage providers, including Amazon S3 and Amazon Glacier, BackBlaze B2, Wasabi Hot Storage, and Microsoft Azure.