Unlike typical external hard drives, NAS devices provide built-in operating systems that support features like remote access, printer streaming, or native media streaming. Additionally, you can save images, server data, application databases, and so forth without any supplementary management device.  
In essence, therefore, NAS is basically a holistically built storage system that capitalizes on its own OS and apps, to execute data plus access management processes.
This article explores local and cloud NAS backup strategies, along with their respective benefits plus drawbacks.
FREE WHITEPAPER
Building a Local Backup Storage for Your Customers
Check out best practices on how to choose and maintain a local backup storage solution: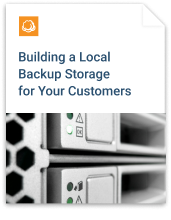 If you haven't yet chosen a NAS device and not sure which one to pick - check out our comprehensive checklist for choosing a NAS.
Further reading Choosing a NAS Checklist
Local NAS Backup Strategy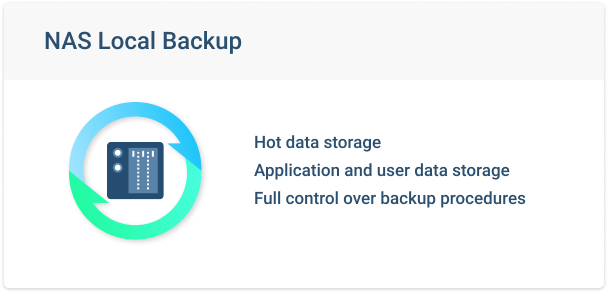 There's no denying that setting up a local NAS backup system is a thoughtful idea. It particularly comes in handy for:
Storage of hot data backups. Think of it as a specialized backup repository system.
Storage of hot application and user data. After coming up with an isolated backup task, you basically transmit the corresponding copies of data to an additional network drive or local volume.
A seamless combination of the two instances.  Since the end result is seamless integration between a backup repository and an accompanying file server, this system is quite common among businesses.
Backup to a local NAS backup provides control of the entire system.
Unfortunately, that comes with a high-cost. Setting up and maintaining a comprehensive local NAS backup system is comparatively costly, especially if you're handling quite an extensive amount of business data.
The biggest concern, however, is that local NAS backups are exceptionally vulnerable to malware spread through the network. And if that doesn't harm your system, you still have to worry about physical perils like water or electrical damage, both of which can cause hardware failure.
NAS Server Backup to the Cloud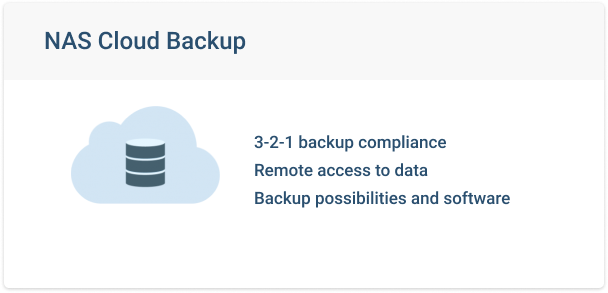 To enhance data redundancy, many IT professionals backup data on NAS devices to the cloud. As a result, you'll end up with two independent data sets.
The good thing about this is that you can remotely access your backup data from anywhere at any time. The downside of this - is the need to upload and download data to and from the Internet, which is speed-dependant. Typically, local data backup and recovery is faster than the cloud.
That said, your specific backup capabilities depend on your overall architecture and network. The two approaches you could use for backing up NAS to cloud are:
Use the native backup software from a NAS vendor. Big NAS device developers typically have pre-installed backup software with some capabilities to upload data to the cloud. Though, this software tend to lack advanced features like block-level backup or retention policies.
Installing a third-party backup software on the NAS itself. Some 3-rd party software developers have this option. Though, there might be issues with the built-in operating system conflicting with the software.
Mounting the NAS as a network-share, and then installing the third-party backup software on your computer or server. This practically solves the performance problem.
Best Cloud Storage Solutions for NAS Backups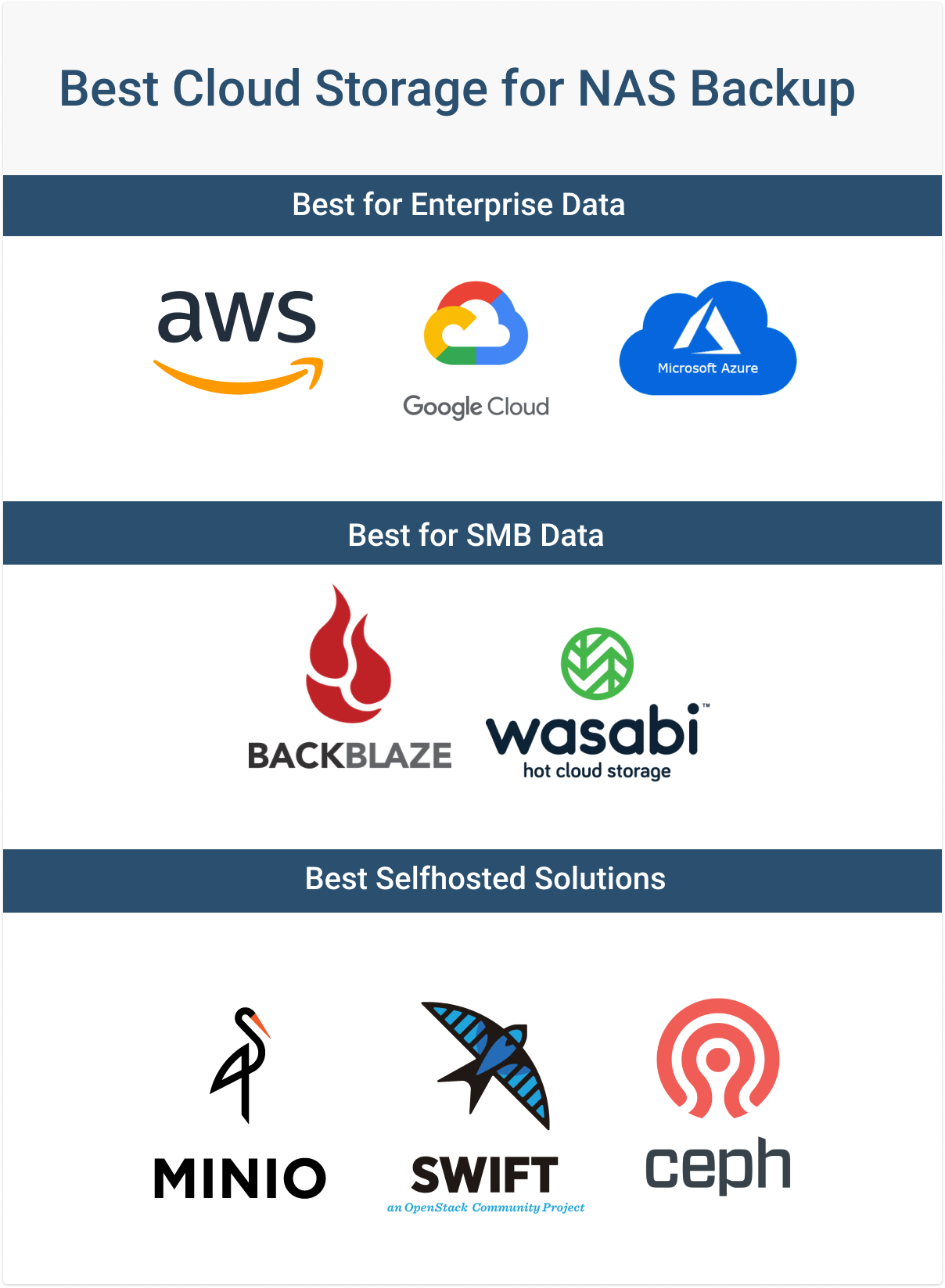 The Big 3 Service Providers: Amazon S3, Microsoft Azure Blob Storage and Google Cloud Storage are three of the most renowned powerhouses in the cloud storage space. Apart from infinite storage capacity, they offer high-level data security. Many users, however, complain that their pricing is complicated.
Best Value for SMBs: Unlike the Big 3, solutions like Wasabi Hot Storage and BackBlaze B2 offer reliable backup storage with cheap, easy pricing. Unfortunately, they cannot match up to the feature set, number of data centers or granular security provided by any of the Big 3.
Self-Hosted Cloud Storage Solutions: Open-source solutions like Ceph, OpenStack Swift, and Minio allow self-hosted S3-like storage. That means you get the benefits of controlling your own cloud. And you also get all the drawbacks - the whole thing requires a lot of effort and training.
How to Back Up NAS Devices with MSP360 Backup
To back up data to your NAS device you can use MSP360 Backup. It is capable of both local-to-NAS backup and cloud backup of data, stored on the NAS server itself. First of all - download MSP360 Backup from our official website and proceed with the further steps.
Back Up Local Data to NAS device
1 First of all, you need to create a local storage account where you will perform backup. For that, click Add New Account button: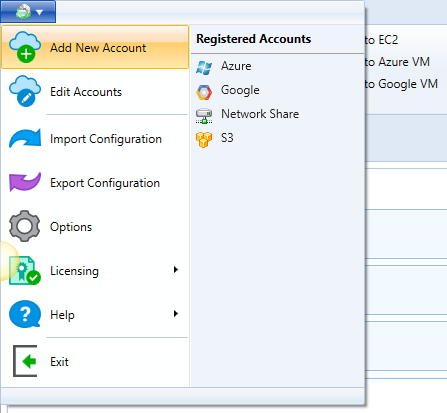 2 In the appeared menu choose File System:

3 Add any display name and select a network path for your NAS server. Make sure it's accessible via your network. If you NAS is user/password protected, click Change Network Credentials: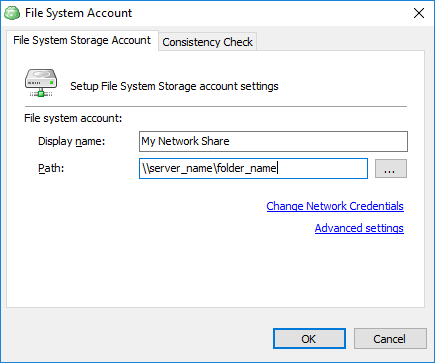 4 Enter the details as shown below: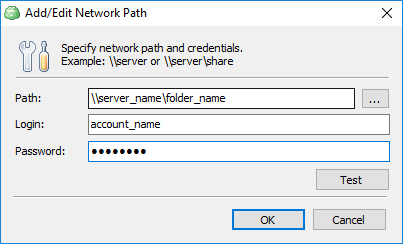 5 That's it. Now you are ready to backup to your local NAS device. Create your first backup plan and choose your NAS as a destination for your backups.
Back Up NAS Server Data to the Cloud
MSP360 Backup can perform cloud backup of data, stored on your NAS device. MSP360 natively supports the most popular cloud storage destinations, including Amazon S3, Microsoft Azure, BackBlaze B2 and Wasabi hot storage.
See the full list:
Further reading Supported cloud storage solutions
1 Start Backup Plan Wizard
2 Proceed with the needed storage provider and settings
3 On the step Backup Source choose Advanced Option and click Add network share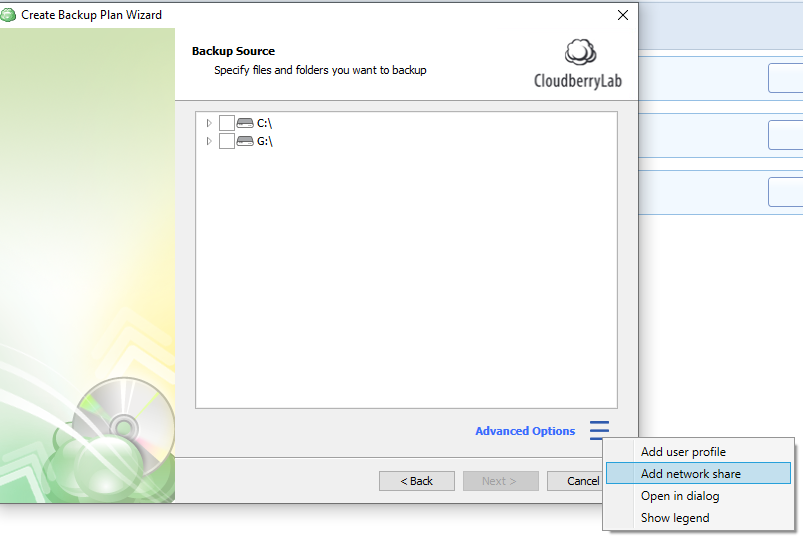 4 In the appeared window click Manage network credentials and specify the coordinates, login and password with which you can reach your NAS device over the network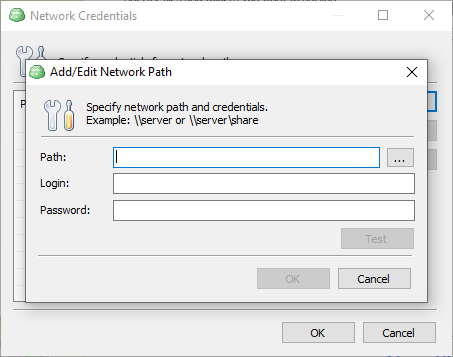 5 That's it. Proceed with setting up your backup job.
If you are new to MSP360 Backup, check out our help page:
Further reading MSP360 Backup Web Help
Summary
NAS is a good choice for hot and backup data storage. It fits the 3-2-1 backup rule and even provides a possibility to execute third-party data management tools like a real server.
Admittedly, there's no such thing as a completely perfect NAS backup strategy. But, the hybrid approach of simultaneously backing up NAS to the cloud and local devices is the closest you can get to a perfect system.