Every MSP wants to grow their business. One of the best ways you can do this is by expanding your services with existing clients. You have the advantage that they already know you and are comfortable with your support. The cost of upselling your current customers is lower than acquiring new business.
If you adopt this approach and plan it accordingly, you can achieve a higher response rate, due to the fact that you've already proved yourself with the customer.
Below are strategies that will help you with upselling your clients without always coming across as "sales-y".
First, let's confirm what "upsell" means.
Upsell: Selling a higher level of service to customers. For example, they have the "standard" version of a software program and you offer to upgrade them to the "premium" version at a discounted price. That would be an upsell offer.
Begin with Your Top-Tier Clients
Rolling out a new service is never easy, let alone rolling it out to all your customers at the same time. There's a lot to take into consideration and plan when doing so.
Start in smaller batches with your top-tier and most-loyal customers. Look for and ask for feedback with regard to how it impacts their business and what they are willing to pay. This information is extremely valuable and you can use it in the future.
I recommend doing this with your most loyal customers, as you've already proved yourself and your track record speaks for itself. Oftentimes, you can afford a little more leeway with them in comparison with a new customer.
Quarterly Business Reviews
A quarterly business review, or QBR, is a meeting that you have with your customers on a quarterly basis. The main point of this meeting is not only to review what goals you have met and what's outstanding; it can also center around the client's business and what can be done to accelerate its growth. The aim of a QBR is to understand the potential of the business, the opportunities, and the long-term goals that can be achieved.
These reviews should be an essential part of your business. They give you the perfect opportunity to upsell.
Performing these meetings each quarter allows you to better understand your client and their needs. Understanding a client's needs is crucial to allowing you to position the new/additional service appropriately.
Since you already discuss their pain points and plans in QBRs, these reviews naturally lead to cross-selling and upselling conversations.
Don't focus on closing the deal in the meeting. Look at them as an opportunity to begin the sales dialogue.
FREE ASSETS
MSP Quarterly Business
Review Template
Follow these basic principles to craft a perfect report for your customers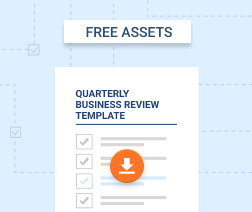 Create a Case Study
If you successfully rolled out a product or service at a higher service level, capturing the story and its success in a case study is an excellent idea. This gives you a wonderful opportunity to use that story later on with other customers or prospects.
Once you have completed your case study, send it to other clients who you think would also benefit from the solution. This could be done in an email offering a link to the case study, like this:
Hi [First Name],

One of my other clients, *Client name*, recently rolled out *service/product name* to help them achieve higher uptime. You can read their case study here: *link to a case study on your site or blog*.

I think this would be a good solution for you to think about as well. Let me know if you'd like to chat further.

Thank you,
[Your Name]
The email doesn't have to be detailed, but it's important to feature that case study. It comes across as helpful, rather than sales-y, which can make all the difference.
Offer a Trial
Sometimes your customer needs to test out the solution before committing long-term. Offering a trial is an easy way to allow them to try it before they commit and purchase the product/service.
A very effective trial can be to look at services where you already have plenty of resources, licenses, etc., and consider how you may be able to allocate some of them to a client for a given time. For example, if a client is under contract for five help desk calls per month, but they are hiring and growing, you can offer a trial with unlimited calls for 60-90 days, and then monitor how many additional calls they need and adjust the contract.
In the end, trials may cause you to eat some cost upfront, but should ultimately make you money in the long run and can be a very effective strategy.
Discount or Incentive Program
If a trial isn't applicable or reasonable, try out a discount or incentive program. You could offer clients three months of service free if they commit to a year of offsite backup storage. Or maybe you throw in advanced SNMP monitoring for free if they upgrade to a higher service level.
Make sure the ROI of the offer makes sense, both for your client and for your own business. If the numbers match up, test the offers out with your clients. See which ones get responses, lead to the best conversations, and ultimately result in deals.
Write a Blog Post or Newsletter
Creating a blog post related to the upsell can help reemphasize the need for your solution. I always recommend starting a blog and regularly updating it. If you don't regularly update it, customers and prospects will tune out. You may also want to create a newsletter that displays case studies or discusses trends in the industry -- for example, security breaches, or new technology that you've tested out internally and that your clients can leverage.
Further reading Blogging for MSPs: 100 Engaging Content Topics
Your customers might read the post and realize they need to act, or they might just be interested to learn more. You can also offer the case study described above as a follow-up call to action for the post.
Just like the case study, you can share your blog post with some of your clients and see if they'd be interested in chatting with you further about the product or solution. Again, this comes across as helpful, rather than a sales pitch, and people are much more likely to engage with you.
Conclusion
Don't miss out on the opportunity to upsell your customers. It can be one of the easiest ways to increase revenue and grow your business. While there's no sure-fire strategy for doing this, the above guidance should assist with getting you thinking about how you can build sales campaigns for your current clients.