Let's face it. Even the smallest MSP business is made up of numerous elements that are intricately connected. On one hand, there are internal processes like employee management and network management. Then on the other, you have to worry about external processes like client management and system maintenance. And that's not all; MSP organizations are still required to coordinate their sales and marketing operations, legal affairs, etc.
To help you streamline these processes, this article answers all the basic questions you might have in mind regarding MSP documentation.

What Is MSP Documentation?
MSP documentation, to begin with, is simply a set of records that describe internal and external processes in an MSP organization. They are principally used to classify and streamline operations, unify approaches, set up standards across the company, and provide a roadmap for resolving issues efficiently.
That said, MSP documentation comes in two forms:
Internal and external how-to documentation and contracts: such as service level agreements (SLA), master service agreement (MSA), and statement of work (SoW).
Other documents: such as network documentation, standard operating procedures (SOP), scripts documentation, onboarding documentation, and documents for customers.
Further reading What Is MSP Documentation: Baseline Principles
What Are MSP Documentation Best Practices?
To create, maintain, and manage the best documentation for your MSP business, you should consider doing the following:
Establishing the need for each document before you start drafting it.
Drafting all documentation in a simple, understandable, and easy-to-read format.
Performing scheduled reviews of all MSP documentation, and then proceeding to update it accordingly.
Training your employees and clients on how to access, read and apply the documentation.
Archiving outdated documentation for reference purposes, instead of purging it.
Keeping all the documents in places that can be easily accessed by interested parties (staff and clients).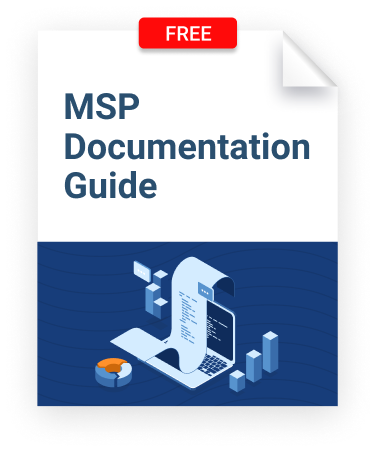 What Is an MSA Agreement?
An MSA - or master service agreement - is the primary contract that you sign with a client. It outlines the terms that govern the relationship between you and the client, as well as the transactions that come with it.
You will, for instance, find all the liabilities of both the customer and the provider highlighted in the document. That includes legal procedures, termination clauses, billing processes, service details, etc. It all depends on the type of arrangement you intend to have with your customers.
Further reading MSP Master Service Agreement
What Is a Service Level Agreement (SLA)?
A service level agreement - or SLA, for short - is a contract document that spells out all the services and the level of service that a client expects from a service provider. As such, you can think of it as a binding commitment, detailing your service responsibilities, quality, and availability.
This is what you'll use as the reference point for all your service obligations.
Further reading Service Level Agreement for MSPs
What Is MSP Customer Documentation?
MSP customer documentation refers to the support catalog that you provide your clients to help them understand your tech processes and network layout, troubleshoot issues, resolve problems, and run their systems smoothly. Typical MSP customer documentation includes:
Information on security measures.
Service manuals, guides, and instructions.
Troubleshooting articles.
Support FAQs.
Network map and overviews.
Instructions on how to get in touch with customer support agents.
Contact details.
With these, you get to increase customer satisfaction levels and, at the same time, minimize support requests.
Further reading How to Create MSP Customer Documentation
What Is MSP Onboarding Documentation?
Just as the name suggests, MSP onboarding documentation provides a framework for introducing new clients to your system. And since no two clients are the same, each case ought to be treated differently.
In essence, you should start by gathering information about the client and their IT infrastructure, before proceeding to sign the service level agreement, welcoming the client to your system, acquainting the client with your IT team, facilitating provisioning, implementing RMM, training the client's employees, launching the managed services, and performing check-ins.
You can find all these details in our Client Onboarding Checklist for Managed Service Providers.
How Should You Document Scripts?
To properly document your MSP scripts, you should consider:
Placing header notes on every script, complete with the dates, script purposes, plus author and version information. These will provide readers with basic insights as they scroll through the scripts.
Including concise and understandable comments throughout your scripts. They should provide explanations, variable descriptions, warnings, bug descriptions, etc.
For additional information, here's the ultimate guide to MSP script documentation.
How Should You Document a Network?
Since MSP networks are complicated, you need to record everything for easier troubleshooting and identification of network assets. In the end, your network documentation should provide:
A network map: Just use mapping software to draw diagrams of your entire network layout, showing clearly how and where everything connects. While you're at it, you might also want to label things using logical identifiers like IP addresses and PC names.
A Complete inventory: Prepare detailed records of all the hardware and software assets within the network. You should include their serial numbers, technical specifications, end-of-life (EOL) dates, plus vendor details.
Security practices: Document all the security assets and measures within your network, as well as the practices that both technicians and end users should maintain for the sake of protecting the system.
Further reading Network Documentation Best Practices
How Should You Create a Standard Operating Procedure Document?
A standard operating procedure - or SOP, for short - is a document that provides a step-by-step breakdown of the standard routines, frameworks, and workflows within your MSP organization. This is what you use to streamline all the basic service operations performed by staff members.
For the best possible outcome, you should apply the following when drafting your SOP documents:
Start by identifying precisely what you intend to standardize with the document, the results you expect, plus the corresponding key performance indicators.
Use an appropriate format or structure within your document. If it's inventory-based, for instance, you might want to stick with spreadsheets or checklists.
Specify the key actions that should be followed from the beginning to the end of the process.
Maintain a unified style throughout the document. And, in particular, keep your language simple, with short, understandable sentences.
Have a title, a short description, a body, a glossary, plus an equipment and solutions list.
Further reading How to Create Standard Operating Procedures
Conclusion
As you've realized by now, there's so much more to MSP documentation than troubleshooting guides and client contracts.
Don't leave it at that, though. Our MSP documentation FAQs are only meant to get you started with the basic details. You should follow them up with our comprehensive guides to learn how to properly draft and manage all these MSP documents.