There are several basic documents each managed IT provider should employ. An MSP master service agreement, MSA for short, is one of these, and the first to be set up. This is the agreement that defines the obligations of two parties – you as an MSP, and your client. A master service agreement is typically designed on a case-by-case scenario and there is no ultimate guide for all industries and states. In this article, we will cover essential points that should be covered by your MSA.
Why Should You Create an MSA?
An MSA outlines the terms of your relationship with the client, including billing, project specification, retainer fees, and other legal and contractual details. It typically does not go into too many details, like the exact pricing or the scope of your services. That should be covered in the additional documents – scope of work (SOW) and service level agreement (SLA). MSA identifies the general obligations and liabilities of the parties. When you are designing it, consider that, first and foremost, it should protect you as an MSP from accusations of gross negligence. (Find out how MSPs can limit liability in our article.)
Further reading The Importance of Legal Services to MSPs
How to Create an MSP Master Service Agreement Properly
An incorrectly formulated MSA can easily lead you to court. Some managed IT businesses create MSAs by themselves or base them purely on templates from the Internet. Indeed, some vendors or fellow MSPs can provide you with such templates but, without proper customization, they won't cover the specifics of your business and your clients' needs. So, if you create MSAs based on a template, be sure to make the appropriate changes to it.
The other common mistake is creating MSAs without having them reviewed by an attorney. Attorneys, especially those who specialize in IT, certainly will cost you money, but think of it as a long-term investment. You only need to review your papers once and then you can be sure that you are covered in legal and contractual terms.
Points to Include in an MSA
MSP master service agreements are individual and are based on the circumstances of how you provide managed IT, your target vertical, and the laws in your country or state. However, there are some essential points that every MSA should include. These are:
Basic conditions. These include contract duration, billing procedures, compensations, and liabilities.
Termination clauses. These are one of the most important parts of your MSA. Some managed IT providers don't include flexible termination clauses, and later on get into trouble when trying to leave a non-paying customer. Hence, you should include possible fines, legal liabilities, and potential breaches that will allow you and your customer to terminate the agreement. Typically, there's a two-week notice period that is added to the termination clause. That means that you need to notify your client two weeks in advance of a contract termination.
Further reading Client Offboarding Checklist
Modifications and amendments. This point includes workflow and details about how amended documents should be managed, the responsible parties, allowance of electronic communication and signatures, the proposal mechanism for contractual changes, and force majeure situations.
Description of service. You need to describe the provided services and their scope carefully.
Scope of work (SOW). This may be separate from the MSA document or included in it. The SOW defines the details of your services and pricing. In plain words, it should specify how much your customer is paying you for specified services, projects and hours; any extra billable on-site works; the scope that is covered by "all you can eat" - all these details should be in the SOW. If you add or change your services or their scope for the given client, it's the SOW document that should be changed and signed by both parties, rather than the whole MSA.
Further reading Understanding and Managing Projects for MSPs
FREE ASSETS
SLA and SOW Templates for MSPs
Create well-documented processes to provide an outstanding level of services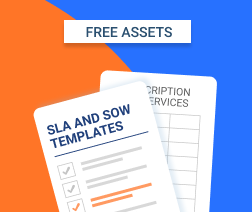 4 More Helpful Clauses in Your MSA
In the section above, we've outlined the most basic and, for some, obvious points that should be included in the master service agreement. Here are a couple of less obvious, but helpful, points that you might need in your MSP master service agreement:
Hardware prepayment. If you need to set up one desktop, it might be fine to ask your customer to pay for it once it's installed. However, covering the setup of tens of desktops or a new server is unreasonable.
Prepaid maintenance of critical software. Line-of-business and other critical applications typically have official, paid support coverage. It is highly advisable to require your customers to engage with such support. LOB applications can be a hard nut to crack when it comes to fixing issues, glitches and bugs. So, leave it to the developers and support team of the given software.
Piracy termination clause. This covers the situation where your client is using unlicensed software that might make you liable. You should add a clause that allows you to terminate the contract in cases of piracy.
Client's data termination. As an MSP, you manage and store your customer's data in different ways and forms. When the customer leaves, they might forget about some data. Your MSA should contain a clause that specifies that your client's data will be stored at your premises for a given period of time - 30 days or longer - and then deleted, unless it is subject to any regulatory compliance.
Conclusion
Contracts and agreements are the foundations of your managed IT business. Your master service agreement should be carefully outlined, reviewed and checked by an attorney. Spend some time and money on creating this document well, and be sure that it gives you the level of protection that you need.