Guide to Endpoint Security Monitoring
Tracking and managing all of the devices connected to a modern network is hard enough. What's even harder, however, is keeping those devices secure. Each device is a potential gateway that attackers could exploit to gain unauthorized access to the network. What's more, attacks can easily expand from one device to others if devices are not properly secured.
Read on for tips on controlling these risks through endpoint security monitoring.
What is Endpoint Security?
Endpoint security is the process of managing all security risks associated with any device or other endpoint that is connected to your network.
Endpoint security starts with identifying potential attack vectors and risks based on analysis of data such as network activity and device utilization statistics. From there, your team can take steps to mitigate risks and isolate insecure endpoints from the network.
Endpoint security tools fall into two main categories:
Endpoint protection platform: An EPP is designed to track and monitor the security status of devices on the network.
Endpoint detection and response: EDR platforms analyze vulnerabilities and provide tools to remediate them.
In general, EDR platforms offer broader functionality and features than EPP platforms. Think of EPP solutions as basic security scanning tools for individual devices, whereas EDR platforms provide advanced threat detection and remediation for the entire network.
Further reading 3 Reasons Why You Should Reconsider Your Endpoint Protection
Key Capabilities of the Endpoint Security Monitoring Solution
A well-designed endpoint security monitoring platform provides a range of features.
First and foremost is continuous device monitoring, tracking and management. You should be able to identify at all times which devices are on the network, which software and services are running on each one and which data each device can share with other devices.
Further reading Endpoint Monitoring and Management
Sandboxing tools, which allow you to isolate insecure endpoints from the rest of the network inside a "sandbox," are also a must-have feature. So is the ability to install software patches automatically on devices that are not up-to-date.
Integration with firewalls and antivirus tools is a useful feature as well. By comparing endpoint data with firewall and antivirus data, you can more readily identify the most critical vulnerabilities on your network.
The ability to differentiate devices from users is important, too. Some devices may have multiple user accounts associated with them, and each user may have access to multiple devices. You therefore want to be able to enforce security rules on both a per-device and per-user basis, while retaining the granular control necessary to require different settings for each user account on a single device.
Importance of Endpoint Security Monitoring
Endpoint security monitoring is essential for any network that includes more than just a handful of devices. It provides a variety of benefits:
Threat monitoring: By monitoring for and finding threats on a continuous basis, you are in a stronger position to address them before a serious security incident occurs.
Avoid downtime: Proactive endpoint monitoring can help prevent serious security issues that would disrupt your operations.
Detect vulnerable endpoints: Endpoints running unpatched software or hosting insecure ports can be detected and isolated.
Secure BYOD: Endpoint security monitoring makes it possible for employees to connect their own devices to the network via a "bring your own device" (BYOD) policy, while still ensuring a reasonable level of network security.
The MSP's Guide to Clients' Personal Device Management
Learn how to support personal devices that are now being used in business environments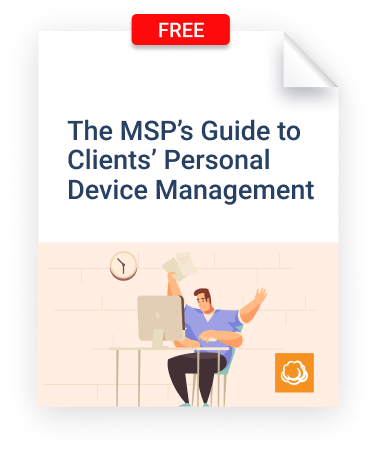 Getting the Most from Endpoint Security
You can approach endpoint security monitoring in a variety of ways, ranging from periodic assessments of devices to comprehensive endpoint monitoring and security. To get the most out of endpoint security monitoring, strive for the following:
Continuous software updates: Use endpoint monitoring tools to detect devices running unpatched software and force them to update immediately.
User authentication: Enforce strong user authentication rules by, for example, detecting and isolating devices that use insecure authentication protocols or are configured with default usernames and passwords.
Further reading IAM vs PAM vs PIM: The Difference Explained
Data encryption: Endpoint monitoring can help you detect devices that store sensitive data in unencrypted form.
Endpoint visibility: A chief aim of endpoint monitoring should be to build endpoint visibility - meaning awareness of the status of all devices on the network - into your culture.
Breach response: If you don't already have a dedicated security team, designate team members to respond to security issues detected by endpoint monitoring tools.
Responding to Data Breach: Guide for MSPs
Learn how to create a flexible and robust data breach response plan and prepare for the unexpected.
How to Create an Endpoint Security Policy
An endpoint security policy is a set of rules that define which types of devices are allowed on a network, how they must be configured to be deemed secure and what they are allowed to do on the network.
To create an endpoint security policy, start by defining the types of devices your network needs to support. For example, consider questions like whether mobile devices will be allowed and which types of operating systems and operating system versions you will support.
You should then classify device types into different risk categories. Perhaps you'll allow an outdated version of a given operating system, for example, but you'll place such endpoints in a higher risk category than those running up-to-date software. Add information as well about prohibited endpoints, meaning types of devices that are not allowed on the network under any circumstances.
Further reading Risk Management Guide for MSPs
Your policy should also define which security activities, such as port scanning and service detection, will be performed on each endpoint on the network.
Finally, include information about your data breach response team and incident response plan: Who will handle security incidents, and which resources do they need in order to do so? Larger organizations may have a dedicated security team, but smaller teams will need to delegate this responsibility to technicians who do not necessarily specialize in security.
Conclusion
Endpoint security monitoring shouldn't be the sole basis of your security strategy - data security and application security are equally important - but it forms one essential security pillar for any modern organization. Be sure you know which endpoints exist on the network and what their security status is at all times.