Guide to ITIL General Management Practices
Ultimately, IT teams and resources exist to support the business. If IT practices are all out of sync with business needs, IT may harm, rather than help, the company.
To help align business goals with IT practices, the IT Infrastructure Library, or ITIL, defines a set of general management practices. Following is an overview of the most important IT general management practices and their role in ensuring the success of both the IT organization and the broader business.
What Are ITIL General Management Practices?
General management practices are the most business-focused set of IT practices that the ITIL defines. Whereas other categories of ITIL practices (like technical management and service management) focus on deploying and maintaining systems in a technical sense, the primary goal of ITIL general management is to ensure that IT activities and investments align with business needs.
Core ITIL General Management Practices
For the typical business, the most important ITIL general management practices include the following.
Strategic Management
As part of strategic management, IT teams research industry standards to identify offerings relevant for their business, based on customer needs and the business's position in the market. They also evaluate technologies and services that their business currently uses in order to identify opportunities for improvement.
Further reading MSP Strategy: The Value of Data
Project Management
Project management refers to the planning and implementation of IT projects. As defined in the ITIL, it involves two key components. One is planning projects by defining project scope, timeframe, budget needs, IT resource requirements and, if applicable, compliance requirements.
The second is keeping projects running smoothly once they are underway. For this task, teams rely on ITIL approaches and processes, such as change management and incident management.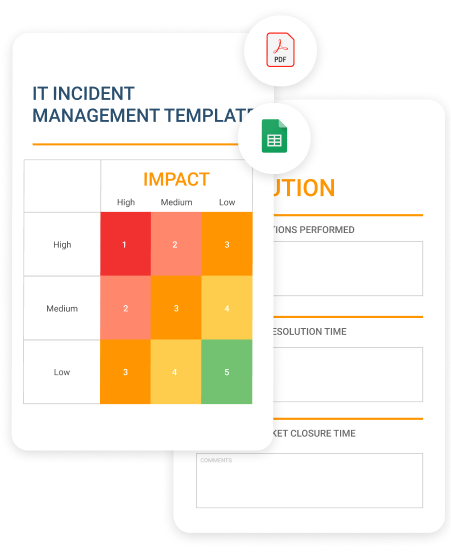 KPIs and Reporting
As part of general management practices, IT teams identify KPIs that will help them measure the success of all of their IT practices and assess whether those practices are also driving business success. Then, they collect and analyze data continuously to maintain ongoing visibility into the effectiveness of IT operations.
Knowledge Management
Knowledge management is the process of gathering, categorizing and storing essential knowledge within the organization. Generally, this knowledge falls into two categories: First, technical procedures that require specific knowledge; and second, the knowledge possessed by specific employees, who might not otherwise think to share or record it.
Knowledge management helps ensure that businesses have the information they need in order to manage their systems effectively. It also encourages a culture of knowledge sharing within and between teams and enhances evidence-driven decision-making processes. At the same time, it reduces the risk that problems will arise because an employee with key technical knowledge is unavailable or leaves the company.
Further reading MSP Knowledge Management Guide
Internal Relationship Management
Building strong connections within teams and departments is the focus of internal relationship management. In turn, this general practice helps to ensure that all stakeholders are involved in making strategic decisions that require input from both the business side of the organization and the technical side. It also encourages communication between teams and business units, which can lead to faster problem resolution.
External Relationship Management
External relationship management helps IT organizations maintain stable and positive relations with customers and vendors. It keeps customers and vendors up to date about the business's IT plans and processes, while also ensuring that IT teams factor the priorities of external stakeholders into their decision-making. Ultimately, it drives customer and partner satisfaction, which is key to achieving overall business success.
Further reading MSPs: How to Communicate with Software and Hardware Vendors
Risk Management
Risk management focuses on answering five basic questions:
How to avoid risk.
How to prevent risk.
Which steps will the business take if a problem arises?
How will the business mitigate the impact of a problem?
How will the business improve its risk management practices over time?
In these ways, risk management helps IT organizations monitor and control known risks, while also documenting and categorizing them.
Further reading Risk Management Guide for MSPs
Conclusion
By helping to integrate business goals with IT decision-making, ITIL general management practices play a pivotal role in aligning business goals with IT goals. By extension, they help to maximize the ROI on IT resources and avoid unforeseen conflicts between IT teams and other parts of the business.