Because Microsoft 365 is a cloud-based SaaS platform, it's easy for customers to assume that the data they create or store on it is always safe. Of course, MSPs know that that is not the case; there are a variety of ways in which data can be lost in a Microsoft 365 environment, which is why managed backup services for the platform can be a profitable offering for an MSP business.
In order to sell such backup services, however, MSPs must demonstrate to clients why they need backup for Microsoft 365. And they must do it in a way that conveys the value of Microsoft 365 backup, but does not get so technical that customers fail to understand the conversation.
With that need in mind, this article offers an overview of how to position and sell managed backup for Microsoft 365.
Microsoft 365 Backup Selling Points
There are several key talking points that MSPs can use to communicate the value of backup for Microsoft 365.
#1 Microsoft's Shared-Responsibility Concept for Data
Microsoft promotes a concept of shared responsibility for data in Microsoft 365. Microsoft takes primary responsibility for protecting customers' data from hardware and software failures, power outages, and natural disasters; responsibility for other types of data deletion lies with users.
This means that it is on the user to manage data risks such as accidental deletion by humans, software errors that lead to data destruction, malicious insiders who delete data, external hacker attacks that destroy data, and malware and ransomware. And the best way to protect against these threats is to back up Microsoft 365 data regularly.
That is a task that many companies are not prepared to do on their own due to a lack of backup infrastructure and expertise with Microsoft 365. However, MSPs can easily provide backups for them as a managed service.
MSPs seeking to drive home this point to customers might also point out that, in its own SLA, Microsoft recommends that customers regularly back up content and data stored on Microsoft 365. It also recommends that backups be stored on external, isolated storage to keep them safer.
#2 Potential Cost of Data Loss and Downtime
Even if customers understand that Microsoft alone doesn't protect their Microsoft 365 data from all types of losses, they may simply think that data loss is not serious enough to warrant paying for a managed backup service. This is true especially for smaller companies, or those that simply don't generate a lot of traditional digital data.
To help these clients see the value of managed backup for Microsoft 365, use statistics and anecdotes that illustrate the risk of data loss and downtime caused by data inaccessibility. Make these resources as specific to the client's industry as possible, so that they hit home, illustrating the real risk to them of losing data.
Minimize Business Downtime with These Recovery Essentials
Direct-to-cloud recovery
Recovery with a bootable drive
File-level and VM restore
Remote recovery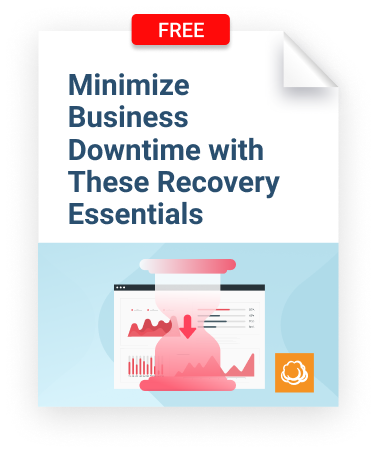 #3 Retention Policy Gaps and Confusion
Some prospective clients may believe that they can protect their data effectively on their own by using Microsoft 365's native retention features, which help protect against some forms of data deletion by ensuring that data is explicitly retained. Hence, they don't believe they need a managed backup service.
To address this objection, make it clear that the functionality of Microsoft 365's retention features is limited. They have to be configured manually, and won't protect data that customers forget to enroll in a retention policy. Data in the Recoverable Items folder in Exchange is available for only fourteen days by default (although this can be increased to a maximum of thirty days). Data is not retained if you cancel your Microsoft 365 account.
In short, while retention features are useful for providing some basic data protection, they do not provide the long-term, systematic safeguards of a managed backup service that routinely backs up all data inside Microsoft 365.
#4 Legal and Compliance Requirements
Customers who need to address special requirements related to regulatory policies or legal requests will find it difficult to do so without complete backups of their data. However, with a managed backup service, they can be sure that they always have a full data backup to keep regulators happy and ensure that data is available to satisfy legal requests, even if the data has been deleted from the production environment.
#5 OneDrive Is Not a Replacement for Backup
Some prospects may believe that OneDrive, a cloud-based file sharing service that is part of Microsoft 365, is an adequate way for them to back up their data. They assume that documents or other data stored on OneDrive are safe from deletion because they are stored in the cloud, as well as on any local devices that are synced with the OneDrive account.
Point out to these customers that all copies of a given data item in OneDrive will be deleted if that item is removed from any device that is synced with the service (either by accident or through malware or another type of attack). Likewise, if ransomware encrypts data stored in OneDrive, it will become inaccessible.
Systematic data backups protect against these risks by ensuring that there are offline copies of clients' data available that are not impacted by changes within OneDrive.
#6 Granular Data Recovery
A final selling point of Microsoft 365 managed backup services is that they enable granular data recovery. Customers can use their backups to recover not just entire folders or databases, but also individual emails, files, and so on. In addition, they can recover from particular points in time, making it possible to restore an older version of a file that was accidentally modified in an undesirable way.
Best Practices for Selling Microsoft 365 Backup
Beyond the talking points discussed above, consider the following strategies for selling backup for Microsoft 365:
If you are selling to new clients, include backup as part of a managed Microsoft 365 bundle that provides the platform itself, as well as backup and recovery for it, in the same managed service offering. This one-stop bundle is an easy "yes" for new clients.
If you are selling to existing clients who are already purchasing other managed services from you, approach them about the Microsoft 365 backup service during a time when they are considering technology changes. Quarterly business reviews are usually a good time for making your pitch.
Overall, make sure clients understand that the cloud is not foolproof. There is an abiding belief among the public at large that the cloud somehow never fails, and that anything you run or store in it, therefore, does not need to be backed up. The reality, of course, is that although the cloud may be more reliable in many ways, it is no magic bullet.
Use a Refusal Form for Customers Who Decline Backup Services
In cases where customers consume Microsoft 365 from you but refuse backup services for it, consider asking them to sign a refusal form or waiver. This not only protects you in the event that their Microsoft 365 data is lost, but also puts them in a position to change their minds and sign on for data protection services in the event that they find themselves facing data loss on the platform.
Conclusion
Although any organization that uses Microsoft 365 should be backing up its data, many companies fail to understand this. As an MSP, you are in a position to provide critical value and safeguards to these customers, while also expanding your business by offering managed backup and recovery for Microsoft 365. In order to sell such a service, however, you must first overcome the obvious sales objections, which center mostly on customers' assumptions that data backup is not needed for a SaaS platform like Microsoft 365.