A Quarterly Business Review (QBR), also known as a business review or executive business review, is a face-to-face meeting between MSPs and clients that takes place once per quarter. Its purpose is to review their partnership and discuss how the MSP can better support the client's business goals.
QBRs are an invaluable opportunity for MSPs to assess clients' satisfaction with their services. During the QBR, key decision-makers and IT personnel from both sides perform several tasks:
Review events that happened in the last quarter;

Evaluate performance levels;

Highlight success stories and unresolved issues;

Develop a strategic roadmap for the next quarter.
Going through an overview of past performance helps MSPs to set clear goals and develop a strategic plan for the future. When done right, a QBR can help MSPs increase retention rates, avoid customer churn, and turn short-term customers into long-term clients.
After converting prospects and successfully onboarding them, there is a need to conduct ongoing client meetings to gauge whether you're helping clients achieve the desired outcomes or not. This is critical to customer satisfaction and can help build stronger partnerships between MSPs and client companies.
To ensure accountability and continued success, MSPs need to remind clients of the value they bring to the table and how their technology roadmap can enable clients to achieve their business goals. This is best done within the scope of a QBR. Here are some best practices for planning and executing MSP QBRs.
Timing
Knowing how to time your QBRs is essential to success. Typically, you should schedule the first QBR 90 days after onboarding, and you should meet with clients at least three times a year. As a general rule, MSPs should schedule more face time with SMB clients than enterprise clients.
For your MSP QBR, you want everyone to be alert. This is why you should pick a time that's suitable and convenient for all stakeholders. You may, therefore, wish to set up your QBRs as breakfast meetings. It's the beginning of the day and everyone is more likely to be alert and in a receptive mood.
Who Should Participate in QBRs?
Having the right people in attendance is essential to achieving the goal of a QBR. Ensure that all the key decision-makers who signed the managed services agreement are in attendance at the first QBR.
If everything goes well, these decision-makers will be the ones to approve your technology roadmap going forward. They will also be the ones to sign off on new IT initiatives that improve their business operations. Typically, C-suite executives, department heads, your technical account manager, and customer success manager should be in attendance.
What You Should Include in an MSP QBR
KPIs are a great way to track progress and successful outcomes. The right indicators can help you quantify the impact of your managed IT services on your clients' business goals. Such clear takeaways show clients the value of partnering with your MSP company and help ensure a mutually beneficial long-term relationship going forward.
Performance Metrics
Since MSPs and their clients depend on service level agreements to ensure accountability, it should serve as the scorecard and help you identify the important metrics to include in your QBR. Results are measured by numbers, and numbers drive business initiatives. The best way to show clients the value and successful outcomes you've achieved as a partner is by providing hard numbers.
That being said, the KPIs and reports to include in your QBR are as follows.
Current Status of Backups
Although data backups may not be on the top of a client's list of priorities, they are a very essential part of their IT estate, and are key to disaster recovery and business continuity plans. Your job as an MSP is to assure client companies that their data is safe in the event of a cyberattack, system failure, or natural disaster. Giving clients an update on the current status of their backup infrastructure during an MSP QBR keeps them from worrying about the safety of their data.
Current Open Projects Review
You should also present a progress report on any ongoing projects being executed on behalf of the client. Review the milestones you achieved and work together with the client to establish clear goals for the future. The goals should reflect the customer's business needs and help further future expansion plans and operational maturity.
Further reading Understanding and Managing MSP Projects
Ticket Metrics
One of the major reasons why businesses partner with MSPs is for the speedy resolution of their IT issues. Essentially, you need to show clients how your MSP handles the volume of service tickets coming in. Measure the number of open tickets vs. closed tickets and the time taken to resolve those tickets. Fairly even numbers indicate that your team resolves support requests quickly.
Lastly, you should include in an MSP QBR meeting some additional technical reviews that focus on the following:
Endpoint management
Patch management
Endpoint security
Warranty reporting
Infrastructure management
Data and network security
Overall network uptime
Server patch status
FREE ASSETS
MSP Quarterly Business
Review Template
Follow these basic principles to craft a perfect report for your customers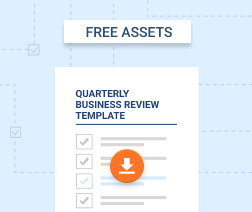 Develop a Strategic Roadmap
Successfully integrating clients' workflows with managed IT services will require MSPs to develop, assess, and continually recalibrate their technology roadmap in line with the evolving demands of their customers' business model.
As part of your MSP QBR, you should review your technology roadmap to determine if it still makes sense for the client. This requires an in-depth understanding of your clients' business goals and the key initiatives they are focusing on. Your roadmap should take into account clients' future projections for growth. It should also be robust enough to scale along with the customer.
With emerging technologies disrupting nearly every facet of business operations, it's also a good idea to evaluate how this can impact clients' growth and expansion plans. Ensuring that clients have access to the technology that can position them for next-level growth helps strengthen MSP-client relationships.

Review Obsolescent IT Equipment and Software
With new technological advancements being made every other month, shorter refresh cycles are becoming increasingly popular. If your clients still make use of outdated technology, they could lose their edge to competitors who are better equipped. This affects how they deliver their products and services and can negatively impact customer satisfaction and retention.
As such, MSPs need to prepare end-of-life schedules for their clients' IT software and equipment and communicate such schedules in a timely manner so that clients are not caught off-guard. This is particularly essential for server equipment.
When preparing for an MSP QBR, the remaining lifespan of servers should be taken into consideration and used to establish clear replacement timelines to keep IT operations running smoothly.
MSPs should also analyze the status of storage/backup equipment in line with the future needs of their clients' IT estate. If there are plans for future growth, these facilities need to be scaled as well to ensure uninterrupted business operations.
Also, other endpoint systems, network/routing devices, and software applications that form part of the client's environment must be reviewed and discussed as part of the QBR. If these devices and apps are outdated or no longer meet business requirements, it's the MSP's responsibility to recommend and acquire new, cutting-edge technology to help clients stay ahead of the competition.
However, not all IT equipment needs to be retired at the same time. MSPs should take a staggered approach to IT replacement.
Make Intelligent Recommendations
While QBRs tend to focus mostly on reports, KPIs, and project updates, the ultimate goal should be to look ahead, make intelligent recommendations that will facilitate the client's business growth and establish goals and milestones for the next quarter.
If there are upcoming major IT initiatives in the offing, MSPs should provide clients with projected timelines, estimated costs, and an overview of any impact that such projects may have on day-to-day operations. For instance, an imminent refresh cycle, server migration, cloud migration, or legacy software retirement will introduce complexities and challenges that clients need to be aware of.
Above all, ensure that the assessments and status reports in your MSP QBR are accurate — even if they make you look bad. Clients appreciate honesty and objectivity and will not be pleased when you try to gloss over obvious service problems and failures.
Wrapping Up
As an MSP, nothing is more important than keeping your clients satisfied — and the key to achieving this is clear communication of expectations from both sides. Done right, quarterly business reviews are invaluable investments that help MSPs keep clients happy.
MSP QBRs are opportunities to touch base with clients, remind them of the value of your managed services, and develop a strategic agenda and technology roadmap going forward. Not only do effective quarterly business reviews engage clients and enhance relationships, but they also help MSPs identify areas for improvement. This helps clients see you as a trusted business partner, instead of just another IT vendor.