So you've got a prospect meeting. This is every MSP's dream; it's your time to shine. You've got a prospective client interested in switching providers. While this is a great opportunity for you, there are plenty of ways things can go sideways. In this blog post, we'll explore how to prepare, how to handle the meeting, and what you can do to turn the "prospect" into a client.
How to Prepare
Preparation is key to many things in life. If you aren't prepared, you'll fail. Even if you have a prospect in a sector you're familiar with, you still need to prepare properly for the meeting. Every company is different.
Your preparation should include as much research as possible. Your lead-gen system may already have some basic information, but there are several key items to be aware of. These include:
1. The business sector.
2. The number of employees.
3. The number of office locations -- corporate and satellite offices.
4. Check their website for information. A couple of examples of this are checking projects they are working on or the services they offer. Check the bios of key staff members to "get to know them" more.
5. Gather questions to ask. This can be tricky, but the best questions to ask are ones that are specific to their current workflow (based on your research) or what type of hardware and backup software is in operation.
After you've performed some research and you know more about the prospect, the next part is the most crucial. Make sure you have hard copies of your marketing documents and materials. If you have a digital presentation, have it ready to go.
Depending on the business and their needs, you may need to update these documents and presentations. Don't take this aspect of your preparation lightly. Showing up to a meeting with nothing is the worst thing you can do. These documents should highlight the services you offer and deliver a clear and concise message about how your service offerings operate. Once all your paperwork or virtual presentations are prepared, you are ready for the meeting.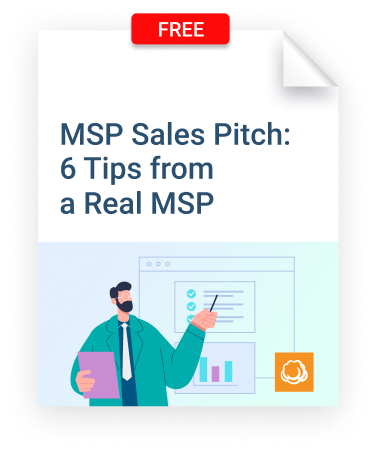 Your Time to Shine
During the meeting, make use of your preparation and marketing materials. Be sure to emphasize your services and how they fit in with their business workflow. Remember that time is of the essence during the meeting. Most of the time, you'll be meeting with C-level executives and, possibly, busy IT staff. You want to be respectful of their time and not go on and on forever about your business.
Look for opportunities to show you've done research on their business. For example, you may find they have another office location in a neighboring city where some of your staff members live. Make them aware of the fact that you have staff members nearby that can support them. Sometimes, it's small details like this that may sway a prospect.
Always allow ample time for the prospect to ask questions. Some common questions are: "What makes you better than the competition?", "How does your business differentiate itself?", "How would you handle this type of situation?", "We currently have this issue; how would you and your team approach it?" Never lie or make stuff up on the fly; always be truthful with your answers. You should be confident in your response to the questions. If you are asked something that is very specific or difficult to answer, I recommend you respond with an example of how you or your team have worked with a similar product or service. Never say, "We haven't worked with that product," or, "We can do it but it might get very expensive." This makes people tune out. Instead, make sure to summarize how your service fits all their needs.
Further reading Top 43 Clients' Questions MSPs Should Answer
At the end of the meeting, be sure to gather all the contact information you will need and be aware of the next steps the prospect lays out. Normally, they will inform you that they may be looking at other vendors for the next week or two. Note all the details, as the next steps are critical to get right. If they state they are reviewing all vendors for the next two weeks, you don't want to send them emails after three days.
If they do not provide any details with regard to the next step in the process, it's best to ask when they would like to be contacted to review the next steps.
Post-Meeting Follow-Up
Your follow-up procedure is just as important as the other phases. Once you return to your office, send a "thank you" email. This should be a quick and concise message thanking them for their time and offering an extension for them to reply with any questions they may have. Again, be mindful of any time frame of deadlines they have set.
Depending on how the meeting ended and the next steps discussed, they should get back to you with more questions or inform you that they'd like to move forward.
Now you've turned a prospect into a client.